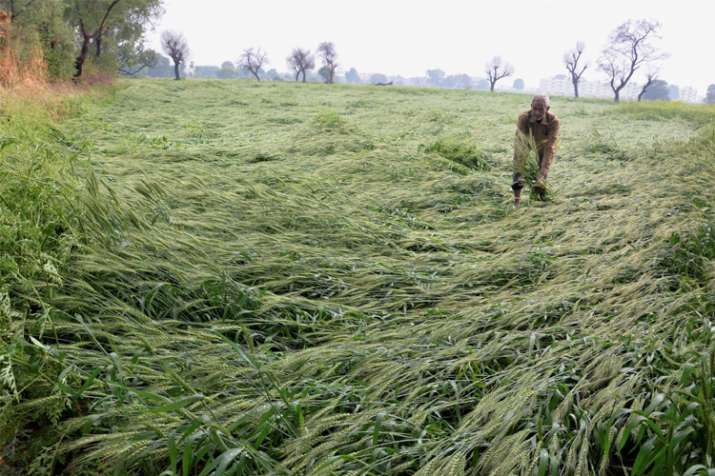 Untimely rains and hailstorm have caused big losses to farmers in Maharashtra. Unseasonal rain and hailstorm damaged standing crops in Beed, Osmanabad, Latur, Nanded, Parbhani, Hingoli, Dhule, Nandurbar and Aurangabad districts.
February hailstorm and rain have caused damage to the rabi (winter) crops in over 1 lakh hectare in Maharashtra, especially in Vidarbha and Marathwada regions.
Crops like wheat, orange and grapes were severely damaged in some areas, an official in the agriculture department said.
In wake of the massive losses, the Maharashtra government has announced a compensation package of Rs 200 crore for farmers who suffered damage to standing crops.
The compensation will range between Rs 6,800 and Rs 13,500 per hectare for cereals and between Rs 23,300 and Rs 40,000 for fruits or horticulture, if they are insured.
In Madhya Pradesh too, February rain has impacted standing rabi crops like wheat, gram and oilseeds. 
Hailstorm and incessant rains have affected at least 12 districts in Madhya Pradesh, while few deaths have also been reported due to lightning. 
Hailstorm has hit almost 400 villages and could affect the standing wheat, chana and mustard crop. 
Chief Minister Shivraj Singh Chouhan, in an address to the farmers, assured them the state government would provide relief to all hailstorm-affected farmers through an adequate compensation package and quick payment of insurance claims.
Sehore, Harda and Dewas were among the worst affected districts in the state.