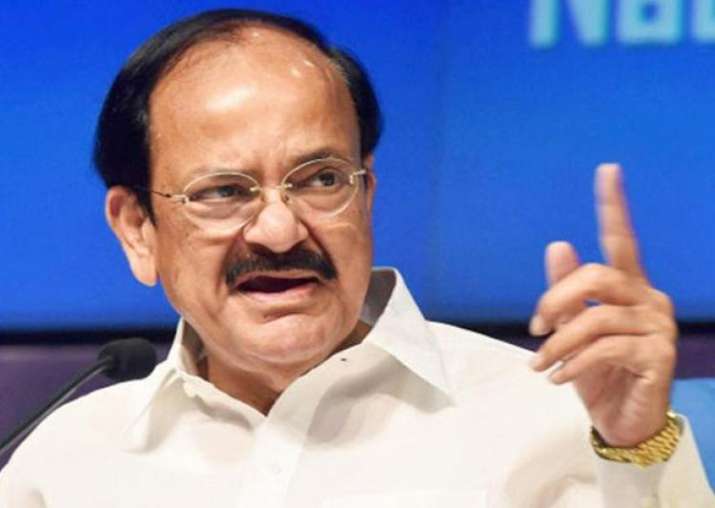 M Venkaiah Naidu was today sworn in as the 13th Vice President of India at the historic Durbar Hall of Rashtrapati Bhawan where President Ram Nath Kovind administered him the oath of office and secrecy. The swearing-in follows his election on August 5, defeating opposition candidate Gopalkrishna Gandhi with a huge margin. Naidu received 516 votes against 244 for Gandhi. 
Born on July 1, 1949 in Nellore district of Andhra Pradesh, Naidu was President of the Students Union, V.R. College, Nellore. In 1973-74, he was president of the Students Union of Andhra University Colleges. Naidu pursued law and was involved in the movement launched by Jayaprakash Narayan.
Naidu, a BJP veteran and its best-known leader from southern India, entered the RSS by accident. His links began in childhood when he chanced upon a 'shakha' while playing. Within some decades, he rose to become the BJP's President and was considered close to Prime Minister Narendra Modi.
A key member of Prime Minister Modi's cabinet, the now 68-year-old cut his political teeth during the Emergency of 1975-77 when he went underground against the government of Indira Gandhi and eventually got jailed. 
He remained underground until his arrest, distributing anti-government literature in educational institutions in Andhra Pradesh and Tamil Nadu, travelling on a scooter along with a woman activist on pillion in a bid not to arouse suspicion. 
He was accused of disturbing a meeting of Sanjay Gandhi and was handcuffed during transit from one jail to the other.
Naidu hit the national scene when he was one of the prominent opposition spokespersons along with S. Jaipal Reddy, who was then in Janata Party, during the campaign by N.T. Rama Rao after his dismissal as the Andhra Pradesh Chief Minister by Indira Gandhi in the 1980s.
Even though the Bharatiya Janata Party was on a weak wicket in southern India, Naidu embraced it tightly. 
A quick-witted and effective communicator steeped in RSS-BJP ideology, Naidu rose from the ranks to become the party President and a Union Minister to finally be India's Vice President. 
Naidu has been a troubleshooter for the government as also one of its best communicators with his alliterative and catchy one-liners. He has friends across political parties. It will help him as Chairman of the Rajya Sabha where the BJP has just got a majority of its own. 
Quick to respond to criticism from the opposition, Naidu is known for knack for acronyms and witty one-liners. 
Weeks before his nomination was announced by the BJP, curious scribes at a party function in May asked him if he was in the race to be the Rashtrapati or Uprashtrapati. In his characteristic wordplay, Naidu said he was happy being Ushapati - the husband of Usha, his wife.
Naidu, who held the portfolios of Information and Broadcasting and Housing and Urban Affairs in the Modi cabinet, even has a parody twitter account dedicated to his love for acronyms. 
Naidu once famously coined a reverse acronym of MODI, Prime Minister's second name, as "Maker Of Developed India". The four-time Rajya Sabha member's acronym for NDA government's mission - 'MODI- Making of Developed India'- became the official line of the Centre in its public outreach campaign when it completed three years in office. 
In another instance that showed both his love for Modi and acronyms, Naidu called PM Modi the "Modifier of Developing India." 
In February, Naidu, while addressing a young crowd at Delhi's Shri Ram College of Commerce business conclave, coined another reverse acronym, this time for "Young."
The I&B minister said, "Young" means "You Owe U & Nation Greatness". A month later, the Urban Development Minister said, "CITY means Civic Infrastructure To You." 
Staying true to his love for acronyms, Vice President-elect M Venkaiah Naidu said on August 6 that India stands for 'Integrated National Development Impacting All Indians'. 
"India stands for: Integrated National Development Impacting All Indians, equally well. This is the mission for India," he said after being felicitated here for winning the vice-presidential poll.
(With agencies)