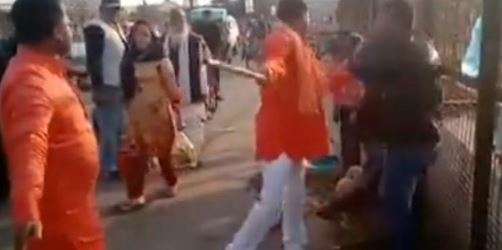 At a time when attacks on Kashmiris have multiplied, a video has surfaced showing a group of men assaulting two Kashmiri street vendors in Uttar Pradesh capital Lucknow. One of the attackers has been arrested by police. 
The video, which is being widely shared on social media, shows two men in saffron kurtas thrashing one of the vendors. One of the attackers is seen beating the man with a wooden stick but runs away after a while. 
According to a police official, the incident happened at Daliganj bridge in Lucknow's Hasanganj locality when the men selling dry fruits were attacked, however, locals did come to rescue them. 
SSP Kalanidhi Naithani said: "A man was seen in a viral video thrashing a Kashmiri street vendor in Lucknow, the vendor was later saved by locals. The culprit Bajrang Sonkar has been arrested by Police. Sonkar has criminal background and has 12 cases including a murder case against him."
Meanwhile, Former Jammu and Kashmir Chief Minister Omar Abdullah took the opportunity to target Prime Minister Narendra Modi, demanding action in the matter. 
"Dear PM @narendramodi Sahib, this is what you had spoken against & yet it continues unabated. This is the state governed by your handpicked Chief Minister. Can we expect action in this case or do we file your concern & assurances as a jumla, meant to placate but nothing more?" Omar Abdullah tweeted on Thursday.
"Nothing will do more damage to the idea of India in J&K than videos like these. Keep thrashing Kashmiris like this on the streets at the hands of RSS/Bajrang Dal goons & then try to sell the idea of "atoot ang", it simply wont fly (sic)," the National Conference leader's tweet read.
In February, the Ministry of Home Affairs had issued an advisory to all states asking them to ensure security of people belonging to Jammu and Kashmir amid reports that some of them were attacked in different parts of the country in the wake of the Pulwama terror attack. The home ministry had also said the central government was concerned at the reports of incidents of assaults and harassment against residents of Jammu and Kashmir, especially students in some parts of the country, in the aftermath of the Pulwama terror attack, which killed 40 CRPF jawans on February 14