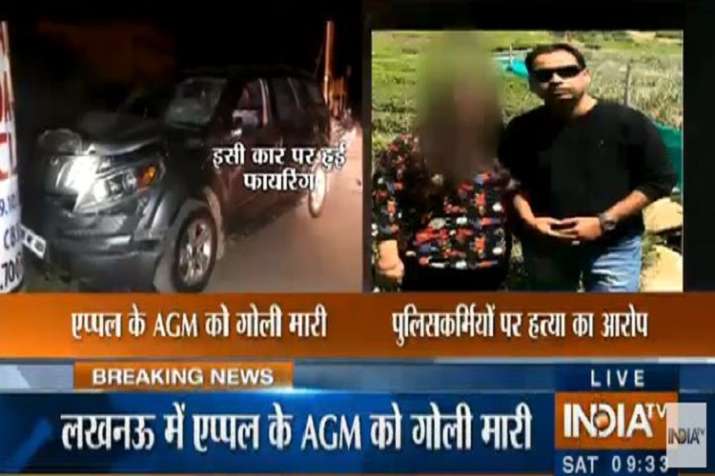 A top executive of a big multi-national mobile company was allegedly shot dead by a police constable following an altercation in Lucknow's upscale Gomti Nagar extension area late Friday night. 
According to reports, Vivek Tiwari, who worked as area sales manager with Apple, was fired upon by a constable after he failed to stop his SUV despite being asked to do so by a police patrol team. 
The incident took place when Vivek Tiwari along with one of his colleagues was returning home after a mobile launch event.
Lucknow Superintendent of Police Kalanidhi Naithani said that cops opened fire on Tiwari after he refused to stop his vehicle. The deceased panicked following the firing and rammed the SUV into the pillar of an underpass. He suffered serious injuries in the accident and was taken to a local hospital by the police but died during treatment, the top cop claimed.
Lucknow:Police says,"Police personnel was detained y'day after he shot at a car on noticing suspicious activity,injuring driver of the vehicle.On seeing police,he tried to flee&rammed his car against a wall.He later succumbed to his injuries,PM report to determine cause of death" pic.twitter.com/2QwkuR9Gbp

— ANI UP (@ANINewsUP) September 29, 2018
The actual cause of death will be revealed only after post-mortem, Naithani said.
Kalpana Tiwari, wife of the deceased, however, raised questions over the police action and demanded an explanation from Uttar Pradesh CM Yogi Adityanath. 
WATCH: It's a cold-blooded murder, says Apple executive's wife
Deputy CM KP Maurya has assured that action will be taken against those responsible for the incident. "Investigation is underway. If an innocent person has been killed by the police probe will be done. Actions will be taken against those found guilty," Maurya said.
Meanwhile, accused constables Prashant Chaudhary has claimed that he fired in 'self-defence'. "I saw a suspicious car with its lights off, when I approached the car, the driver (Vivek Tiwari) tried to run over me thrice to kill me. I fired a bullet in self-defence, he then immediately took off from the spot," he said.
UP ADG (Law and Order) Anand Kumar said the accused cops have been arrested and a case under Section 302 of the IPC has been registered. Further investigations are underway and strict action will be taken against those found guilty, the top cop said.
WATCH: Top Apple executive killed in alleged police firing in Lucknow