Follow us on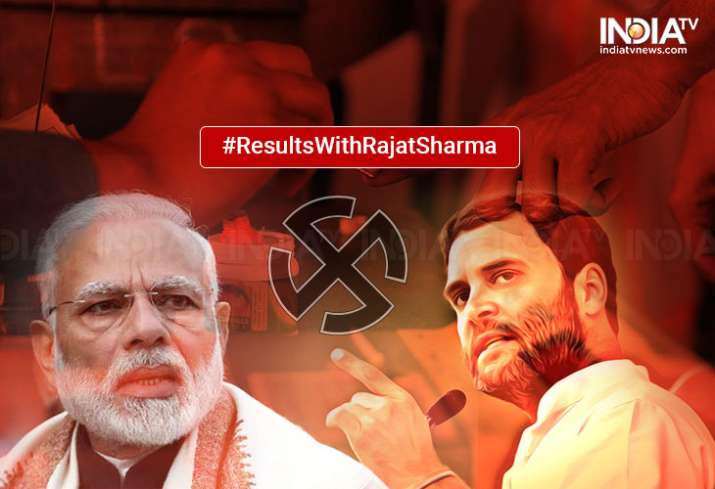 Picture this! 542 constituencies, 8049 candidates, one ruling party and a united Opposition (read: an amalgam of 22 Opposition parties) -- it does not get any bigger than this. India is awaiting a new government at the Centre and with that, a new prime minister, but will they be new? Or the Bharatiya Janata Party's (BJP) juggernaut will not come to  a halt anytime soon?
Counting of votes for 542 Lok Sabha constituencies will begin at 0800 hrs IST on Thursday -- May 23 -- simultaneously all over the country to decide the fate of India.
Voting for 542 of 543 Lok Sabha seats spanned across six weeks and seven phases across the nation -- April 11, April 19, April 23, Arpil 29, May 6, May 12 and May 19. Polling in Vellore in Tamil Nadu was cancelled after the seizure of large stores of cash. A fresh date for the Vellore seat is yet to be announced.
On Thursday, counting will also start for votes polled in Odisha, Andhra Pradesh, Arunachal Pradesh and Sikkim assembly elections.
The BJP-led National Democratic Alliance (NDA) is expected to return to power at the Centre, if exit polls are to be believed. At least 12 of 14 polls have suggested the alliance will win between 282 and 365 seats.
Exit polls have failed in the past; but poll pundits are of the opinion that even if the surveys do fail, it would not be a smooth sail for the Opposition, led by the Congress party, to stake claim to form the government.
The Lok Sabha polls 2019 were anyway a set of the most impishly fought battle with as many as 22 Opposition parties coming together to fight against one -- Prime Minister Narendra Modi.
'Bua' Mayawati -- Bahujan Samaj Party (BSP) supremo -- and 'bhatija' Akhilesh Yadav -- Samajwadi Party chief -- also forged an alliance to one-up the BJP in politically crucial Uttar Pradesh.
It was believed that large-scale unemployment, demonetisation, the row over Rafale fighter jet deal and the criticism over Hindu nationalism would cost the BJP the mandate, but the exit pollsters 'bolstered' the saffron party's belief that it would win.
Congress chief Rahul Gandhi and party general secretary for eastern Uttar Pradesh Priyanka Gandhi Vadra have, however, been telling their workers to not lose heart and hope.
The Opposition seems to have been following that too, as the leaders of 22 parties met the election commission officials on Wednesday to discuss various issues regarding VVPAT verification and EVM malfunctioning.
The leaders also discussed the possibility of a non-NDA alliance.
The NDA, meanwhile, on Tuesday passed a resolution to transform India into a strong nation, as envisaged by freedom fighters, within three years. The NDA hopes to complete the task before India completes 75 years of Independence in 2022, if voted to power.
"We have vowed to form a strong India as envisaged by our freedom fighters by 2022, when India completes 75 years of independence," Rajnath Singh said at the press conference.
HOW IT WILL BE DONE
As per the procedure, counting of Electronically Transmitted Postal Ballot System (ETPBS) and Postal Ballots will be taken up first. 
Counting personnel will randomly select five EVMs from each Assembly segments for matching with VVPAT slips as directed by the Supreme Court.
There will be three-tier security in place with the outer cordon beginning 100 metres from the counting centre.
Early trends are expected in about an hour at around 0900 hrs IST. First results will pour in at around 1100 hrs IST.
By evening, a clear picture is likely to emerge on who would be the major player(s) in the 17th Lok Sabha and who all will be winners among 8049 candidates in the fray.
Watch Video: