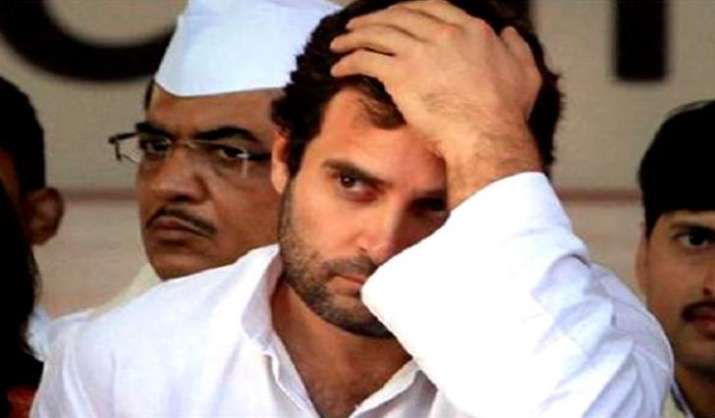 You may already have received this message on WhatsApp. Congress is getting brutally trolled post Lok Sabha elections which perhaps were first such elections after social media boom in India.
To be fair, Congress and its allies did manage to improve their tally this time but it wasn't enough. 
So this particular WhatApp forward is truly a joke right?
The message mentions a particular station in Mumbai. Churchgate.
Churchgate is on Western line of the railways. Rajdhani Express going to New Delhi from Mumbai travels on this line. So let's take a look.
Rajdhani Express leaves from Mumbai Central station. The station falls in Mumbai South Lok Sabha constituency. Who won there? Arvind Sawant of Shiv Sena.
Rajdhani then arrives at Borivli, a station in Mumbai North Lok Sabha constituency. The winner? Gopal Shetty of the BJP.
The train then enters Gujarat, home-turf of Prime Minister Narendra Modi and BJP president Amit Shah.
Congress drew a blank there. So probably its wise to not go into details as to who won in Surat and Vadodara.
The train then enters Madhya Pradesh and halts at Ratlam and Nagda, a town famed for Grasim's industrial unit. 
Nagda falls in Ujjain Lok Sabha constituency. BJP's Anil Firojiya won there with a vote margin of more than 3 lakh votes. BJP bagged Ratlam as well.
Next is Kota. Every Indian kid aspiring to get into IITs is told about the famed coaching classes in this city in Rajasthan.
Congress got a fillip last year when it wrested Rajasthan from BJP in assembly elections. Congress' Ashok Gehlot is Chief Minister of Rajasthan. The party did have some expectation in the state which gave BJP a thumbs down earlier. 
The hopes and expectations came to a nought as Congress failed to win a single seat in Rajasthan.
In Kota, BJP's OM Birla trumped Congress' Ramnarain Meena by nearly 3 lakh votes.
Only when the train runs through northern Rajasthan does it come close to Lok Sabha constituencies won by Congress MPs.
So the WhasApp message is misleading right?
Sadly, no
Punjab is perhaps the only state where the Congress has done well. It won 8 out of 13 Lok Sabha seats.
It may be cruel to put Congress' performance in these words but it seems one can actually board a train in Mumbai, take the Western line to travel north and he will not encounter a constituency that favoured a Congress candidate in recently concluded Lok Sabha elections.
Read | BJP bagged more seats in UP than Congress did in all of India | Interesting facts about May 23 counting day
Watch | BJP leader Hema Malini reacts to her massive victory in Mathura,UP