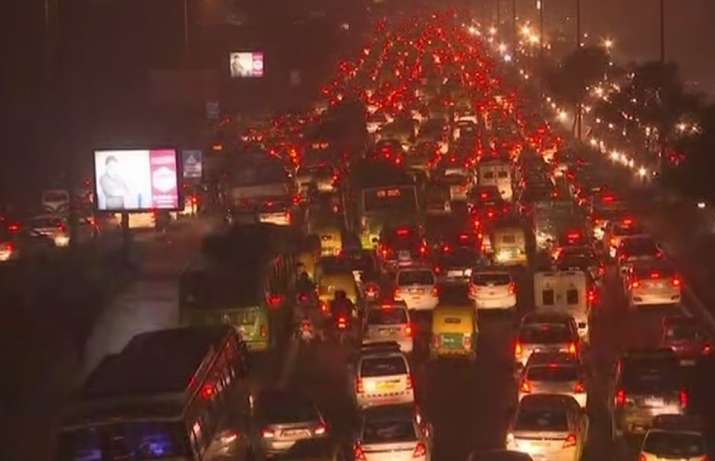 A massive traffic jam in New Delhi's central area brought life in the capital to standstill as a huge crowd descended at India Gate to celebrate New Year 2018. 
Delhi Traffic Police said that there were at least 2.5 lakh pedestrians and a heavy number of motor vehicles around India Gate C-Hexagon. Parking facilities have been withdrawn from India Gate and surrounding areas. Police advised people to take alternative routes and avoid the crowd. 
Meanwhile, news agency ANI reported that the jam stretched to several kilometers and even ambulances were finding it difficult to cut across the thick traffic. 
As it happened: 
7:11 pm: Total number of pedestrian who reached Rajpath must be around 2.5 lakhs. It's 7 times of what was expected. Due to their movement around Rajpath movement of cars was blocked: Delhi Traffic Police
7:00 pm: Noida comes to standstill as jam extends to DND, Mahamaya flyovers, Sec 37, Botanical Garden, GIP areas. Vehicles stuck in same spot for almost two hours. 
6:40pm: Traffic still heavy in almost all central Delhi roads. 
Huge crowd & traffic snarls seen near #Delhi's India Gate on #NewYear2018 pic.twitter.com/ljqmw6dd4V

— ANI (@ANI) January 1, 2018
6:30 pm: Traffic jam has spilled over to South and East Delhi. The vehicles are crawling from AIIMS to Aashram, while stretch near Sarojini Nagar market is also reportedly jampacked. heavy traffic has also been reported at Lodhi Road, Shah Jahan Road, Akbar Road, KG Marg, and East Delhi's  Vikas Marg. 
6:15 pm: Reports have started coming in of people abandoning their vehicles and walking away on foot. Twitter showed similar sentiments 
#JamKeNam #DelhimahaJam

From Past two hours, I am stuck near, around India Gate. Do see some traffic Police on the road but don't see any preparation . #भगवान्_भरोसे_दिल्ली।

LG साब, आपकी तो जान पहचान है साहेब से, कुछ करवा दो, घर जाना है pic.twitter.com/Gp75EgeGHN

— Sri_ Guru_Sir_© ● #UST #RYP 🔔🔔🔔🔔 (@_Sri_Guru) January 1, 2018
India gate turned into NH8, abandoning car and walking is a better option #jampacked

— in the making (@himanshusikka) January 1, 2018
6:12 pm: Several people on social media claimed that the huge crowd at India Gate, Delhi Zoo and other large open spaces in Central Delhi signifies that there is a serious dearth of greenery in overall Delhi. Several others raised alarm over air pollution. 
6:10 pm: Twiterrati has reported that massive crowd was witnessed outside Delhi Zoo, which has discontinued sale of ticket. 
Zoo has broken record of footfalls, ticket sale stopped at various monuments, parks are full, India Gate entries has been blocked now, traffic not moving at all in CP, many roads are at standstill since many hours

— Ashish (@AshishXL) January 1, 2018
6:00 pm: The Google map for Delhi has turned red as the roads are blocked due to heavy traffic: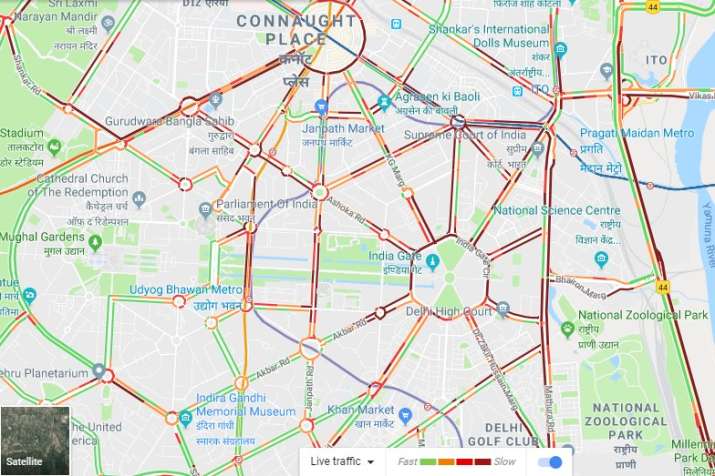 5:45 pm: Traffic police also issued advisory for people and vehicles to avoid Netaji Subhash Marg due to gathering of devotees near Gauri Shankar Mandir; Bhairon Marg (both carriageways) due to gathering of people near Pragati Maidan & Chidiya Ghar; RML,Baba Kharak Singh Marg and GPO due to gathering of devotees near Gurudwara Bangla Sahib; and Chattarpur Mandir and Sai Mandir due to gathering of devotees.
January 1, 2018
5:30 pm: Over 1 lakh people have gathered at India gate to celebrate New year, creating a massive traffic jam