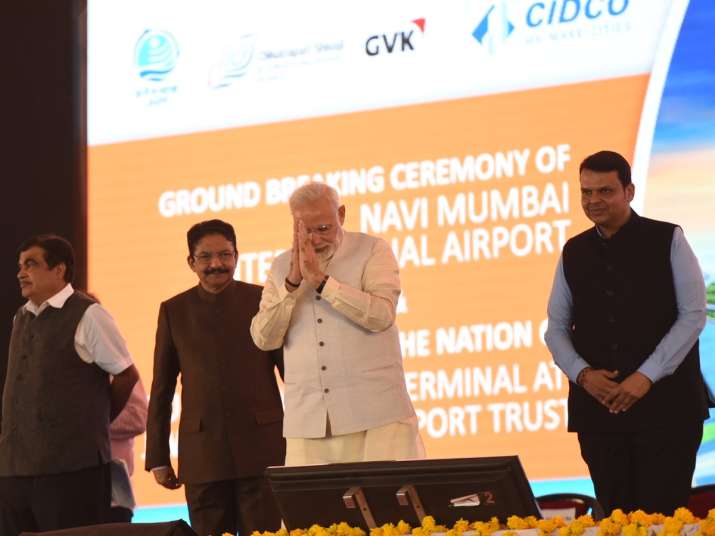 Prime Minister Narendra Modi on Sunday laid the foundation stone for Navi Mumbai International Airport, which is being developed to share the burden of the Chhatrapati Shivaji International Airport in the state.
PM Modi said, "Issue of Navi Mumbai airport has been pending for years. And, this is not the only project that is pending. When I assumed office I realised there were several such projects. That is why we began a Pragati initiative and gave priority to completion of projects."
Modi said that India's aviation sector is growing tremendously and there is a sharp increase in the number of air passengers, which makes quality infrastructure in the aviation sector of prime importance. The Prime Minister also remotely inaugurated the fourth container terminal of Jawahar Nehru Port Terminal.
The JNPT's Fourth Container Terminal (FCT)'s Phase I was completed in a record time at a cost of Rs 4,719 crore and is expected to boost container trade and logistics in a big way.
Here are the highlights of the event: 
Watch PM Modi's speech at the groundbreaking ceremony for Navi Mumbai International Airport here:
05:15 pm: On the eve of Shivaji Jayanti, it is my honour to visit Maharashtra in connection with development projects that will bring a positive change in people's lives: PM Modi tweets
05:14 pm: 
The 4th container terminal at @JNPort is a vital step towards port-led development. pic.twitter.com/SyEOtmj9sw

— Narendra Modi (@narendramodi) February 18, 2018
05:13 pm: 
The Navi Mumbai airport will contribute to the transformation of India's aviation sector. It will also cater to the infrastructure needs of Mumbai and the surrounding areas. pic.twitter.com/eHUBJDaQ0S

— Narendra Modi (@narendramodi) February 18, 2018
04:36 pm: For our Government, as important as new projects are completing the projects within the desired time frame. Delayed projects cause several problems: PM
04:34 pm: In the last year, the ordering of new aircrafts in India has risen. This is wonderful because a strong aviation sector also gives more economic opportunities. Better connectivity leads to more tourists coming to India: PM
04:33 pm: Our Government had the honour of bringing an aviation policy that is transforming the sector: PM
04:30 pm: India's aviation sector is growing tremendously. There is a sharp increase in the number of people flying. This makes quality infrastructure in the aviation sector of prime importance: PM
04:28 pm: Issue of Navi Mumbai airport has been pending for years. And, this is not the only project that is pending. When I assumed office I realised there were several such projects. That is why, we began a Pragati initiative and gave priority to completion of projects: PM
04:25 pm: The Government of India is devoting significant efforts towards the development of waterways: PM
04:23 pm: The Sagarmala project is helping not only in development of ports but also port-led development: PM Modi in Navi Mumbai
04:22 pm: Globalisation is a reality of our times and to keep pace with globalisation, we need top quality infrastructure: PM Narendra Modi in Navi Mumbai
04:20 pm: A day before the Jayanti of the great Shivaji Maharaj I have the opportunity to come to Maharashtra: PM
04:12 pm: 
PM Narendra Modi lays foundation stone of Navi Mumbai International Airport. pic.twitter.com/hX21nAj8D0

— ANI (@ANI) February 18, 2018
04:10 pm: I want to assure Maharashtra CM & Civil Aviation Minister that we will work towards connecting this airport with many places of Mumbai through waterways: Transport Minister Nitin Gadkari at foundation stone laying ceremony of Navi Mumbai International Airport