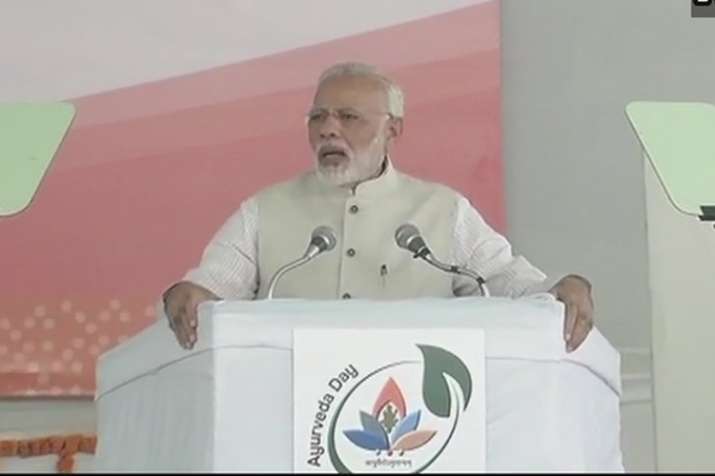 Prime Minister Narendra Modi inaugurated the All India Institute of Ayurveda (AIIA) at Delhi's Sarita Vihar today on the occasion of National Ayurveda Day. 
India's first ever AIIA has been established along the lines of All India Institute of Medical Sciences (AIIM S).
Set up as an apex institute under the Ministry of AYUSH, the AIIA will bring in the synergy between traditional wisdom of Ayurveda and modern diagnostic tools and technology, Shripad Yesso Naik, Minister of State for AYUSH, said on Monday. 
PM Modi's speech at the inaugural event: As it Happened 
12:21 pm: New AIIMS are being opened to provide better treatment. Prices of setnts have been severely reduced, while decisions have been taken to put cap on prices of knee implants.   
12:20 pm: We have increased the number of PG seats in medical colleges
12:19 pm: The recent UNICEF report had said that one who makes a toilet in village saves up to Rs 50,000, which could have been spent on treatment. 
12:17 pm: I was happy when I was told that newly constructed toilets in UP have 'Izzat ghar' written on them and not' Shauchalay': PM Narendra Modi
12:15 pm: An easy way of preventive healthcare is cleanliness. The government has transformed 'swachhta' into a mass movement.  
12:13 pm: This is why our focus is on two things -- first preventive health care and second affordability and accessibility in healthcare. 
12:12 pm: Government's objective behind pushing all kinds of health systems is to provide cheap and best treatment to the poor.
12:08 pm: Government has approved 100 per cent FDI in health care system. Efforts should me made on how FDI in health care can benefice Ayurveda and Yoga. 
12:06 pm: A big global market of herbal medicines is being formed. India has to put all its efforts. Herbal medicines and medicinal plants are a great source of revenue.  
11:52 am: Over 65 AYUSH hospitals have been established in the last three years: PM Modi
​11:50 am: There's a long list of benefits of ayurveda, says PM Modi, adding people are showing interest in traditional medicines. 
11:49 am: For the expansion of Ayurveda, it is necessary that every district has a well-equipped Ayurveda hospital. AYUSH ministry is already working on it: PM Modi
​11:47 am: We forgot our heritage for a long time...but now we have started remembering it again. No country can progress by forgetting its heritage
11:46 am: 
Koi bhi desh vikas ki kitni hi cheshta kare, lekin woh tab tak aage nahi badhta jab tak apne itihas aur virasaat par garv karna nai janta:PM pic.twitter.com/RN2KYlhUbI

— ANI (@ANI) October 17, 2017
11:36 am: PM Modi dedicates 1st ever All India Institute of Ayurveda to the nation on occasion of 2nd Ayurveda Day 
11:35 am: I thank AAYUSH to celebrate Dhanwantri Jayanti as Ayurveda Day, and establish India's first AIIA. 
The All India Institute of Ayurveda, set up on a total area of 10.015 acres on a budget of Rs 157 crore, is the first medical institute under the AYUSH ministry to hold the coveted National Accreditation Board for Hospitals and Healthcare Providers (NABH) accreditation. 
"In a short time, the AIIA has gained wide national and international recognition. It has started working towards facilitating quality patient care and research, bridging gaps in scientific information about quality, safety and efficacy of Ayurveda products, and developing benchmarks of Ayurvedic education, research and healthcare," Naik said. 
The Ayurvedic Standard Treatment Guidelines developed by the ministry will also be released at the inaugural function. 
Nearly 1,500 participants from across the country are expected to be a part of the program. 
The present clinical specialities of hospital block include neurological and degenerative disease care unit, rheumatology and musculoskeletal care unit, diabetes and metabolic/allergic disorders care unit, Yoga, Panchakarma clinic, Kriya Kalpa, diabetic retinopathy clinic and infertility clinic. 
It also has pathology, biochemistry, microbiology and radiology laboratories and diagnosis facilities. 
Naik said post-graduate programme (MD/MS) in Ayurveda at AIIA started from the academic session 2016-17 and the PhD courses have been started for the session 2017-18. 
The Ministry of AYUSH has requested all the state governments, Ayurveda teaching institutions, associations of Ayurveda practitioners and Ayurveda drug industries among others in India and abroad to observe 'Ayurveda Day' on October 17 and undertake various activities like organising public lectures, seminars, exhibition and radio talks.