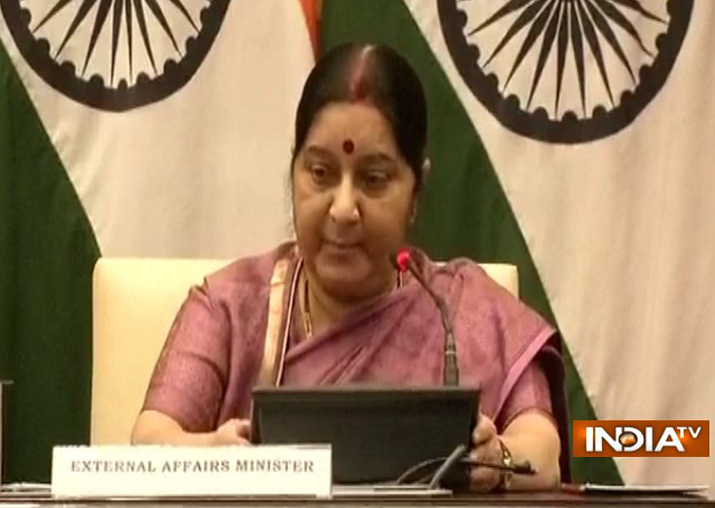 External Affairs Minister Sushma Swaraj today informed that all the 39 Indians abducted by the ISIS terror outfit in Mosul in Iraq three years ago are dead and their bodies have been recovered.
While it was not immediately known when the Indians were killed, their bodies were recovered from Badosh - a village in northwest of Mosul, and their identities established through DNA testing, she said making a suo motu statement in the Rajya Sabha. 
Highlights: 
Harjit Masih is just an individual, he could claim 39 others are dead, but we are the Government, we can't say this so easily. We have to be responsible: EAM Sushma Swaraj pic.twitter.com/vuiE4vtlf6

— ANI (@ANI) March 20, 2018
4 pm: Of 39 citizens, 27 are from Punjab, 6 are from Bihar, 4 from Himachal Pradesh and 2 from West Bengal. Raju Yadav of Bihar's identity is yet to be verified: Swaraj
3:55 pm: DNA samples of 38 people have been matched, verification of 1 victim is under process: Sushma Swaraj
# Did not keep anyone in dark, it was not falsehood but tireless effort: Sushma Swaraj on oppn allegations over Indians killed in Iraq
# We'd been saying that we neither have the evidence of them being alive nor the evidence of them being dead. We maintained this in 2014 & 2017.  We gave no false hopes to anyone: Swaraj  
# Bodies weren't found in mass grave, claims Sushma Swaraj 
# Had sought help from Iraqi foreign minister to locate Indian citizens: Swaraj 
3:45 pm: I personally talked to the foreign ministers of the respective countries, I went to them & asked them if they have any evidence they provide us the same. 'Khoye huye ho to maare huye samjhe jaaoge ye sarkar aisi nahi hai: Sushma Swaraj
"Congress must explain why it disrupted Lok Sabha proceedings when I was to give details on deaths of 39 Indians in Iraq"
3:43 pm: Today Congress indulged in a very low level of politics, probably Congress president thought how did no uproar happened in Rajya Sabha and decided to ask Scindia ji to lead protests in Lok Sabha. Playing politics on deaths: Swaraj
It would have been a sin had we handed over anybody's body claiming it to be those of our people, just for the sake of closing files: EAM Sushma Swaraj pic.twitter.com/bJ9wUtfPqm

— ANI (@ANI) March 20, 2018
3:40 pm: It is very unfortunate: Sushma Swaraj on the opposition not allowing her to speak in the Lok Sabha
# In Rajya Sabha everyone listened to me speaking very patiently and in peace. Everyone paid tribute, I thought same would happen in Lok Sabha. But unlike the past few days of ruckus, today Congress led the protests under Jyotiraditya Scindia ji. Very unfortunate: Sushma Swaraj
# Sushma Swaraj says no govt can declare anyone dead without proof.
# Did everything to rescue all 39 Indians in Iraq, says Sushma Swaraj
# Some kin of the victims have asked why they were not informed before the news was shared in parliament. It is parliamentary procedure to first inform the House, so it was my duty: Sushma Swaraj
3:36 pm: My duty was to inform India first, says Sushma Swaraj