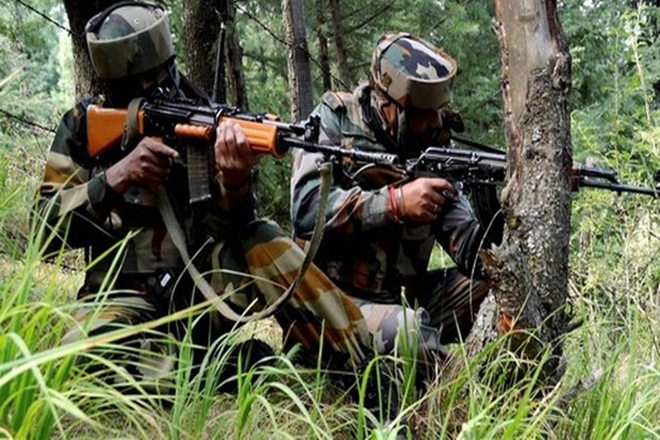 The Indian Army today claimed that it has inflicted heavy casualties on NSCN(K) cadre along Indo-Myanmar border. In a series of tweets, the Eastern Command of Indian Army said that the firefight occurred at 04:45 hrs Wednesday morning. It also refuted reports of any casualty to Indian Army personnel in this operation.
Reports of casualties to #IndianArmy personnel factually incorrect. Firefight
occurred along Indo-Myanmar border at 0445 hrs today @adgpi

— EasternCommand_IA (@easterncomd) September 27, 2017
Heavy casualties reportedly inflicted on NSCN(K) cadre. No casualties suffered by Indian Security Forces

— EasternCommand_IA (@easterncomd) September 27, 2017
"In the early morning hours of 27 Sept, a column of Indian Army while operating along Indo-Myanmar border was fired upon by unidentified insurgents. Own troops reacted swiftly and brought down heavy retaliatory fire on insurgents. The insurgents then broke contact and fled from the spot. As per inputs, a large number of casualties were suffered by the insurgents. Own troops suffered no casualties during the firefight," the Eastern Command of the Indian Army said in a statement.
"It is reiterated that own troops did not cross the international border," it further added.
Reacting to reports of Indian Army's operation along Myanmar border, Union Home Minister Rajnath Singh said that he will come up with more details once he gets all information related to the operation. 
The Indian Army had carried out a major operation against Naga insurgent group NSCN(K) early this month near the Indo-Myanmar border in Arunachal Pradesh in which one hardcore militant was killed and another injured. The Army team had destroyed a temporary hideout of the NSCN(K) militants and recovered an AK 47 rifle, ammunitions and radio sets in the operation near Votnu village in Longding district.
In September 2016, the Indian Army had carried out surgical strikes against PoK-based terror launch pads in which around 50 terrorists were killed. The surgical strikes were carried out on the intervening night of September 28 and 29. 
On 10 June 2015, a crack team of about 70 commandos of the Indian Army had carried out surgical strikes inside Myanmar, killing 38 Naga insurgents and injuring at least seven others.