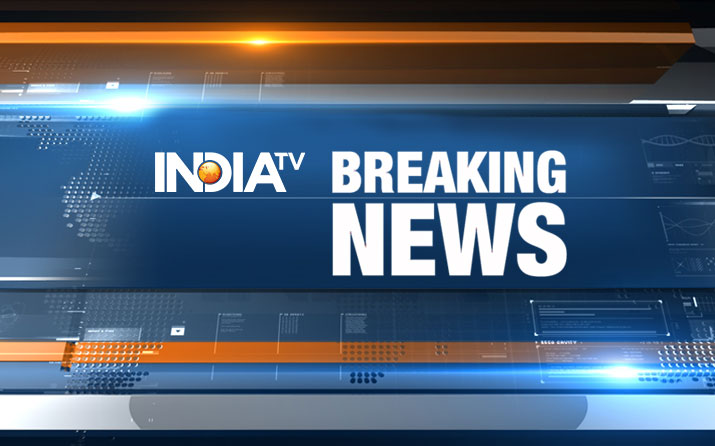 Twitter is buzzing with breaking news and news alerts from India and rest of the world. Here is the coverage of all breaking alerts and latest updates from the micro-blogging site on one page:
Breaking News of May 30:
09:53 pm: UP CM Yogi Adityanath held a meeting with Principal Secretary, Home & DGP UP over the death of IPS Rajesh Sahni, directed that the entire incident and cause of death be inquired/investigated by the CBI immediately. A recommendation in this regard has be sent to the govt of India.
8:00 pm: BSP Chief Mayawati vacated bungalow no. 6, Lal Bahadur Shastri Marg, Lucknow in compliance with the orders of the Supreme Court. The bungalow was allotted to her in the capacity of former chief minister of Uttar Pradesh.
7:15 pm: Anti-Sterlite protests in Thoothukudi : Madras High Court also orders preservation of bodies six other victims.
7:00 pm: Anti-Sterlite protests in Thoothukudi | Madras High Court orders re-postmortem on bodies of 7 victims, mandates a doctor from AIIMS or Jawaharlal Institute of Postgraduate Medical Education & Research or Kerala Institute of Medical Sciences, Trivandrum to be a part of the team.
6:15 pm: Harvey Weinstein won't testify before the grand jury that's weighing whether to indict him on rape and other sex charges, reports AP
6:00 pm: Air India first officer Capt. Rithwik Tiwari was found dead inside a toilet at Meydan Riyadh health club in Hotel Holiday Inn,in Saudi Arabia's Riyadh. Air India spokesperson says,"we got the news of the death of our pilot in Riyadh, we informed his family as well as our Embassy."
05:30 pm: Nainital High Court takes cognizance of the numerous forest fire incidents in Uttarakhand, asks the government to respond by tomorrow.
05:13 pm: Bengaluru City Civil Court rejects bail application of Congress MLA NA Haris' son, Mohammed Haris Nalapad in assault case. 
05:08 pm: Delhi Police makes first arrest in Malviya Nagar fire incident, nabs Sanjay Saini, owner of the rubber godown.
04:15 pm: Terrorists fired from an Underbarrel Grenade Launcher towards the residence of National Conference leader Mohd Ashraf Bhat in Tral village of Jammu and Kashmir's Pulwama. No loss of life or injury reported
04:07 pm: Delhi's Patiala House Court dismisses the plea of Delhi CM Arvind Kejriwal seeking direction to the police for providing copy of his statement and CD recorded by police in Delhi Chief Secretary alleged assault case.
03:42 pm: We are making arrangements of free of cost visa for Indonesian citizens for travel of up to 30 days: PM Modi in Jakarta 
03:28 pm: Our first priority as a government is to make the country corruption free, citizen-centric and development friendly: PM Modi to Indian community in Jakarta. 
03:22 pm: Special MCOCA Court in Mumbai convicts and sentences 11 persons of Bharat Nepali Gang for murder of Gangster Fareed Tanasha in 2010. 6 out of 11 people have been sentenced life term in jail and 5 others have been sentenced to 10 years in jail.
03:17 pm: Kerala government decides to reduce the prices of petrol and diesel by Re 1 in the state, will come into effect on 1 June: CM Pinarayi Vijayan 
03:04 pm: Terrorists hurled grenade towards a joint checkpoint of CRPF and Police in #Pulwama, however the grenade fell in a nearby orchard & exploded there. More details awaited. #JammuAndKashmir
02:48 pm: West Bengal: DHR toy train derailed at Kurseong railway station this morning. The train was on its way from Darjeeling towards Siliguri. No casualties reported (ANI)
02:30 pm: I was not the minister when the Air Asia deal happened, so I have really  no idea about this: Praful Patel,former Civil Aviation Minister on  reports of Air Asia CEO saying 5 million dollar bribe was paid to UPA Minister
01:50 pm: Ministry of Finance issues circular describing procedure for sanction of blocked IGST refunds
01:03 pm: INX media case: P Chidambaram files anticipatory bail petition in Delhi High Court
12:58 pm: The term of office of three members of Rajya Sabha elected from Kerala, is due to expire in the month of July 2018. Elections to be held on June  21 (ANI)
12:52 pm: Heat wave conditions are very likely to continue over West Rajasthan & MP. Heavy rain very likely at isolated  places over Coastal Karnataka, Assam, Meghalaya, Nagaland, Manipur, Mizoram & Tripura tomorrow: MET dept (ANI)
12:40 pm: Jet Airways has grounded four of its pilots a senior instructor level commander and three trainee pilots for allegedly clicking selfies on a training flight (which is without passengers) from Leh to Delhi on April 19. Internal investigation being conducted by the airline (ANI)
12:35 pm: As 2-day banks strike called by United Forum of Banking Unions over wage revision begins, ATMs run out of cash in Moradabad. Locals say, "We are facing problems because there is no cash in the ATMs around. Even there are connectivity issues (ANI)
12:16 pm: Russia says Foreign Minister Sergey Lavrov is going to North Korea for talks on Thursday (AP)
12:10 pm: ED carries out searches in five states in the NSEL money laundering case (PTI)
11:54 am: Gauri Lankesh murder case - SIT submits 650-page charge sheet. 131 statements mentioned, including of FSL officers and accused KT Naveen and Praveen.
11:31 am: Indian Oil Corporation corrects earlier figures, petrol prices went down not by 60 paise in Delhi and 59 paise in Mumbai but by just 1 paise. Diesel prices also went down by just 1 paise instead of 56 paise in Delhi and 59 paise in Mumbai
10:51 am: India-ASEAN partnership is such an important power that can become a guarantee of peace not only in Indo-Pacific region but also beyond it: PM Modi in Jakarta
10:47 am: India stands resolutely with Indonesia in the fight against terror, we condemn the recent terror attacks in Indonesia in which many innocent people lost their lives: PM Narendra Modi in Jakarta
10:45 am: CBI registers a case against Delhi Minister Satyendar Jain, SK Srivastava, then Engineer-in-Chief ,PWD and others to investigate the allegations of irregularities in hiring of creative teams in PWD.
10:26 am: Aircel Maxis case: P Chidambaram has to appear before the ED on 5th June. Patiala House Court said no coercive action can be taken against him till then. The court also gave protection from arrest to P Chidambaram till the next date of hearing
10:25 am: Aircel Maxis case: Delhi's Patiala House Court sought reply of Enforcement Directorate on the anticipatory bail plea moved by P Chidambaram. ED has to reply by 5th June 
09:57 am: Former Union Minister P Chidambaram has moved an anticipatory bail plea in Delhi's Patiala House Court in Aircel-Maxis case. Kapil Sibal to argue for him in the case.
09:39 am: Madras High court prohibits homework for Class I and Class II CBSE students. Court also directs Centre to direct states to stop the use of non prescribed books. Court further asked CBSE to set up flying squads to check homework violations. Centre and NCERT to file report in 4 weeks
09:34 am: CBI conducted searches at Delhi Minister Satyendra Jain's residence over alleged violation in hiring of creative team by Public Works Department (PWD)
08:55 am: PM Narendra Modi arrives at Merdeka Palace in Jakarta. He was welcomed by Indonesian President Joko Widodo
08:52 am: When a govt is formed out of alliance many discussions take place. Very soon portfolios will be decided. We are holding meetings regularly: Danish Ali, JD(S) on delay in allocation of portfolios
08:36 am: Fire which broke out at a godown in Delhi's Malviya Nagar yesterday has still not been doused, Air Force chopper deployed
08:20 am: PM Narendra Modi pays tribute at Kalibata National Heroes' Cemetery in Jakarta.
08:19 am: I am going to the hospital in Thoothukudi to visit the injured. It is just a goodwill gesture: Rajinikanth
08:02 am: Repolling at 73 polling station in Uttar Pradesh's Kairana is currently underway. The polling, earlier scheduled on May 28, was deferred after reports of faulty EVMs and VVPAT machines. 
07:50 am: Woman accuses BJP MLA from Bareilly's Badaun Kushagra Sagar of raping her. Victim says 'Will commit suicide if I don't get justice, I have been receiving threats as well and have become a subject of ridicule in society'. Police have begun investigation.
06:57 am: After 16 days, petrol prices went down by 60 paise in Delhi and 59 paise in Mumbai. Diesel prices went down by 56 paise in Delhi and 59 paise in Mumbai. Petrol at Rs 77.83/litre in Delhi and Rs 85.65/litre in Mumbai.  Diesel at Rs 68.75/litre in Delhi and Rs 73.20/litre in Mumbai.
06:50 am: Firefighting operations still underway at Delhi's Malviya Nagar where fire broke out in a rubber godown yesterday. Deputy Chief Fire Officer says 'Fire is under control now. 15 fire tenders are currently at the spot. It will take 3-4 more hours to completely douse the fire'.