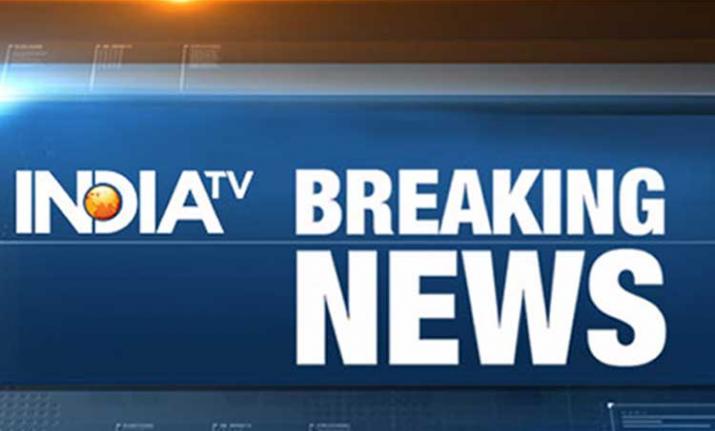 Daily dose of news plays very important role in our daily life. For some people, the morning is incomplete without knowing about what's happening across the world. Some digital-savy people have a habit of consuming news even when they are travelling or in their free time. In today's world, where people rely on news websites for everything that's happening around, IndiaTV News provides you all breaking news, latest news, breaking story videos, Live TV and top shows of IndiaTV, country's leading news channel on a single platform to ensure you don't miss anything important.
Internet, Twitter, Facebook are buzzing with breaking news and news alerts from India and rest of the world. You can find here the LIVE COVERAGE of all breaking news alerts and latest news updates on just one page. IndiaTV Digital covers all top news as and when it happens and ensures its readers don't miss anything important.
Breaking News, Latest News Updates of Sep 26:
04:55 pm: Telecom Commission has been renamed as Digital Communication Commission: Union Minister Manoj Sinha
04:13 pm: Supreme Court to deliver its judgement on the petition challenging the validity of Section 497 (Adultery) of IPC tomorrow.
04:13 pm: BJP should tell nation truth about Rafale deal rather than hide behind 'bunch of lies' that people are fed up of hearing: Robert Vadra. 
04:10 pm: BJP indulged in baseless political witch-hunt against me for last 4 years: Robert Vadra.
04:07 pm: NGT appoints an Independent overlook committee to check environmental concern of Char Dham Highway project in Uttarakhand.
03:37 pm: Sensex slumps 109.79 points to close at 36,542.27; Nifty falls 13.65 points to 11,053.80.
03:21 pm: Bihar: Income Tax Department conducts raids at RJD MLA Abu Dojana's office in Patna
03:06 pm: Congress cuts a very sorry figure here, they introduced the idea but they did not know what to do with it: FM Arun Jaitley (ANI)
03:02 pm: It is a historic order, Aadhaar's concept has been accepted after judicial review, we welcome this decision of Supreme Court: Finance Minister Arun Jaitley (ANI)
02:57 pm: Delhi: Additional Chief Metropolitan Magistrate frames charges against AAP MP Sanjay Singh in a defamation case filed by BJP worker Ankit Bharadwaj
02:49 pm: Union Cabinet approves financial assistance worth Rs 825 Crore for relining of Sirhind Feeder Canal(Punjab) and Rajasthan Feeder Canal
02:48 pm: Union Cabinet approves the transfer (disinvestment) of incomplete projects of Hotel Gulmarg Ashok and Hotel Patliputra Ashok, Patna to the State Governments of Jammu and Kashmir and Bihar respectively (ANI)
02:47 pm: Union Cabinet has approved construction of a new Domestic Terminal at Patna Airport: FM Arun Jaitley (ANI)
02:43 pm: Income Tax Department conducts raids at RJD MLA Abu Dojana's office in Patna
02:26 pm: 
#NewsAlert | Punjab CM Captain Amarinder Singh conducts aerial survey of flood affected areas of the state pic.twitter.com/vZB6AoEhn2

— India TV (@indiatvnews) September 26, 2018
02:02 pm: Kailash-Mansarovar Yatra concludes 
01:35 pm: The theme of Odisha conclave 2018 is 'I am Odisha', which celebrates all the success of the state and the people in creating a vibrant ecosystem for business. A 36 hours smart Odisha hackathon has been launched today: Odisha Chief Minister Naveen Patnaik in Chennai
01:21 pm: 4 children and a woman killed after a three-storey building collapsed near Sawan Park in Ashok Vihar Phase 3 in Delhi. Search and rescue operation underway
01:19 pm: I am very happy with the judgement. It is a landmark and remarkable judgement: Attorney general KK Venugopal to ANI on Aadhaar verdict (ANI)
12:53 pm: Supreme Court allows live streaming of court proceedings, says, 'it will start from the Supreme Court. Rules have to be followed for this. Live streaming of court proceedings will bring accountability into the judicial system." (ANI)
12:29 pm: Judgement welcome to a certain extent since SC didn't impose a restriction in this regard and clearly said that centre or state govts can provide reservation if they want: Mayawati on SC refuses to hear 2006 verdict in Nagraj case on reservation in promotion for SC/ST in govt jobs (ANI)
11:57 am: Supreme Court says "Aadhaar not mandatory for obtaining a new SIM card."
11:54 am: Aadhaar card is mandatory for PAN linking, says Supreme Court
11:21 am: Supreme Court declares Aadhaar scheme as Constitutionally valid
11:12 am: Verdict on the constitutional validity of Aadhaar: Justice AK Sikri says, "Aadhaar empowers the marginalised section of the society and gives them an identity, Aadhaar is also different from other ID proofs as it can't be duplicated"
10:46 am: Supreme Court Justice Sikri while reading out verdict on constitutional validity of Aadhaar: There is a fundamental difference between Aadhaar card and identity. Once the bio-metric information is stored, it remains in the system
10:15 am: The judgement will have a far reaching effect because adhaar is relevant for a large no. of subsidies. It is also relevant to plug loot and waste that has happened. I hope the judgement is in favour of Aadhaar: Mukul Rohatgi, as AG he represented the government in Aadhaar case (ANI)
10:07 am: Income-tax department conducts raids at several locations of 44 builders and financiers in Rajkot, Gujarat 
10:03 am: 11 month-old baby reportedly dies on-board Qatar Airways Doha-Hyderabad flight
09:31 am: Sensex gains 90 points to open at 36,743.71; Nifty at 11100.35. Rupee recovers 8 paise against US dollar
08:32 am: 
#NewsAlert | 28253 cusecs of water was released into #Yamuna river from Haryana's Hathani barrage at 6 am today; visuals from Old Delhi railway bridge (Loha Pul) pic.twitter.com/XdYTbkwaD2

— India TV (@indiatvnews) September 26, 2018
08:01 am: Residents' Welfare Association (RWA) guard killed in Safdarjung's Humayunpur in Delhi last night. Police investigation underway
07:31 am: 
West Bengal: Protesters vandalise government buses and torch tyres in Midnapore. BJP has called for a 12-hour statewide bandh today in protest against the death of a student who died following a clash with police in North Dinajpur's Islampur pic.twitter.com/Y4G17b9M6L

— India TV (@indiatvnews) September 26, 2018
07:02 am: Haryana, Punjab, Himachal Pradesh, Uttar Pradesh, Delhi and union territory of Chandigarh agreed to move towards uniform fuel rates, in a meeting of Finance Ministers and officers of Northern States held in Chandigarh yesterday
06:31 am: Japan PM says open to summit with North Korea's Kim Jong Un 
05:40 am: J&K: Man apprehended by Army while he was trying to ex-filtrate to PoK on 24 Sept. SSP Poonch says 'He was apprehended by Army in Chakan-da-Bagh while he was trying to ex-filtrate to PoK.We're trying to ascertain reason. Rs 400, Indian passport&a ticket to Kathmandu seized'
03:27 am: Federal prosecutors say a Chinese citizen in Chicago has been arrested for spying on US engineers and scientists, including defense contractors, on behalf of the Chinese government: The Associated Press
01:29 am: American comedian Bill Cosby sentenced to three to 10 years in state prison for sexual assault (ANI)