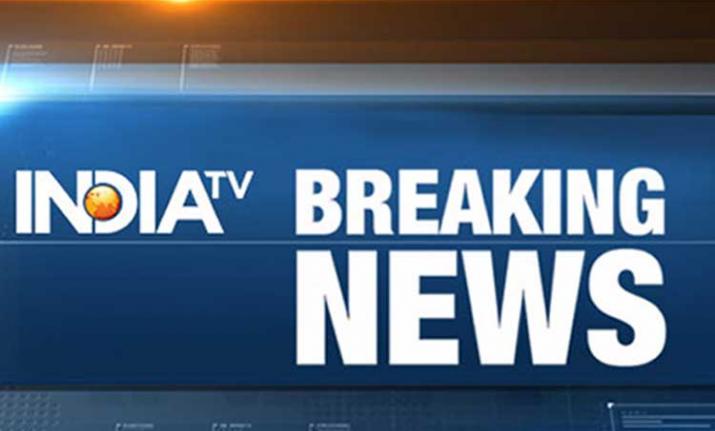 Daily dose of news plays very important role in our daily life. For some people, the morning is incomplete without knowing about what's happening across the world. Some digital-savy people have a habit of consuming news even when they are travelling or in their free time. In today's world, where people rely on news websites for everything that's happening around, IndiaTV News provides you all breaking news, latest news, breaking story videos, Live TV and top shows of IndiaTV, country's leading news channel on a single platform to ensure you don't miss anything important.
Internet, Twitter, Facebook are buzzing with breaking news and news alerts from India and rest of the world. You can find here the LIVE COVERAGE of all breaking news alerts and latest news updates on just one page. IndiaTV Digital covers all top news as and when it happens and ensures its readers don't miss anything important.
Breaking News of September 22:
5:37 pm: Reliance and Dassault had entered into agreement as early as 2012 when UPA was in power: Ravi Shankar Prasad. 
5:32 pm: We need to take stern action to avenge the barbarism that terrorists & the Pakistan Army have been carrying out. Yes,it's time to give it back to them in the same coin, not resorting to similar kind of barbarism. But I think the other side must also feel the same pain: Army Chief
5:29 pm: I think our govt's policy has been quite clear & concise. We've made no bones about the fact that talks&terrorism can't go hand in hand. Pakistan needs to curb menace of terrorism: Army Chief General Bipin Rawat on Pak PM's reaction to India calls off meeting b/w Foreign Ministers
4:56 pm: It is once again reiterated that the Government of India has no role in the selection of Indian Offset partner which is a commercial decision of the Original Equipment Manufacturer: Ministry of Defence​
4:54 pm: The reported statement perhaps needs to be seen in its full context – where the French media has raised issues of conflict of interest involving persons close to the former President.  His subsequent statements are also relevant in this regard: Ministry of Defence 
4:53 pm: Unnecessary controversies are being created following reports regarding a statement purportedly made by former French President, Francois Hollande, concerning selection of Reliance Defence as the Offset partner by Dassault, manufacturers of Rafale aircraft: Ministry of Defence
4:27 pm: Army has engaged terrorists in an encounter in Tangdhar Sector of north Kashmir. A gunfight is underway near the Line of Control (LoC) Kupwara District. (ANI)
4:23 pm: BJP calls for a 12-hour Bengal bandh on 26th September over the incident where a student was injured in a clash with police & later died in North Dinajpur's Islampur.
4:11 pm: Atal Ji created 3 states - Uttarakhand, Jharkhand and Chhattisgarh. It is due to his vision of development that all these states are progressing rapidly, says PM Modi
4:07 pm: Prime Minister Narendra Modi lays the foundation stone for highway projects and Bilaspur-Anuppur railway line.
3:50 pm: 24 killed, 53 wounded in Iran parade attack.
3:42 pm: Directorate of Revenue Intelligence arrested two people near Andhra-Tamil Nadu border yesterday and seized 229.8 kg cannabis concealed in their vehicle. 
3:31 pm: We are e absolutely convinced that the Prime Minister of India is corrupt. This question is now clearly settled in the mind of the Indian people that 'desh ka chowkidaar' chor hai, says Rahul Gandhi
3:19 pm: The Prime Minister should clarify if what the ex-French President is saying is true or false: Congress President Rahul Gandhi
3:17 pm: For the first time, an ex- French President is calling our PM a thief: Rahul Gandhi
2:45 pm: Delhi's Patiala House Court discharges Delhi Deputy CM Manish Sisodia, AAP MLA Amanatullah and others in a case related to a protest held outside the Tihar jail in 2014
02:34 pm: Kerala nun rape case: Former Bishop of Jalandhar, Franco Mulakkal, sent to police custody till 24 September. His bail application has been dismissed (ANI)
02:20 pm: Iran FM blames 'foreign regime' backed by US for parade attack (reports AFP)
01:41 pm: A Milan (Italy) court did not see enough evidence to consider the AgustaWestland case, while hearing the second appeal
01:39 pm: Connectivity is at the core of all round development. Our Government has devoted significant efforts to enhance connectivity all over the nation: PM
01:38 pm: This airport in Jharsuguda is well located to serve the needs of the people of Odisha. This is going to be the second airport in the state. While being happy this airport is opening, we also need to wonder why it took so many years for a second airport in Odisha: PM Narendra Modi
01:29 pm: India's aviation sector is being transformed rapidly. This augurs well for 125 crore Indians: PM Narendra Modi​
01:26 pm: Prime Minister Narendra Modi e-inaugurates the local airport in Jharsuguda, Odisha 
01:05 pm: At least 8 troops killed in Iran parade attack: Semi-official media (reports AFP)
12:37 pm: Minor girl allegedly stabbed for resisting molestation attempt by a man in MP's Gwalior, admitted to a trauma centre. Case registered under POCSO Act. Accused absconding, police investigation underway (ANI)
12:33 pm: UP has scored 1st place in implementation of Pradhan Mantri Awas Yojana and I'm happy to inform that in rural areas, we've been successful in providing houses to 11 lakh poor families. In urban areas also, this scheme has benefited over 4 lakh families: CM Yogi Adityanath (ANI) 
12:30 pm: 60-year-old woman and her 40-year-old differently-abled daughter found murdered at their residence in Mianwali area of Delhi; investigations underway
12:24 pm: Team of Delhi Police Special Cell arrests two Afghan nationals, one Nigerian national from Saket. 5 Kg Heroin and US $4200 recovered from their possession
12:18 pm: Chennai-Doha Qatar Airways flight cancelled following technical reasons; passengers being shifted to a hotel 
12:01 pm: Three days ago, the central govt took a decision that was needed since decades. The decision was on Triple Talaq. No one was ready to even talk about it due to the fear of losing votes. Now, it has been declared illegal: PM Narendra Modi at a public rally in Talcher
11:59 am: I had urged CM Naveen Babu that Odisha will be left behind in cleanliness. But today, when I have come here, I again urge Naveen Babu to give priority to cleanliness in Odisha for the health of the people here: PM Modi at a public rally in Talcher
11:51 am: When BJP govt came to power in the centre, the work on fertiliser plants picked up speed. I ensure you that the construction of Talcher Fertiliser Plant will be completed in 36 months and I'll again come here to inaugurate it: PM Modi at a public rally in Talcher (ANI)
11:42 am: Militants attack army parade in south Iran, casualties reported 
11:27 am: 10 dead, 3 injured in road accident in Shimla district of Himachal Pradesh: Police 
11:24 am: Iranian President Hassan Rouhani vows to boost Iran 'defensive' missiles (reports AFP)
11:03 am: Prime Minister Narendra Modi lays foundation stone of Talcher Fertiliser Plant in Talcher, Odisha 
10:37 am: 
#NewsAlert | Prime Minister #NarendraModi meets and interacts with Anganwadi workers upon his arrival in Talcher, Odisha pic.twitter.com/cTHGQnfhmq

— India TV (@indiatvnews) September 22, 2018
10:26 am: 
#NewsAlert | Odisha Chief Minister Naveen Patnaik receives PM #NarendraModi in Talcher. PM Modi will attend an event to mark the commencement of work in the Talcher Fertilizer Plant and address a public meeting pic.twitter.com/F0K8zW3AFQ

— India TV (@indiatvnews) September 22, 2018
10:01 am: Rescue efforts led by Australian Defence Forces underway off Perth to find 39-year old Indian Golden Globe Race skipper Abhilash Tomy, who is serving as an Indian Naval Flying Officer
09:17 am: Former Karnataka Chief Minister and Congress leader Siddaramaiah call Congress Legislature Party (CLP) meeting on September 25
09:03 am: PM Narendra Modi arrives in Odisha's Bhubaneswar. He will attend an event in Talcher to mark the commencement of work in the Talcher Fertilizer Plant, address a public meeting and inaugurate the local airport in Jharsuguda
08:42 am: China cancels trade talks with the United States as tariff threats escalate
08:28 am: Security forces launch cordon and search operation in villages of Pulwama, Jammu and Kashmir 
07:13 am: Heavy cordon operation in 8 villages of Jammu and Kashmir's Pulwama  following the killing of police man in Shopian 
06:21 am: Petrol in Delhi priced at Rs.82.44 per litre, Rs.89.80 per litre in Mumbai; diesel in Delhi at Rs.73.87 per litre, Rs.78.42 per litre in Mumbai
06:19 am: Trump threatens more tariffs against China if Beijing retaliates against US for imposing tariffs on $200 billion worth of Chinese goods
06:16 am: Inter-government agreement on deal concerns obligations of French govt solely with regard to ensuring delivery and quality of aircraft: French govt
06:15 am: French govt says it is in no manner involved in choice of Indian industrial partners for Rafale deal; says in accordance with India's acquisition procedure, French companies have full freedom to choose Indian partner companies
06:09 am: Journalist murdered in Mexico, ninth of 2018 
06:04 am: Two Naxals arrested from Jharkhand ​