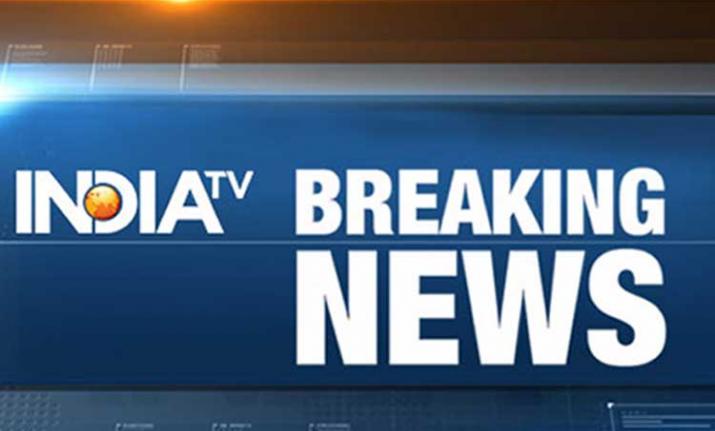 Daily dose of news plays very important role in our daily life. For some people, the morning is incomplete without knowing about what's happening across the world. Some digital-savy people have a habit of consuming news even when they are travelling or in their free time. In today's world, where people rely on news websites for everything that's happening around, IndiaTV News provides you all breaking news, latest news, breaking story videos, Live TV and top shows of IndiaTV, country's leading news channel on a single platform to ensure you don't miss anything important.
Internet, Twitter, Facebook are buzzing with breaking news and news alerts from India and rest of the world. You can find here the LIVE COVERAGE of all breaking news alerts and latest news updates on just one page. IndiaTV Digital covers all top news as and when it happens and ensures its readers don't miss anything important.
Breaking News of September 19: 
05:15 pm: CBI has not received any communication yet regarding Christian Michel extradition from UAE authorities: CBI Spokesperson
04:39 pm: There has not been a formal communication yet. Pakistan remains open and positive but there has not been a formal communication yet: Mohammad Faisal, Ministry of Foreign Affairs Pakistan Spokesperson on #KartarpurSahib corridor
04:29 pm: SC extends till tomorrow the house arrest of five activists arrested in connection with Koregaon-Bhima violence case.
04:06 pm: Bhima Koregaon case: Hearing in the case in SC to continue tomorrow
03:44 pm: Islamabad HC suspends jail terms of former Pak PM Nawaz Sharif, his daughter Maryam Nawaz and son-in-law Captain (retd) Muhammad Safdar in Avenfield case (ANI)
03:36 pm: Sensex drops 169.45 pts to end at 37,121.22; Nifty down 44.55 pts to 11,234.35.
03:30 pm: J&K: Two BSF jawans and the driver died after their truck fell into a gorge near Banihal. 
02:59 pm: Assam NRC matter: Supreme Court division bench, headed by Justice Ranjan Gogoi, said that the filing of claims and objections will start from September 25 and would be open for a period of 60 days, till November 25 (reports ANI)
02:51 pm: BSF raises the issue of killing of its jawan with the Pakistan Rangers at the sector level, also seekds Director General of Military Operations (DGMO) to raise the issue with Pakistan at its level
02:44 pm: Bhima Koregaon case: Court should ensure the liberty of persons against illegal incarceration. The criminal prosecution seems to be mala fide and arbitrary, lawyer Ashwini Kumar tells the Supreme Court (reports ANI)
02:36 pm: Former Malaysian PM Najib Razak arrested in connection with 1MDB probe
02:25 pm: No formal communication with India on Kartarpur corridor. Pakistan remains open and positive: Pakistan Ministry of Foreign Affairs (reports ANI)​
02:00 pm: This Ordinance is unconstitutional, it is against the Constitution's right to equality as it is being made only for Muslims. All India Muslim Personal Law Board and women organisations should challenge this ordinance in the Supreme Court: Asaduddin Owaisi (ANI)
01:59 pm: This ordinance is against the Muslim women, it will not provide justice to the Muslim women. In Islam, marriage is a civil contract and bringing penal provisions in it is wrong: Asaduddin Owaisi on Cabinet approving an ordinance on triple talaq (ANI)
01:48 pm: Uttar Pradesh ATS arrests BSF personnel on suspicion of sharing vital information with Pakistan ISI agent: DGP OP Singh
01:46 pm: An inquiry cannot be set up to satisfy ego of a senior leader of Congress party in Rafale deal: Union Minister Ravi Shankar Prasad
01:45 pm: Congress did not cooperate in passage of triple talaq bill in Rajya Sabha because of vote bank politics: Law Minister Ravi Shankar Prasad
01:44 pm: Appeal to Sonia Gandhi, Mayawati and Mamata Banerjee to help in passage of triple talaq bill in name of gender justice: Law Minister RS Prasad
01:43 pm: Government will announce restrictions on non-essential import items very soon: Subhash Chandra Garg, Secretary at the Department of Economic Affairs (ANI)
01:39 pm: China denies meddling in US mid-term elections (reports AFP)
01:25 pm: Delhi High Court issues direction to the Principle Health Secretary of NCT of Delhi for taking appropriate action against the illegal pathological labs and diagnostics centres in NCT of Delhi
01:10 pm: As for other provisions are concerned, the mother/victim wife must get the custody of the minor child and the mother is entitled to a maintenance suitably determined by the magistrate for herself and the child: Law Minister RS Prasad
01:04 pm: The core component of this Ordinance is that an offence will be cognizable only when the FIR is filed by the victim wife or her close relations by blood or marriage: Law Minister Ravi Shankar Prasad on the ordinance on triple talaq
12:52 pm: Under the prime minister's chairmanship, Cabinet Committee on Economic Affairs (CCEA) has approved financial assitance of Rs 3,466 crore for safety and repair of dams in the country: Law Minister Ravi Shankar Prasad (ANI)
12:51 pm: 
Delhi: Afghanistan President Ashraf Ghani meets Prime Minister #NarendraModi at Hyderabad House pic.twitter.com/PAQbDuWiVi

— India TV (@indiatvnews) September 19, 2018
12:38 pm: Supreme Court defers hearing to October 30, on the petition filed by former editor-in-chief of Tehelka, Tarun Tejpal, against his trial in connection with the sexual assault case against him (reports ANI)
12:20 pm: Union Cabinet approves ordinance on Triple Talaq bill, making it a criminal act (ANI quoting sources)
11:46 am: Uttar Pradesh government comes out with austerity measures for bureaucrats: Official directive (PTI)
11:06 am: Kerala nun rape case accused Jalandhar Bishop Franco Mulakkal arrives at Crime Branch (CID) in Kochi where he will be interrogated by a 5 member-team 
10:42 am: Army attaches Major Gogoi to the local formation for hearing of charges and summary of evidence in the hotel altercation case against him, further proceedings to be done as per the findings
10:14 am: Delhi's Patiala House Court fixes October 22 as the date for arguments on charges against former Himachal Pradesh Chief Minister Virbhadra Singh, his wife Pratibha Singh and others in disproportionate assets case against them (reports ANI)
09:59 am: Meeting between Cabinet and Cabinet Committee on Economic Affairs (CCEA) to begin shortly in Delhi 
09:36 am: Koreas agree to set up first-ever joint search effort at their border for bodies of soldiers killed in Korean War and to disarm a jointly controlled border village, starting with the removal of land mines
09:34 am: Koreas agree to withdraw 11 guard posts from the Demilitarized Zone by December, with aim of removing them all one day
09:33 am: Rupee recovers 28 paise against US dollar 
09:32 am: Sensex up by over 100 points to open at 37,400.78; Nifty at 11311.30
09:19 am: Kochi: Five-member team led by Vaikom Dy SP K Subhash arrives at Crime Branch (CID) to interrogate accused Jalandhar Bishop Franco Mulakkal in Kerala nun rape case (ANI)
09:12 am: One injured, two missing after an oil tanker and a jeep collide and fall into Bhakra Sutlej Link Canal in Sundernagar, in Himchal Pradesh's Mandi at 1 am late on Tuesday, rescue operations underway
09:09 am: North and South Korea agree to seek to jointly host the 2032 Summer Olympics
09:01 am: South Korean leader says North will permanently dismantle its main nuclear complex if US takes corresponding measures
08:45 am: South Korean president says North agrees to dismantle missile engine test site, launch pad and allow inspections
08:22 am: South Korean President Moon Jae-in and North Korean leader Kim Jong Un agree to push for Korean Peninsula without nukes
07:53 am: South Korean President Moon Jae-in and North Korean leader Kim Jong Un sign a joint statement, no details disclosed
07:11 am: Senators seek punishment if Chinese firm ZTE violates US laws
06:24 am: US hopes for 'meaningful' denuclearization move at Korean summit