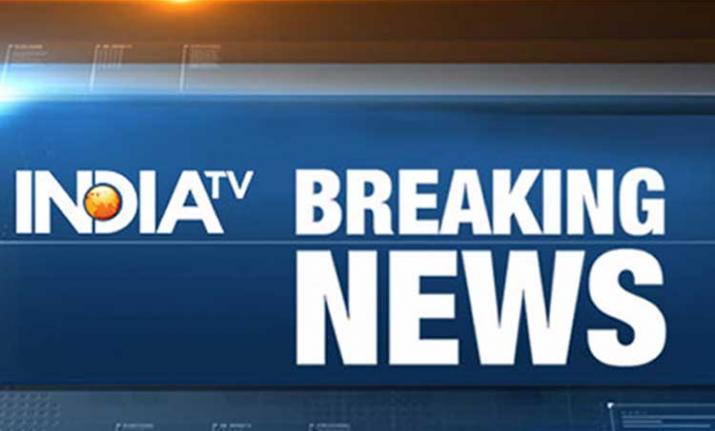 Daily dose of news plays very important role in our daily life. For some people, the morning is incomplete without knowing about what's happening across the world. Some digital-savvy people have a habit of consuming news even when they are travelling or in their free time. In today's world, where people rely on news websites for everything that's happening around, IndiaTV News provides you all breaking news, latest news, breaking story videos, Live TV and top shows of IndiaTV, country's leading news channel on a single platform to ensure you don't miss anything important.
Internet, Twitter, Facebook are buzzing with breaking news and news alerts from India and rest of the world. You can find here the LIVE COVERAGE of all breaking news alerts and latest news updates on just one page. IndiaTV Digital covers all top news as and when it happens and ensures its readers don't miss anything important.
Breaking News India: Get latest news headlines from India and around the world on politics, elections, sports, entertainment, business, lifestyle and much more on IndiaTV News.
BREAKING NEWS OF SEPTEMBER 15:
6:00 pm: Municipal Elections shall be held in 4 phases. Date of polling would be Oct 08, Oct 10, Oct 13 & Oct 16. Counting shall take place on Oct 20 after all the phases are over. Poll hours will be from 7am to 2pm: Chief Electoral Officer Shaleen Kabra on Jammu And Kashmir
5:28 pm: India-Serbia are on path of economic reforms to realise goal of socio-economic development of our people. India as one of the fastest growing major economies in world, presents opportunities for win-win partnership between Serbian & Indian entrepreneurs: VP Naidu in Serbia
5:07 pm: Rewari police releases photos of three accused in gang-rape case
04:35 pm: Sharad Kalaskar, an accused in Narendra Dabholkar murder case, has been sent to CBI custody till 17 September.
04:28 pm: Case registered against a man for allegedly raping a 23-yr-old woman in Delhi's Sangam Vihar on Sept 2 on the pretext of providing her a job. Medical of the victim has been conducted. Further investigation underway.
04:13 pm: Congress Pres Rahul Gandhi appoints P Chidambaram as Chairman of Manifesto committee & Rajeev Gowda as convener, AK Antony as the Chairman of Coordination committee & Jairam Ramesh as the convener, Anand Sharma as the Chairman of Publicity committee & Pavan Khera as the convener.
04:05 pm: Special Economic Offences Court grants bail to K'taka Minister DK Shivakumar&3 others.He has to furnish a bond of Rs 1 lakh&deposit surety of Rs 25,000 in cash in a case filed by Income Tax Department.3 others Sunil Sharma, Anjaneya & Rajendra to furnish surety of Rs 25,000 each.
03:47 pm: BJP Worker Trilochan Mahato murder case - TMC leader Shrishti Dhar Mahato's son Sandip Mahato has been arrested by CID. Total 3 arrests have been made so far in the case. Body of Trilochan Mahato was found hanging from a tree in Balarampur's Khudigora jungle (WB) on May 30, 2018.
03:25 pm: Kerala Nun rape case- Jalandhar police has served a notice to Bishop Franco Mulakkal, to appear before Kerala police on 19 September.
03:23 pm: West Bengal-CID has registered a case against 3 police personnel & 2 Army personnel over allegations that they had misappropriated&received illegal gratification for avoiding to take legal action against gold smugglers whom they had detained with a consignment of gold on 10 Sept
03:21 pm: Delhi Chief Secretary alleged assault case-Delhi's Chief Secretary has moved an application before Delhi's Patiala House Court requesting to change the prosecutor in the case. He says he needs a special public prosecutor in the case. Court to hear the matter on 18 September.
03:00 pm: 
Belgrade: Vice President M Venkaiah Naidu and the President of Serbia Aleksandar Vucic hold a meeting at the Palace of Serbia. #Serbia pic.twitter.com/GTdvMN52RH

— ANI (@ANI) September 15, 2018
2:10 pm: 5 terrorists have been eliminated. They belong to Lashkar-e-Taiba & Hizbul. They were wanted in different crimes of civilian atrocities, attack on security forces & bank robberies. Weapons have also been recovered. Search op is going on.: IGP Kashmir SP Pani on Kulgam encounter
2:07 pm: Fire breaks out in Hotel Pamposh, Srinagar, Jammu and Kashmir. Five fire tendors present at the spot.
1:43 pm: Black buck poaching case: Rajasthan govt to appeal before the Rajasthan High Court against the acquittal of actors Sonali Bendre, Neelam Kothari and Tabu, Saif Ali Khan and others.
1:04 pm: Earthquake of magnitude 3.4 strikes Himachal Pradesh's Kinnaur
11:45 am: Kerala Nun rape case against Jalandhar Bishop Franco Mulakkal has been brought to the notice of the Vatican. The church representative from India is in Vatican to discuss the issue & is expecting intervention in the coming days: Sources
11:21 am: Tamil Nadu Governor has to accept the recommendations made by state cabinet on the release of all 7 convicts of Rajiv Gandhi assassination case. We hope the Governor will take a good decision in this regard as it is the aspirations of Tamil people: Tamil Nadu Minister D Jayakumar
10:27 am: Rewari gang-rape case: National Commission for Women writes to DGP Haryana 
10:08 am: Monsoon session of the Uttarakhand Legislative Assembly to commence from Sept 18
09:50 am: Goa CM Manohar Parrikar to travel to Delhi today for health checkup 
09:10 am: Rewari gangrape case: SIT formed under Nuh Superintendent of Police Naazneen Bhasin to investigate the case of gang-rape of a 19-year-old woman- ADGP Operation AS Chawla
08:10 am: Sambhal: A Samajwadi Party worker was allegedly shot dead by an unidentified person, yesterday. Yamuna Prasad, SP Sambhal says, 'he was shot by an unknown person at his residence.
07:10 am: Jammu and Kashmir: Three terrorists killed in encounter with security forces in Chowgam area of Qazigund.
06:55 am: Petrol at Rs 81.63/litre (increase by Rs 0.35/litre) and diesel at Rs 73.54/litre (increase by Rs 0.24/litre) in Delhi. #Petrol at Rs 89.01/litre (increase by Rs 0.34/litre) and diesel at Rs 78.07/litre (increase by Rs 0.25/litre) in Mumbai.
06:10 am: An encounter broke out between terrorists and security forces in Chowgam area of Qazigund late last night. More details awaited.