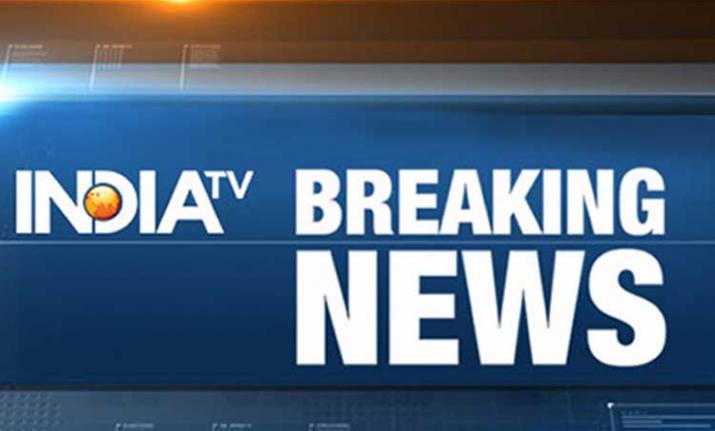 Daily dose of news plays very important role in our daily life. For some people, the morning is incomplete without knowing about what's happening across the world. Some digital-savy people have a habit of consuming news even when they are travelling or in their free time. In today's world, where people rely on news websites for everything that's happening around, IndiaTV News provides you all breaking news, latest news, breaking story videos, Live TV and top shows of IndiaTV, country's leading news channel on a single platform to ensure you don't miss anything important.
Internet, Twitter, Facebook are buzzing with breaking news and news alerts from India and rest of the world. You can find here the LIVE COVERAGE of all breaking news alerts and latest news updates on just one page. IndiaTV Digital covers all top news as and when it happens and ensures its readers don't miss anything important.
Breaking News November 23
4:43 pm: Khost: An explosion took place at a mosque in the 2nd Regiment of the Afghan National Army in Mandozai district. An army spokesman, Captain Abdullah, says 'the explosion was a suicide bombing which left at least 10 dead, 15 wounded': TOLO News
4:24 pm: Bhima Koregaon Case: Pune Police moves an application in Sessions Court seeking extension of 90 days time to file chargesheet against 4 accused Sudha Bhardwaj, Arun Ferreira, Vernon Gonsalves, Varavara Rao. 25 Nov is last date of their house arrest & 26 Nov is fixed for hearing.
4:06 pm: If aligning with BJP is a crime, then it is Omar Abdullah who first committed this crime. He was once the poster boy of NDA. Madam Sahiba (Mehbooba Mufti) was also in power with them for 3 years. But when we do it, it's wrong: Sajjad Gani Lone,People's Conference.
3:44 pm: During 'Mahagathbandhan' govt it was allotted to Tejashwi ji. During NDA govt it was decided to allot it to Dy CM. Matter went to court.Court directed him to vacate it. I believe he'll respect law&vacate it: Maheshwar Hazari,Bihar Min on Tejashwi Yadav's 5, Deshratn Marg bungalow
3:27 pm: Delhi police: No racial attack. Received call that people are gathering. We reached there, dispersed crowd&rescued 2 Tanzanian women. Crowd had gathered following abduction rumours. Later we received a call of abduction. It was a hoax call. We rescued Tanzanian&Nigerian nationals
3:04 pm: A Brigade Commander level flag meeting was held between Indian Army and Pakistan Army today at Poonch-Rawalkote Crossing Point. It focussed on augmenting confidence building measures, maintaining peace along the line of control and prevention of infiltration from PoK.
02:42 pm: 'Some have vested interests in Sabarimala and cannot be blind to it. The peaceful situation should be restored. All should co-operate for it': Kerala High Court while considering a petition for performing "sayanaprathakshinam" in Sabarimala
02:40 pm: P Chidambaram, his son Karti file their response in Delhi's Patiala House Court in Aircel Maxis CBI and ED cases against them. Copy filed through Advocate Arshdeep Khurana opposed the allegations made against them by the investigation agencies
02:34 pm: India and Australia's vibrant, multicultural democracy, free press, independent judicial system and English language bring us together. when all this is so passionately wrapped in our shared love for cricket, hockey and Masterchef: President Kovind at University of Melbourne (ANI)​
02:31 pm: There are many demands of the society, Ram Mandir is one of that. There's no problem in it: BJP's Murli Manohar Joshi on demand for the resolution of Ayodhya matter (ANI)​
02:23 pm: Turkey says EU 'exceeding limits' after calling for jailed Kurdish leader's release
01:50 pm: Turkey says Trump intends to turn a 'blind eye' to Khashoggi murder
01:49 pm: Kerala government files affidavit in high court, in connection with incidents of violence outside the Sabarimala temple. The affidavit states 'There was no police provocation in Sabarimala. Only criminals who created issues in Sabarimala were arrested'.
01:38 pm: Before 2014, Narendra Modi promised loan waiver, bonus and better price for farmers' produce; I want to ask him why were the assurances not fulfilled: Rahul Gandhi in Madhya Pradesh
01:36 pm: Unemployment and farm crisis rampant in poll-bound states: Rahul Gandhi in Madhya Pradesh
01:14 pm: China 'strongly condemns' attack on consulate in Pakistan
01:03 pm: Vijay Kumar Dev appointed as the Chief Secretary of Delhi with effect from the date of joining till further orders. He replaces Anshu Prakash who was transferred last week as the Additional Secretary of the Department of Telecommunications
12:31 pm: India strongly condemns terrorist attack on Chinese Consulate in Karachi. We condole loss of lives in this dastardly attack. There can be no justification whatsoever for any act of terrorism. The perpetrators of this heinous attack should be brought to justice expeditiously: MEA
12:28 pm: The double engine of BJP governments in both the Centre and the state will take Mizoram to new heights: PM Narendra Modi
12:26 pm: Seventeen people killed in bomb blast in Pakistan's Khyber Pakhtunkhwa province
12:17 pm: Country has understood Cong's "divide and rule" policy and that is why now they are confined to few states: PM Modi at Mizoram rally
12:09 pm: Feel deep sense of anguish at Cong "abusing" Northeast culture, calling its dress outlandish: PM Narendra Modi at rally in Mizoram's Lunglei
12:02 pm: You might remember how the Congress leaders insulted the traditional attire of North East. The attire given to me at different places in the state is termed outlandish by them. They speak a lot when they come here but this is their reality: PM Modi in Lunglei​
12:01 pm: Lawyer Alakh Alok Srivastava files PIL in Supreme Court; seeks direction to Centre to execute all death row convicts in the Nirbhaya gangrape and murder case within two weeks from the listing of the case. The matter has been admitted by the top court
11:58 am: In the last 4 years, the BJP government at the Centre has worked for greater recognition and spread of Indian culture and traditions But I feel a deep sense of anguish when I see the leaders of Congress abuse the same traditions: PM Modi in Lunglei, Mizoram
11:46 am: Prime Minister Narendra Modi addresses public meeting in Lunglei​, Mizoram
11:39 am: Kerala Assembly's 13th session will begin on November 27. The 13-day long session will continue till December 13, 2018: Kerala Legislative assembly speaker P Sreeramakrishnan
11:36 am: We've also expressed grave concern at reports of attempts being made during ongoing visit of Indian pilgrims to Pak, to incite communal disharmony and intolerance and promote secessionist tendencies with objective of undermining India's sovereignty and territorial integrity: MEA
11:35 am: India lodges strong protest with Pakistan that despite being granted prior travel permission by Pak's MFA, High Commission of India in Islamabad's Consular officials were harassed, denied access on Nov 21, 22 at Gurudwara Nankana Sahib and Gurudwara Sacha Sauda to Indian pilgrims. As a result of such harassment they were compelled to return to Islamabad without performing their diplomatic and consular duties vis-a-vis Indian pilgrims: MEA 
11:26 am: Three suicide bombers killed in attack on Chinese consulate in Pakistan, attackers were not able to get in: Karachi police chief
11:12 am: Pakistani separatist group Balochistan Liberation Army claims attack on Chinese consulate in Karachi: Spokesman 
10:57 am: Two policemen killed as several people attack Chinese consulate in Karachi's Clifton area in Pakistan, shoot at guards and blow up door with hand grenade
10:51 am: CP Joshi's comment is opposite of the Congress values. Party leaders should not give statements that can hurt the sentiments of any section. I am sure Joshi ji will realise his mistake, keeping party's principles in mind. He should regret his statement: Rahul Gandhi
10:42 am: The BSE and the NSE will remain closed today on account of Gurunanak Jayanti. Forex and commodity futures markets too will stay shut
10:21 am: Firing near Chinese Consulate in Karachi's Clifton area
09:54 am: If they (PDP) are so aggrieved they can go to the court but they will not because they don't have the numbers, but we are happy that we got these dynastic parties together: Sajjad Gani Lone (ANI)
09:51 am: We staked the claim as we had the numbers. Had there been a floor test or had we been told to bring in the numbers, then that which is within the purview of the constitution would have happened: Sajjad Gani Lone, People's Conference on Jammu and Kashmir (ANI)
09:28 am: Two bike-borne persons die after falling off their motorcycle as it rammed into a divider at Delhi's Signature Bridge
08:24 am: Six terrorists killed during encounter with security forces in Jammu and Kashmir's Anantnag​; arms and ammunition recovered
07:31 am: Three terrorists gunned down during encounter with security forces in Jammu and Kashmir's Anantnag
07:06 am: Samsung Electronics apologises for semiconductor factory cancer cases
06:34 am: According to the Air Quality Index (AQI) data, major pollutant PM 2.5 is at 215 (poor) and PM 10 at 229 (poor) in Delhi's Lodhi Road area
06:29 am: President Ram Nath Kovind and First Lady Savita Kovind arrive in Melbourne, Australia. They were received upon arrival by the representative of the Governor of Victoria
06:23 am: Encounter underway between security forces and terrorists in Sekipora area of Bijbehara in Jammu and Kashmir's Anantnag. 2 to 3 terrorists believed to be trapped