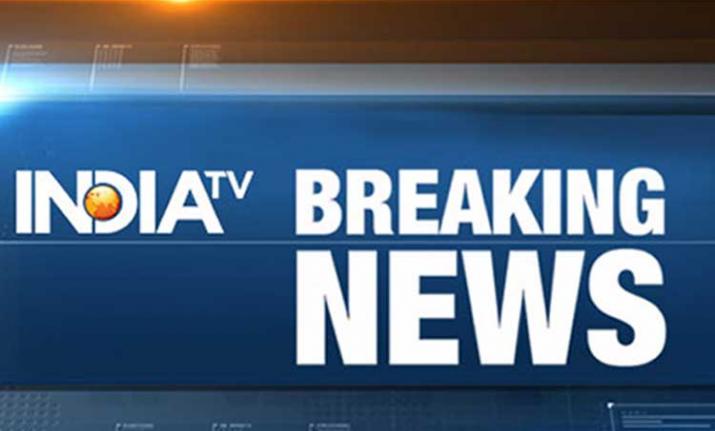 Daily dose of news plays very important role in our daily life. For some people, the morning is incomplete without knowing about what's happening across the world. Some digital-savy people have a habit of consuming news even when they are travelling or in their free time. In today's world, where people rely on news websites for everything that's happening around, IndiaTV News provides you all breaking news, latest news, breaking story videos, Live TV and top shows of IndiaTV, country's leading news channel on a single platform to ensure you don't miss anything important.
Internet, Twitter, Facebook are buzzing with breaking news and news alerts from India and rest of the world. You can find here the LIVE COVERAGE of all breaking news alerts and latest news updates on just one page. IndiaTV Digital covers all top news as and when it happens and ensures its readers don't miss anything important.
Breaking News January 9:
5:44 pm: "Time and again Anupam Hazra (Lok Sabha MP from Bolpur) has done activities that don't match with the ideologies of the party. We have suspended him," said TMC Secretary-General, Partha Chatterjee.
5:14 pm: Those didn't even see face to face with each other, are getting scared looking at the chowkidaar. They think whatever happens to us will happen, but chowkidaar should be removed first. Till chowkidaar is there nobody can loot, said PM Modi.
4:45 pm: Within 100 days only, around 7 lakh poor people have been treated or are being treated in hospitals under Ayushman Bharat Yojana, which is also called 'Modi Care' by the people, said PM Modi.
4:01 pm: I want to inform you that under Namami Ganga Mission, the cleaning of river Yamuna is also our priority, says PM Modi in Agra.
3:30 pm: Supreme Court commuted to life imprisonment the death sentence awarded to Maharashtra state transport bus-driver Santosh Mane, convicted for mowing down nine people in Pune in 2012.
02:47 pm: TMC Lok Sabha MP Soumitra Khan joins BJP in Delhi. Union Minister Dharmendra Pradhan and West Bengal BJP leader Mukul Roy also present
02:40 pm: Pompeo meets Iraq officials on unannounced Baghdad visit
02:39 pm: CBI Director Alok Verma was removed at midnight. Now Supreme Court said he will be reinstated. We want an inquiry in #RafaleDeal, we want a JPC also: Rahul Gandhi in Jaipur (ANI)
02:26 pm: I would like to assure in the House that to preserve the hopes and sentiments of the people of Assam and North East our govt will take necessary steps: Home Minister Rajnath Singh in Rajya Sabha (ANI)
02:04 pm: CPI(M) Rajya Sabha MP TK Rangarajan moves an amendment in The Constitution (124th Amendment) Bill, 2019
01:58 pm: Meeting of the Selection Committee comprising Prime Minister Narendra Modi, Leader of Opposition in Lok Sabha Mallikarjun Karge and Justice AK Sikri, on CBI director Alok Verma, to take place later today
01:35 pm: Israel ex-minister accused of spying for Iran to get 11 years jail
01:14 pm: Budget session of Parliament to be held from Jan 31 to Feb 13; interim budget to be presented on Feb 1: Sources 
12:58 pm: BJD will not be part of the Mahagathabandhan. The party will continue to remain equidistant from both BJP and Congress: BJD president and Odisha CM Naveen Patnaik (ANI)
12:39 pm: Rajya Sabha adjourned till 2 pm after uproar over general category quota bill
12:23 pm: A historic bill was passed in Lok Sabha late last night. Our principle of 'sabka sath sabka vikas' has been further strengthened by passing the bill regarding 10% reservation being granted to economically weaker sections in the general category: PM Modi in Solapur, Maharashtra 
12:10 pm: Bharatiya Janata Party names Krishna Middha as its candidate for the upcoming by-election to the legislative assembly constituency of Jind in Haryana
12:06 pm: Supreme court appoints former Solicitor General Ranjit Kumar as an Amicus Curiae to assist the court in framing guidelines and issues for managing the administrative affairs of Jagannath temple in Puri, Odisha
12:05 pm: Union Minister Thawar Chand Gehlot tables the 10% quota bill in Rajya Sabha
12:01 pm: West Bengal: Suspicious item found on railway track at North 24 Parganas in Ashok Nagar. Nikhil Kumar, CPRO Eastern Railway says, "It's a suspected bomb. Our bomb disposal squad has already rushed to the spot. After disposal of the bomb, line will be cleared."
11:55 am: Justice AK Sikri to be part of the Selection Committee along with Prime Minister Narendra Modi and Leader of Opposition in Lok Sabha Mallikarjun Kharge, to decide the case of CBI Director Alok Kumar Verma
11:47 am: We express gratitude to PM Modi and central cabinet for taking this decision to give 10% reservation to economically weaker sections of the society. This bill materialises PM's principle of 'Sabka Saath Sabka Vikas': UP CM Yogi Adityanath (ANI)
11:36 am: Final report of Justice HS Bedi Committee on 24 Gujarat encounter cases from 2002-06 should be given to parties, says Supreme Court, adding it will deal later on whether to accept or reject final report of panel on Gujarat fake encounters
11:33 am: Suspected Pakistani spy, native of Assam's Tinsukia and identified as Nirmal Rai, arrested by Intelligence and Field Surveillance Unit (IFSU) from a border village near Kibithu LAC of Arunachal Pradesh. He was working with Army at Kibithu and Dichu villages as porter, probe underway
11:31 am: The country expects the House to function. As per normal working days, we should have been working, on most of them the House stood adjourned. There is one extra day to consider legislations: Arun Jaitley in Rajya Sabha (ANI)
11:29 am: Delhi High Court adjourns for January 23, the hearing on a petition filed by Jawaharlal Nehru Memorial Fund seeking setting aside of show cause notice issued by Estate Officer, Govt of India for eviction from Teen Murti Estate
11:27 am: The way the House proceedings were extended without the consent of the opposition parties was not right. The situation now is such that there is no dialouge between opposition and govt. The govt is foremost responsible if the House doesn't function: Anand Sharma, Congress in Rajya Sabha (ANI)
11:15 am: Supreme Court refuses to give an urgent hearing to a mentioning seeking to define the word 'Hindutva'. CJI, Ranjan Gogoi, says "Court has its own priorities. Will hear the matter when we have time".
11:04 am: The government wants to extend the functioning of the House by a day as there are important bills to be passed: Minister of State for Parliamentary Affairs Vijay Goel in Rajya Sabha (ANI)
10:32 am: 41-year-old woman alleges sexual assault by a 65-year-old Delhi businessman onboard Vistara airlines Mumbai-Delhi flight. Case registered; accused granted bail
10:19 am: Hyderabad: CISF officials seize foreign currency worth Rs 1.02 crore from a passenger at Rajiv Gandhi International airport
10:07 am: Terrorism becoming a new form of warfare; need to control social media as it is becoming a source of spreading radicalisation: General Rawat (PTI)
09:51 am: Suspicious packages delivered to embassies and consulates in Canberra and Melbourne: Australian federal police (Reuters)
09:32 am: Sensex up by 182.50 points in opening trade, currently at 36,163.43; Nifty at 10851.30
09:13 am: Pakistan violates ceasefire in Jammu and Kashmir's Poonch sector, fourth time in last two days. Security forces retaliating effectively
08:47 am: Meeting of the Cabinet Committee on Parliamentary Affairs scheduled to be held later today
08:13 am: Delhi: Nine train arrivals delayed due to fog conditions/low visibility
08:02 am: Trump must stop holding America 'hostage' over shutdown: Pelosi
07:45 am: Trump demands $5.7 billion for steel barrier on Mexico border
07:24 am: US-Mexico border situation a 'growing crisis': Trump says in first prime-time Oval Office address
06:12 am: Global GDP seen slowing to 2.9% in 2019, US 2.5%, World Bank says; cuts global growth forecast amid US-China trade conflict