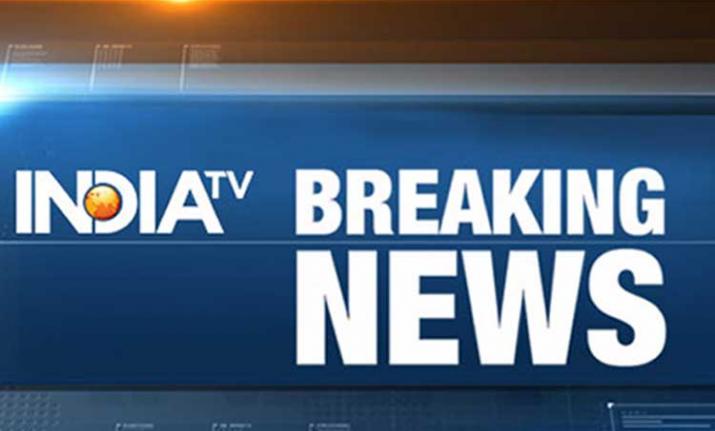 Daily dose of news plays very important role in our daily life. For some people, the morning is incomplete without knowing about what's happening across the world. Some digital-savy people have a habit of consuming news even when they are travelling or in their free time. In today's world, where people rely on news websites for everything that's happening around, IndiaTV News provides you all breaking news, latest news, breaking story videos, Live TV and top shows of IndiaTV, country's leading news channel on a single platform to ensure you don't miss anything important.
Internet, Twitter, Facebook are buzzing with breaking news and news alerts from India and rest of the world. You can find here the LIVE COVERAGE of all breaking news alerts and latest news updates on just one page. IndiaTV Digital covers all top news as and when it happens and ensures its readers don't miss anything important.
Breaking News January 30:
6:29 pm: Andhra Pradesh Chief Minister N. Chandrababu Naidu announces to hold protest against the Central government from February 1 to February 13. Agitation in Delhi will be on February 11.
6:00 pm: Actress Shamita Shetty has filed a police complaint after three bike-borne men rammed into her car & slapped and threatened her driver in Thane on Monday. Based on the statement of the driver, FIR has been lodged under relevant sections of the IPC.
5:30 pm: PMLA Special Court convicted five accused - Kirit Rasiklal Shah, Jagdish Vaidya, Gunasekaran Pillai, Shri Ravindran Karapaya and M/s Sakha Organics - in connection with the recovery & seizure of methamphetamine, a psychotropic substance from the accused
4:46 pm: Goa CM Manohar Parrikar writes to Congress President Rahul Gandhi, writes "I feel let down that you have used this visit for your petty political gains. In the 5 minutes you spent with me, neither did you mention anything about Rafale, now did we discuss anything related to it."
4:27 pm: Congress President Rahul Gandhi: RSS is confused because they think that they are bigger than India. They think that they are the authority and source of knowledge in this country. It is absolutely wrong, there is only one source of knowledge in this country, the people.
4:00 pm: Criminal defamation complaint against Congress leader Jairam Ramesh and Caravan magazine by Vivek Doval: Delhi's Patiala House Court has fixed 11 Feb as the next date of hearing.
3:30 pm: Delhi High Court seeks reply from Enforcement Directorate (ED) on bail plea of journalist Upendra Rai in a money laundering case. Matter to be heard on 19th March.
3:00 pm: BJP President Amit Shah in Kanpur: If gathbandhan comes to power then Behenji will be PM on Monday, Akhilesh ji on Tuesday, Mamata didi on Wednesday, Sharad Pawar ji on Thursday, Deve Gowda ji on Friday, Stalin on Saturday, and the whole country will go on a holiday on Sunday.
2:20 pm: Delhi: Till yesterday, 8 people died due to swine flu & 15 swine flu positive cases were reported at RML hospital.
2:17 pm: Andhra Pradesh: A minor girl was allegedly molested in Thumrukota village, Rentachintala mandal, Guntur yesterday. The victim was admitted to a hospital. Accused detained & case registered under appropriate sections. CM Chandrababu Naidu announced Rs 5 lakh ex gratia to victim.
2:12 pm: Finance Ministry clarifies that this budget will be 'Interim Budget 2019-20'.
2:00 pm: Recently an international report stated that in the next 10-15 years, the top-10 fastest developing cities will be from India. And Surat will top the list of those ten cities, says Prime Minister Narendra Modi in Surat
1:52 pm: Delhi: Fire broke out at a chemical factory in Okhla Phase- I, earlier today; 22 fire tenders engaged in fire fighting operation, no casualties reported
01:39 pm: IIT Roorkee testing floating device to produce electricity from river surface
01:13 pm: Delhi police arrest Sanjay Sachdev, owner NGO Love Commando for threatening and extortion of money from a couple
01:09 pm: AIADMK has announced party workers who are willing to contest in Lok Sabha elections can apply from February 4 to February 10, 2019 after paying Rs 25,000. All 40 constituencies (39 Tamil Nadu and 1 Puducherry) listed
01:07 pm: CBI court sentences NDFB Chief Ranjan Daimary, nine others to life imprisonment in 2008 Assam serial blast case
12:52 pm: Death toll up to 28 after migrant boats sink off Djibouti
12:49 pm: Delhi's Safdarjung hospital reports 18 positive cases of Swine Flu. Out of 18 cases, three deaths took place till January 28 (reports ANI)
12:36 pm: Jammu and Kashmir: Three civilians injured as terrorists lob grenade at a police station in Kulgam
12:07 pm: Fire breaks out at Mochi building, at 5th Kumbharwada, Maruti Mandir road in Mumbai's Girgaon. Fire brigade and police rushed to the spot, no injuries reported
11:56 am: Case registered against Congress' District (Wayanad) Congress Committee member OM George for allegedly sexually assaulting a tribal girl for one and a half year. The girl has been shifted to a government shelter home. OM George is still absconding
11:41 am: Odisha: CBI registers fives cases against Bhapen Maitra, Senior Manager, Engine Division, HAL and other HAL employees on charges of fraudulently misappropriating funds to the tune of around Rs 13 crores
11:18 am: Anna Hazare begins his fast for the formation of Lokpal at the Centre and Lokayuktas in the states, at Ralegan Siddhi in Maharashtra
11:02 am: Supreme Court directs Karti Chidambaram to appear before the Enforcement Directorate for interrogation with respect to his role in the Aircel-Maxis deal and INX Media case on March 5, 6, 7 and 12
10:51 am: Centre mentions before the Chief Justice of India and requests him to set up a Constitution Bench for expeditious disposal of issues related to Section 24 of the Land Rehabilitation Act
10:37 am: Delhi's Patiala House Court adjourns Chief Secretary alleged assault case for March 5
10:10 am: Enforcement Directorate issues notice to Pakistani singer Rahat Fateh Ali Khan under Foreign Exchange Management Act (FEMA)
10:01 am: UP: Police Inspector Manoj Pant (of Noida Sector-20 police station) arrested and suspended from duty, 3 journalists arrested and another inspector Jaiveer Singh absconding, in connection with in an extortion case
09:40 am: Gujarat Education Minister Bhupendrasinh Chudasama writes to rape-convict Asaram's organisation congratulating them for celebrating 14 February as 'Matru-Pitru Diwas'
09:26 am: Sensex up by 200 points in opening trade, currently at 35,792.17; Nifty at 10703.35
09:01 am: Pawan Kalyan not to attend all-party meeting called by TDP chief
08:42 am: 3 killed, 1 seriously injured in road accident in Chhattisgarh's Raipur's Atal Nagar last night 
07:26 am: 12 train arrivals in Delhi delayed due to fog and low visibility
07:09 am: Grenade attack kills two at southern Philippines mosque, says military
06:24 am: British MPs vote in favour of changing Prime Minister Theresa May's Brexit deal