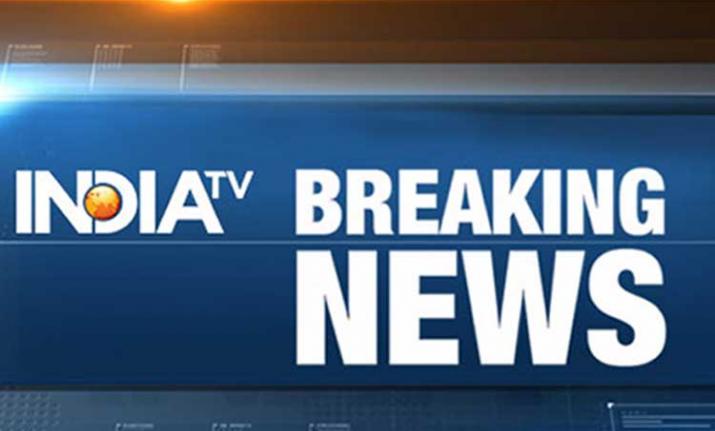 Daily dose of news plays very important role in our daily life. For some people, the morning is incomplete without knowing about what's happening across the world. Some digital-savy people have a habit of consuming news even when they are travelling or in their free time. In today's world, where people rely on news websites for everything that's happening around, IndiaTV News provides you all breaking news, latest news, breaking story videos, Live TV and top shows of IndiaTV, country's leading news channel on a single platform to ensure you don't miss anything important.
Internet, Twitter, Facebook are buzzing with breaking news and news alerts from India and rest of the world. You can find here the LIVE COVERAGE of all breaking news alerts and latest news updates on just one page. IndiaTV Digital covers all top news as and when it happens and ensures its readers don't miss anything important.
Breaking News Latest News Updates February 4
04:50 pm: Kolkata: BJP office in Bhabanipur has been vandalised.
04:45 pm: Delhi's Patiala House Court extends AgustaWestland co-accused, Dubai based businessman Rajiv Saxena's Enforcement Directorate custody by a further four days.
04:20 pm: TMC workers protest against PM Narendra Modi and Central govt over CBI issue in Kolkata.
03:50 pm: Sensex ends 113.31 points higher at 36,582.74; Nifty rises 18.60 points to 10,912.25.
03:30 pm: West Bengal governor submits report to Home Minister Rajnath Singh over incidents that unfolded in Kolkata: Raj Bhavan sources.
03:25 pm: BJP issues a whip for its Rajya Sabha MPs, asking them to be present in the House from 5-7 February.
03:15 pm: Lok Sabha adjourned for the day following protests by TMC members over CBI issue.
03:10 pm: A plea filed in Supreme Court challenging the Constitutional validity of 'The Acquisition of Certain Area At Ayodhya Act, 1993'.
2:30 pm: A confidential report prepared by West Bengal Governor Keshari Nath Tripathi has been sent to Ministry of Home Affairs: ANI 
2:00 pm: Morena: Clash erupted between police and locals today after an accused in an arms case who was in police custody allegedly committed suicide.
1:30 pm: BJP President Amit Shah in Vizianagaram,Andhra Pradesh: When he (N Chandrababu Naidu) felt that people are angry with the way he is running the govt & with his efforts to try to make his son the CM. To try to gain sympathy, he put the entire blame on BJP and distanced himself from us.
1:00 pm: Animal lovers and social activists protest in front of Coimbatore District Collectorate demanding the forest department to bring back Chinna Thambi, the wild Jumbo which was captured few days ago from Thadagam village, Coimbatore.
12:24 pm: Supreme Court posts for February 5,  a PIL filed to rescue 15 miners who were trapped for more than a month in an illegal coal mine in Meghalaya's East Jaintia Hills district. Justice AK Sikri said "it seems to be certain that nobody is alive."
12:05 pm: Supreme Court today dismissed a PIL seeking a direction to ban all red colored dresses across India. The bench headed by Chief Justice of India (CJI) Ranjan Gogoi said, "It is a ridiculous PIL."
11:34 am: "Opposition parties have supported Mamata Banerjee. Who are these people? They are out on bail. Such people are standing together. This is not Mahagathbandhan, they are divided by vision and united by corruption. The corrupt are standing together," says Union Minister Prakash Javadekar.
11:13 am: "Chahe Yogi Adityanath ji ki rally ho, chahe Amit Shah ji yatra nikaalna chahte ho usmein rukawat daalti hai. Kabhi kisi ka helicopter rokti hai, isliye poori tarah se Mamata Banerjee wahi kar rahi hai jo Taadka kiya karti thi," says Haryana Minister Anil Vij. 
11:00 am: Supreme Court says CBI permitted to bring the material on record to support its claim that West Bengal Police Commissioner is trying to destroy evidence.
10:30 am:  "If Kolkata Police Commissioner even remotely thinks of destroying evidence, bring the material before this Court. We will come down so heavily on him that he will regret," says Ranjan Gogoi.
9:56 am: RJD MP JP Yadav has given notice in Lok Sabha in protest against the new 13-point roster system in universities.
9:30 am: We will hold discussions with opposition party leaders in Delhi today & draft an action plan on a nation-wide movement. TDP MPs will strongly protest along with other opposition leaders today: Chandrababu Naidu
9:00 am: TMC (All India Trinamool Congress) to go to the Election Commission today over the EVM matter.
8:27 am: Dense fog engulfs the national capital, air quality remains poor.
8:00 am: Several flights to/from Delhi delayed due to dense fog. No flights cancelled/diverted.
7:30 am: Delhi: Major pollutants PM 2.5 at 206 and PM 10 at 216, both in 'Poor' category in Lodhi Road area, according to the Air Quality Index (AQI) data.
7:00 am: Congress party issues three-line whip for its Rajya Sabha MPs, asking them to be present in the House from Monday - 4 February to Friday - 8 February.
6:30 am: The day 'pradhan sevak' Narendra Modi decides that he will hang his boots, is the day I will leave Indian politics: Smriti Irani
6:00 am: I will be returning my Padma Bhushan award to the President. I did not work for that award, you only gave me that while I was working for social cause and the country. If the country or society is in this condition, then why should I keep that?: Anna Hazare