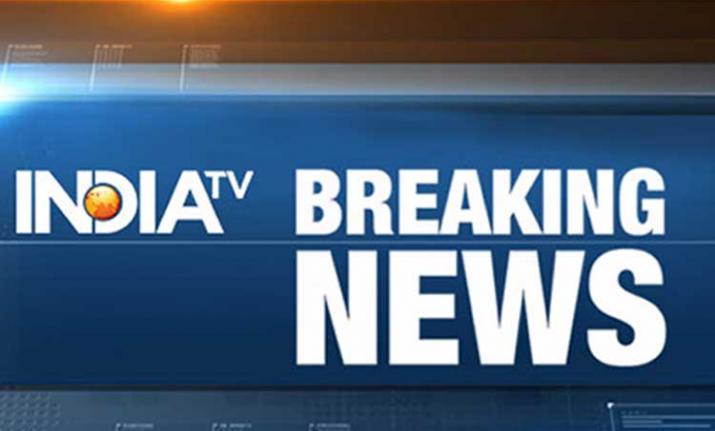 Daily dose of news plays very important role in our daily life. For some people, the morning is incomplete without knowing about what's happening across the world. Some digital-savy people have a habit of consuming news even when they are travelling or in their free time. In today's world, where people rely on news websites for everything that's happening around, IndiaTV News provides you all breaking news, latest news, breaking story videos, Live TV and top shows of IndiaTV, country's leading news channel on a single platform to ensure you don't miss anything important.
Internet, Twitter, Facebook are buzzing with breaking news and news alerts from India and rest of the world. You can find here the LIVE COVERAGE of all breaking news alerts and latest news updates on just one page. IndiaTV Digital covers all top news as and when it happens and ensures its readers don't miss anything important.
 Breaking News December 4:
03:55 pm: Sensex drops 106.69 points to close at 36,134.31; Nifty down 14.25 points to 10,869.50.
02:28 pm: Telangana: Police seized Rs 5,80,65,000 cash from a car at a check post in Jangaon, Warangal yesterday night. Three persons travelling in the car have been detained. Case registered, further investigation underway
02:05 pm: Supreme Court penalizes Andhra Pradesh, Arunachal Pradesh, Meghalaya, Odisha, and Jammu and Kashmir with Rs 1 lakh each and Delhi Rs 2 lakh for failing to create an online link for monitoring implementation of mid-day meal schemes in government-run schools.
01:27 pm: Bulandshahr violence : Postmortem report confirms gunshot injury by 0.32 mm bore bullet on policeman Subodh Kumar Singh's head (ANI quoting sources)
01:24 pm: Italy PM says new budget proposal 'in coming hours'
01:18 pm: Supreme Court allows Income Tax department to continue with the tax re-assessment for the year 2011-12 of Congress President Rahul Gandhi, Sonia Gandhi and Congress leader Oscar Fernandes and no final order will be passed. Next hearing on January 8, 2019
12:54 pm: French PM to announce suspension of fuel tax hikes (AFP)
12:52 pm: Eurozone finance ministers agree reforms (AFP)
12:44 pm: Russia has 'partially unlocked' Ukrainian sea ports in the Azov sea - Ukrainian infrastructure minister
12:36 pm: 
#Bulandshahr | Mortal remains of Police Inspector #SubodhSingh (who died after being attacked by people protesting over alleged cow slaughter) brought to his residence in Etah pic.twitter.com/bEJHcC5HpG

— India TV (@indiatvnews) December 4, 2018
12:20 pm: Fire breaks out at a factory in Punjab's Barnala; fire tenders at the spot
12:05 pm: Supreme Court asks the Sessions Courts in states to try on a priority basis the criminal cases pending against former and sitting MPs and MLAs
11:37 am: Income Tax department has found that KYC of lockers was not done. We called the locker owners and cash of those who were unable to explain was seized. A total of Rs 25 crore has been seized: CBDT Chairman Sushil Chandra on Chandni Chowk (Delhi) locker search
11:28 am: Supreme Court modifies it's January 11 order and accepts Centre's suggestion that two members of the SIT, supervising investigation into 186 cases of the 1984 anti-Sikh riots, will continue with the probe 
11:12 am: Israel says launching operation to cut off Hezbollah tunnels infiltrating its territory
10:57 am: Four persons arrested in connection with Bulandshahr violence
10:54 am: Delhi's Patiala House Court frames charges against TTV Dhinakaran in the two leaves bribery case. He is charged under sec 120B (criminal conspiracy) and 201 (destruction of evidence) of IPC
10:33 am: It's a shocking state of affairs how a mob killed a police officer investigating the Akhlaq case. Who gives these people the authority to take law in their hands? Instead of taking care of his state Yogi is going to Telangana and is spewing venom: Congress' Kapil Sibal on Bulandshahr incident
10:05 am: KCR is misusing the police, the manner in which police entered his bedroom, has never happened in India. Revanth Reddy (Cong candidate detained by police) is not an ordinary man, he is a Brahmos missile and this missile is going to finish TRS: GN Reddy, Congress
09:26 am: Sensex drops over 100 points in early trade, currently at 36,129.42; Nifty at 10857.45
09:07 am: Police have named 27 people in FIR against violent protests which broke out after alleged cattle slaughter in Bulandshahr; 60 unnamed people also mentioned in the FIR
08:58 am: Two FIRs lodged in Bulandshahr violence case; one against the alleged cattle slaughter and the other against the violent protests which followed
08:33: Polling for seventh phase of Jammu and Kashmir panchayat elections underway 
08:24 am: Two people have been taken to custody. An SIT has been formed to investigate why the violence happened and why the police personnel left Inspector Subodh Kumar alone: Prashant Kumar, ADG Meerut Zone on Bulandshahr incident
08:09 am: If it is indeed cattle carcass then Police should also probe as to who brought the carcass there, as there is no minority population in that particular area: Samajwadi Party's Azam Khan on Bulandshahr incident
07:32 am: Congress Telangana Working President and Kodangal candidate Revanth Reddy taken into preventive custody after he reportedly threatened to stop CM KC Rao's rally in Kodangal 
07:01 am: The problem with our society is that charity doesn't exist. Successful people across the world donate most of their earnings to society. But here, there is a man in Mumbai who has a 14-storey house, but he denied when asked if he does any charity: J&K Governor Satya Pal Malik (ANI)
06:59 am: President Trump arrives at US Capitol to pay respects to former President George HW Bush
06:36 am: Maharashtra: Fire that broke out in forest area opposite Gokuldham near Goregaon has been doused
06:11 am: Late president Bush lies in state in Washington
06:08 am: Maharashtra: Firefighting operations continue in forest area opposite Gokuldham near Goregaon, Mumbai