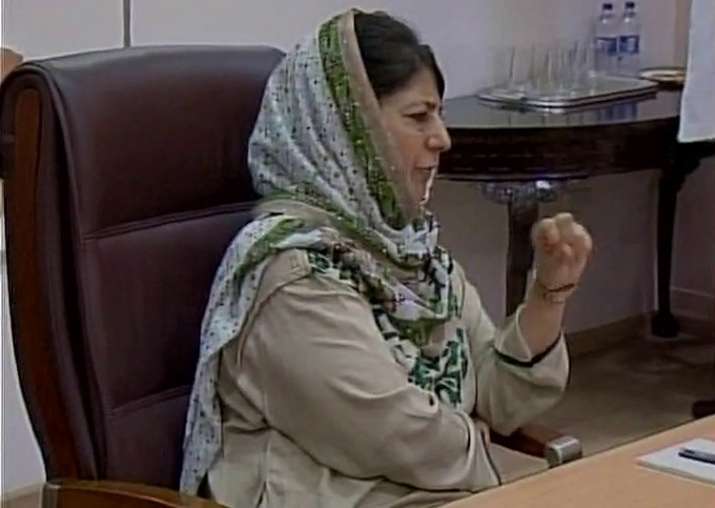 A special plane of Indian Air Force (IAF) carrying bodies of Amarnath Yatra victims and 19 yatris who sustained injuries in the attack landed here. Chief Minister Vijay Rupani was present at the airport to receive them. Seven Amarnath pilgrims were killed and 12 others injured, including policemen, on Monday when a bus of yatris was caught in a cross fire between militants and a police party in Jammu and Kashmir's Anantang district. The incident had taken place in Khanabal area of Srinagar-Jammu highway, around 55 km from Srinagar. 
The state police has blamed terror outfit Lashkar-e-Taiba for the attack. Kashmir police chief Munir Khan told reporters that there were credible inputs that the LeT outfit was responsible for the attack that also left 19 pilgrims injured. The officer said that security for the ongoing pilgrimage to the Himalayan cave shrine has been beefed up.
In New Delhi, Union Home Minister Rajnath Singh held a security review meeting to look into possible security lapses that may have led to the attack. National Security Advisor Ajit Doval, top Home Ministry, intelligence and paramilitary force officials attended the meeting to take stock of the situation in the border state.
Updates: 
* The Jammu and Kashmir Cabinet condemned in unequivocal terms the terrorist strike on Amarnath pilgrims terming it an attack on the state's syncretic culture and pluralistic values. Expressing deep sorrow and anguish over the loss of lives, the Cabinet, which met here, passed a resolution and prayed for eternal peace to the departed souls, an official spokesman said.
* Centre announces Rs 7 lakh compensation to next of kin of each of the 7 Amarnath pilgrims killed in J&K attack, Rs 1 lakh each for those injured.
* I hope that nothing happens...the attack was not done by the Kashmiris...not by the Muslims of Kashmir. Those terrorists cannot be Muslims: Farooq Abdullah
Mortal remains of two #AmarnathYatra pilgrims who lost their lives, brought to Palghar in #Maharashtra pic.twitter.com/MJWaAPNa3P

— India TV (@indiatvnews) July 11, 2017
* Maha CM Devendra Fadnavis announced Rs 10 lakhs each to next of kin of pilgrims from Maharashtra 
* J&K govt to give Rs 3 lakhs award to bus driver Saleem Sheikh 
J&K: MoS PMO Jitendra Singh & MoS Home Hansraj Ahir to meet J&K CM Mehbooba Mufti today. Ministers will also hold a security review meeting

— ANI (@ANI) July 11, 2017
* The J&K govt has announced Rs 6 lakh compensation to the next of kin of each of the seven Amarnath pilgrims killed in the militant attack while the Shri Amarnathji Shrine Board (SASB) has decided to give out Rs five lakh each to families of victims. 
* Chief Minister Mehbooba Mufti today held an emergency meeting of Jammu and Kashmir Cabinet here while Governor N N Vohra reviewed the security of Amarnath yatra in the wake of a terror attack that left seven pilgrims dead. 
Cabinet and security meeting chaired by CM Mehbooba Mufti in Srinagar pic.twitter.com/b5eyjyY9Nf

— ANI (@ANI) July 11, 2017
* Opposition parties unanimously passed a resolution against yesterday's terror strike, which they termed an attack on humanity and on India's plurality and diversity. "The government needs to introspect as to why, despite advanced intelligence inputs, was there a failure to prevent this attack? We the leaders of the Opposition parties strongly condemn the cowardly and ghastly terrorist attack on the Amarnath yatris," the resolution reads. 
* We deplore attack on Amarnath pilgrims & condemn all acts of terrorism. Deepest condolences to families & those affected: US Ambassador to India
God gave me strength to keep moving, and I just did not stop: Salim,Driver of the bus pic.twitter.com/3jm1LQUYLU

— ANI (@ANI) July 11, 2017
* We cannot allow Lashkar and ISI to succeed. The country is united. This was a heinous attack. No one should play politics over the attack. Govt will need to answer certain questions,if not today then tomorrow: Asaduddin Owaisi
* Army Chief General Bipin Rawat reaches Badami bagh HQ in Srinagar
* Nepal, Bhutan and Sri Lanka strongly condemn terrorist attack on Amarnath Yatra pilgrims
* Centre needs to answer, why despite intelligence inputs precautionary measures were not taken: Sitaram Yechury 
* Amarnath Yatra is a symbol of Kashmiriyat, so this attack is cowardly and highly condemnable. They have attacked the Kashmiriyat of India.Innocent bhajan singing devotees were killed. Security forces are taking action: Union Minister Ravi Shankar Prasad
Surat: Gujarat CM Vijay Rupani meets #AmarnathYatra pilgrims injured in terrorist attack yesterday pic.twitter.com/0aUycqHFfI

— ANI (@ANI) July 11, 2017
* Mortal remains of Amarnath Yatra pilgrims who lost their lives, brought to Surat. Injured persons have also been brought
* Want to thank bus driver for saving lives of people even when there was firing going on. Will nominate his name for bravery award: Gujarat CM
* People from Gujarat who have lost lives will get Rs 10 lakh each from Gujarat govt, injured to be given Rs 2 lakh: CM Vijay Rupani
Even when there were intelligence inputs well in advance, why was there a failure in preventing this attack: GN Azad,Congress #AmarnathYatra pic.twitter.com/J1xGqwkuHG

— ANI (@ANI) July 11, 2017
* MoS PMO Dr Jitendra Singh and MoS Home Hansraj Ahir to leave for Srinagar shortly
* Yatra should continue but such an attack should not take place again. I think Governor's rule should be imposed in J&K. I see no step other than imposition of Governor's rule in the prevailing situation, this is my individual opinion: Karan Singh, Congress
Pained at the loss of lives of #AmarnathYatra pilgrims, want to salute people of Kashmir that all sections of the society condemned it: HM pic.twitter.com/7zDbldZ1sx

— ANI (@ANI) July 11, 2017
* Army Chief Gen Bipin Rawat to visit Badami Bagh Army headquarters today.
* There has been no lapse, adequate security has been given, yatra has been peaceful for last 15 days. This shouldn't be called lapse. Security forces have to succeed 100/100 times, terrorists can execute attack even if succeed once: BJP's Ram Madhav
* I appeal to everyone in my nation please come in large nos. so that you can defeat these elements who want to destroy our nation. Come and show them that you are not afraid, that's what is very important: Farooq Abdullah
Undeterred by the attack on Amarnath pilgrims, hundreds of devotees today set off for the cave shrine amid stepped up security measures. Chanting 'Bam Bam Bhole', the pilgrims set for the arduous trek from both the traditional Pahalgam and shorter Baltal routes early this morning.