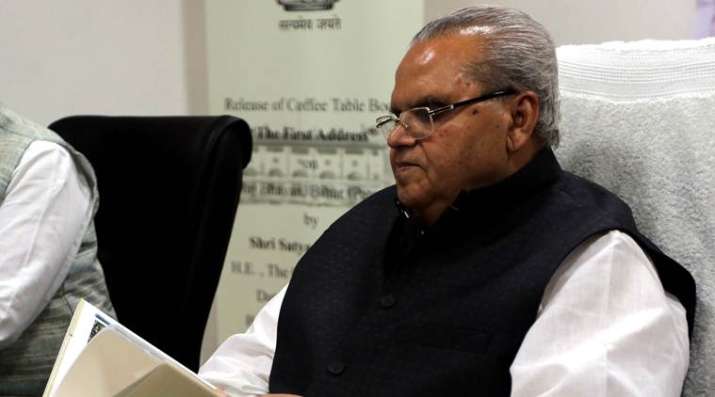 Jammu and Kashmir Governor Satya Pal Malik on Saturday warned terrorists in Jammu and Kashmir against violence and said they must realise that their efforts will achieve nothing, just like the Liberation Tigers of Tamil Eelam (LTTE).
"The LTTE was ten times stronger than you (militants operating in J&K). They were supported by 12 countries. They got nothing, and you will also get nothing by violence," Malik said.
Responding to a question on the morale of the state police force, Malik said it remains high and that he keeps meeting senior officers of the Army and other security forces. 
"The morale of the state police is very high. I keep meeting senior officers of the Army and other security forces. They agree that the morale of the state police is exemplary," he said. 
He said 225 militants cannot be expected to demoralize a large, professional police force.
He said there is an urgent need to address alienation of younger Kashmiris, especially in the age group of 13-20 years.
"We will have to prove our intention to the youth through our actions," he said. "We are preparing two international-level cricket stadiums in Srinagar and Jammu. Once ready, we will have IPL matches played here."
"I have asked all district magistrates to identify land to be set aside as a playground for the youth in every village of the state", said the Governor.
Asked about the expected participation in the municipal polls in the state in the backdrop of National Conference (NC) and Peoples Democratic Party (PDP) staying away, Malik said: "These parties are now realizing that by deciding against participation, they have made a mistake".
Asked about municipal wards where no candidate has filed nomination papers, he said: "I have done an analysis of this. Only 17 per cent voters would not be exercising their franchise because of the absence of candidates in some municipal wards."
He took a dig at NC president and former chief minister Dr Farooq Abdullah, who has said that there would be least public participation in municipal and panchayat polls given the situation on the ground.
"With how much voter turnout did he win the Lok Sabha bye-election?" Malik asked.
Dr Abdullah was elected in the bye-election for the Srinagar Lok Sabha consistency with less than 7 per cent voter turnout last year.
(With IANS inputs)