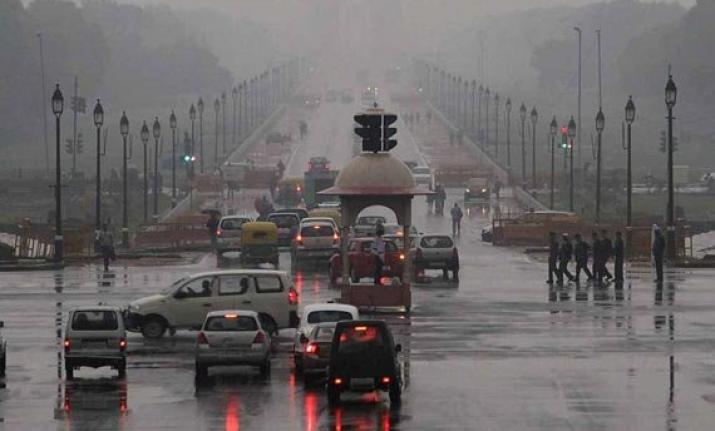 The National Capital Region (NCR) woke up to a light downpour on Monday morning, with the temperature dipping to 24 degree Celsius. Parts of Noida and Greater Noida also witnessed light to moderate rainfall.
The Indian Meteorological Department had predicted thunderstorm for Monday, accompanied with gusty winds. As per the forecast, similar weather will continue for the next two days.
Delhi witnessed its first storm of the season on Friday that gave way to a light drizzle, much to the relief of the people. Dusty winds with the speed of 81 kms per hour swept over the city.
Watch: Temperature dips as Delhi witnesses rainfall
Thunderstorms have been forecast in isolated areas over Punjab, Haryana, Chandigarh, west Uttar Pradesh, West Bengal and Sikkim and Odisha.
Meanwhile, hailstorm accompanied by moderate rain caused damage to standing wheat, sugarcane and maize crops in many Bihar districts.
Rains also lashed Kashmir on Sunday bringing down the maximum temperature across the Valley with the MeT office forecasting the wet spell to continue over the few next days.
Chandigarh and its nearby areas in Punjab and Haryana were also lashed by rains on Monday morning with the morning temperature dropping by about two degrees.
The rains have increased worries of wheat farmers as heavy showers are harmful for ripening wheat crop. 
"We are praying to God that it should not rain during these days. If rains are accompanied by strong winds, then they can inflict heavy damage to the ripening crop," Dilawar Singh, a Patiala based farmer said. 
The rains, which are unusual during this time of the year for Punjab and Haryana, were caused by the western disturbances, a MeT official said here. 
He said that a fresh western disturbance as an upper air cyclonic circulation now lies over north Pakistan and neighbourhood. 
Another upper air cyclonic circulation also lies over Haryana adjoining western Uttar Pradesh, which is likely to bring more showers in the region over the next two days, he said. 
Watch: Hailstorm along with rain damages crops in Bihar