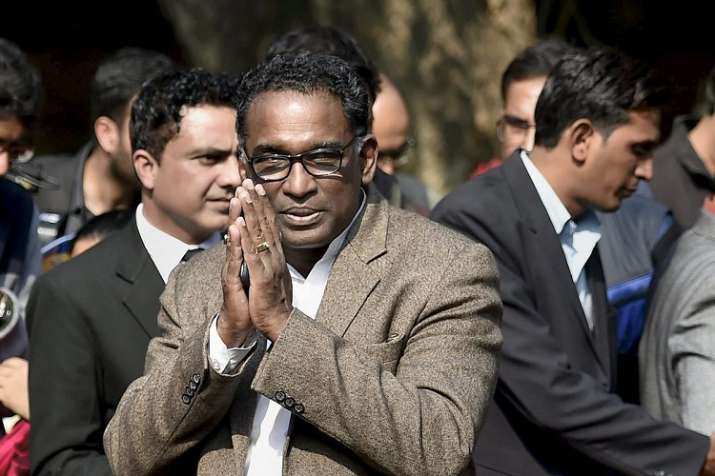 A law for the construction of Ram Mandir in Ayodhya can be brought by the government, even when the dispute is before the Supreme Court, former Supreme Court judge Jasti Chelameswar said in Mumbai on Friday. Speaking at an interactive session hosted by the All India Professionals Congress, an organisation affiliated to the Congress party, Justice (retired) Chelameswar said there have been instances of the court's decisions being scuttled legislative process.
His comments came when the clamour for enactment of a law to pave the way for construction of the Ram temple in Ayodhya was growing within the Sangh parivar.
Earlier this year, Justice Chelameswar was among the four senior judges of the Supreme Court who went public with their objections about the then Chief Justice of India Dipak Misra's style of functioning.
On being questioned if a law for Ram temple can be passed by the Parliament, while the matter is in the Supreme Court, Chelameswar said it could happen.
"Legally if it can happen (or not) is one aspect. Whether it will happen (or not) is another. I'm aware of instances that happened in the past where decisions of the Supreme Court were scuttled by the legislative process," he said.
"The nation should have opened up to these things much earlier.... This (a law on Ram temple) is possible as we did not stop it then," he added.
Earlier on Friday, the Rashtriya Swayamsevak Sangh (RSS) had said Hindus were feeling "insulted" by the Supreme Court's declaration that the Ayodhya issue is not a priority and insisted that an ordinance would be needed if all options run out.
The organisation "will not hesitate to launch an agitation for Ram temple, if needed, but since the matter is in the Supreme Court, there are restrictions," RSS general secretary Bhaiyyaji Joshi had said after a three-day RSS conclave in Maharashtra.