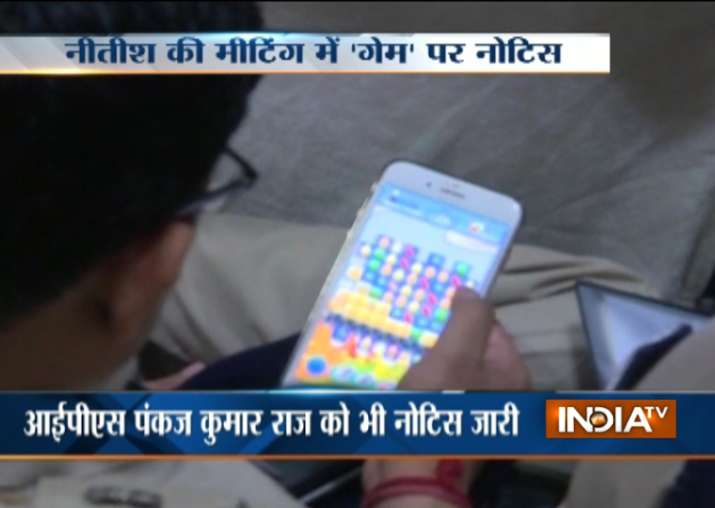 Days after three senior IPS officers were caught on camera playing video-games on their mobile phones during a high-level meeting of top state officials being chaired by Chief Minister Nitish Kumar, the government today slapped showcause notices on the three erring officials, seeking explanations on the matter within a week's time. 
The three officers who have been served the notices include Patna SSP Manu Maharaj, city SP (central) Chandan Kumar Kushwaha and IPS officer Pankaj Kumar Raj. While Kushwaha and Raj were seen playing games on their mobiles, Maharaj was seen surfing WhatsApp messages.
The incident occurred on June 28 when CM Nitish Kumar was chairing a meet of top officials on the international day against drug abuse and illicit trafficking. 
The incident has invited unwanted embarrassment for the government which ordered an inquiry into the matter, terming it completely unacceptable and a punishable offence.
Besides the CM, Chief Secretary and Director General of Police (DGP), ADGs, Inspectors General (IGs), Deputy Inspectors General (DIGs) and SPs of all districts were called to attend the seminar in Patna. During the conference, some other officials were also seen browsing internet on their smartphones.
Sanjiv Kumar Singhal, Additional DGP, said that such behaviour from senior officers was not expected. 
The meeting was organised in the backdrop of Kumar's campaign to make the state drug-free. Last year, Kumar had banned sale and consumption of liquor across the state. 
Perhaps the most prominent names among the three is that of SSP Manu Maharaj, who has been viewed as someone at the forefront of fighting crime in the state. The official enjoys a huge fan following among the people of Bihar and his involvement in a matter such as this is nothing short of an embarrassment for the Nitish administration.