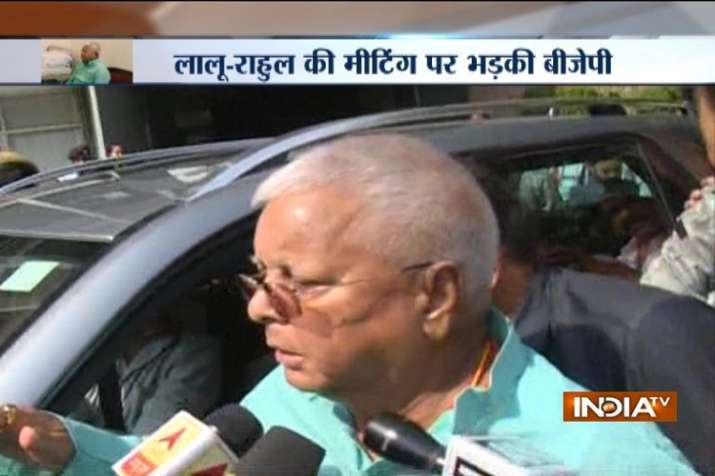 After spending nearly a month after he was admitted to Delhi's All India Institute of Medical Sciences (AIIMS), Rashtriya Janata Dal (RJD) chief and former Bihar CM Lalu Yadav was discharged on Monday despite him urging the hospital authorities not to shift him to Ranchi. 
Lalu, who is serving jail term after being convicted in multiple Fodder Scam cases, called his discharge from AIIMS part of a larger conspiracy. 
"This is unjust, it is a conspiracy to deteriorate Lalu Yadav's health. I am being shifted to a place where there are no facilities. It is a tough time, but I will face it," Lalu told reporters at New Delhi railway station before boarding Ranchi Rajdhani Express. "I am being shifted under pressure from the BJP government," the 69-year-old leader added.
Lalu had earlier written to AIIMS authorities not to shift him to Ranchi as the hospital there was not well equipped. "If my life is threatened by this decision, then you (AIIMS) will be held responsible, " Lalu wrote.  However, AIIMS said that he was fit to be discharged.  "Lalu Prasad Yadav was referred to AIIMS for management of his acute medical condition. He has improved significantly and is being referred back to Ranchi Medical College for management of his chronic issues," a statement issued by AIIMS said.
Earlier in the day, Congress president Rahul Gandhi called on Lalu at the AIIMS where the former Bihar CM was admitted last month for treatment of ailments related to heart and kidney. In their half-hour meeting, Rahul Gandhi discussed his health condition, Congress sources said. Reacting to the Rahul-Lalu meeting, UP Chief Minister Yogi Adityanath sought clarification from the Congress over its stand on corruption. "Since the Congress talks against corruption, the party should offer clarification over the meeting at AIIMS," Adityanath said.
The decision to shift Laluji from AIIMS to Ranchi Hospital has been taken in haste. AIIMS is much better and I wonder why this decision has been taken. Only AIIMS authorities can reveal the reason behind the sudden transfer of Laluji: RJD leader Tejashwi Yadav pic.twitter.com/FSz5ZOnFpN

— ANI (@ANI) April 30, 2018
Lalu was admitted to AIIMS on March 29 where a medical team comprising six doctors from the departments of surgery, cardiology, nephrology, and neurology  was overseeing him. He was earlier treated at the Rajendra Institute of Medical Science (RIMS) in Ranchi. 
Watch: Row erupts as AIIMS discharges Lalu Yadav
He was admitted to RIMS on March 17 following complaints of uneasiness while he was lodged at the Birsa Munda Jail where he is serving a jail term since December 23, 2017 in connection with the fodder scam. 
The former Bihar CM has been convicted in four fodder scam cases since 2013 -- the latest being the Dumka treasury case in which a special CBI court sentenced him to 14 years in jail.
(With inputs from agencies)