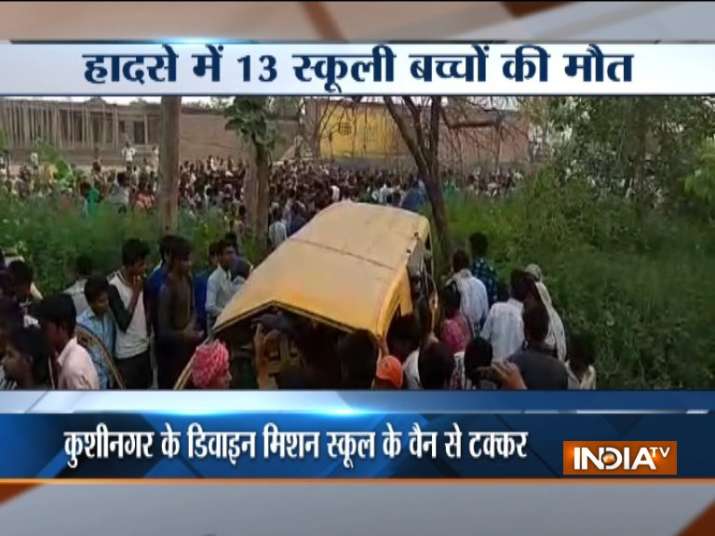 Thursday, April 26, began on a devastating note for scores of families in the national capital Delhi and Uttar Pradesh's town of Kushinagar. 14 school children were killed and dozens others were injured in as the van in which they were travelling to their respective schools met with tragic accidents.
In Kushinagar, 13 children, aged between 7 and 11, were killed and nearly 11 injured when a speeding train rammed into their school van at an unmanned railway crossing. The students of Divine Public School were killed on the spot when the Thawe-Kapatanganj passenger train crashed into the van carrying them at the unmanned level crossing gate at Behpurva. There were at least 25 occupants in the ill-fated van when the train which was going to Gorakhpur from Siwan in Bihar crashed into it with full speed. 
'Driver had plugged in earphones'
Chief Minister Yogi Adityanath rushed to the accident site approx 55km from his home constituency Gorakhpur. Talking to reporters after meeting the injured at the district hospital, CM Adityanath said that the driver of the van perhaps had earphones on when the accident occurred.
"He is said to have earphones on...all the facts will be known in the inquiry headed by the Commissioner Gorakhpur," Adityanath said, adding that the state government will take strict action against all those found responsible for the laxity. 
Expressing grief over the incident, the UP CM announced an ex-gratia of Rs 2 lakh for the families of the victim. 
Watch: Yogi Adityanath visits accident site in Kushinagar 
Railways orders probe, announces compensation 
Describing the accident as unfortunate, Railway Minister Piyush Goyal announced a compensation of Rs 2 lakh each for the kin of the deceased. Goyal said senior Railway officials have been asked to probe the incident.
"I received the unfortunate news of the death of schoolchildren. I have asked senior officials to conduct a probe into the incident. Railways will give a compensation of Rs 2 lakh to the kin of the dead over and above the aid announced by the Uttar Pradesh government," Goyal said in a tweet.
Congress president Rahul Gandhi also took to Twitter to offer his condolences to the aggrieved families and asked local Congress workers to extend support every possible help to them.
कुशीनगर में हुए दर्दनाक बस हादसे में 13 मासूम बच्चों की मौत की खबर सुनकर आहत हूँ। स्थानीय कांग्रेस कार्यकर्ताओं से मेरा अनुरोध है कि दुर्घटना से प्रभावित परिवारों की हर संभव तरीके से मदद करें।

— Rahul Gandhi (@RahulGandhi) April 26, 2018
In Delhi, milk tanker rams school van
A seven-year-old girl died and 17 students were injured after a milk tanker rammed into a school van near Kanhaiya Nagar metro station in northwest Delhi
The school van was carrying children from two schools in Keshavpuram, the police said.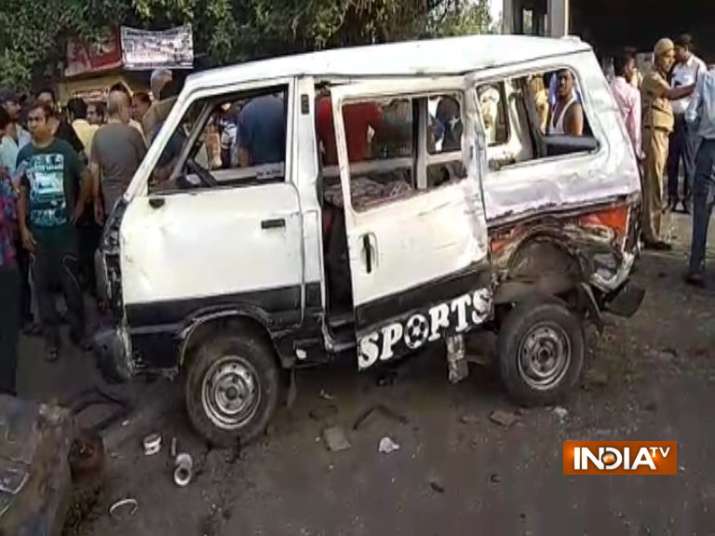 The deceased was identified as Garima and the injured children are being treated at different hospitals
The drivers of both the vehicles have been detained and further probe is on. 
(With inputs from PTI)