Follow us on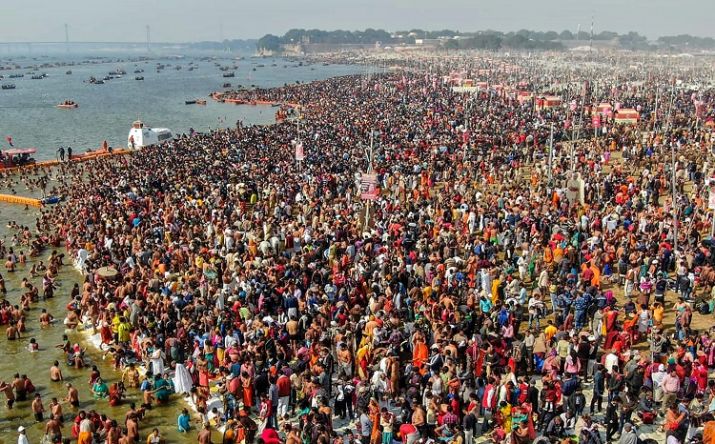 Hundreds of women marched on Tuesday at the Sangam appealing for women's empowerment, education, access to proper menstrual hygiene management and an end to child marriage.
The rallyists were women and girls who came from nearby villages. Most of them were students, scouts, representatives from many women's organizations, sanitation workers and spiritual leaders, including yoga guru Baba Ramdev, Swami Chidanand Saraswati of the Parmarth Niketan, Mahant Divya Giri from Lucknow and Binny Sareen of the Brahmakumaris.
The day also featured a historic signature campaign for the Guinness Book of World Records to generate awareness about ending child marriage. The Guinness World Records attempt is for the most signatures on a flag for the message: 'Yes to education, no to child marriage'.
The summit was organized under the auspices of the Global Interfaith WASH Alliance (GIWA) and Parmarth Niketan, with technical support from the Water Supply and Sanitation Collaborative Council (WSSCC) and UNICEF, to support the efforts of the Department of Women and Child Development, Government of Uttar Pradesh.
Speaking at the event, Ramdev said, "Don't wait for someone else to protect you, you should become strong enough physically, mentally and spiritually so that you can defend yourself. Don't let anyone tell you that your monthly periods are dirty because without menstruation, there can be no creation."
He led the gathering to pledge against child marriage and for education for girl children. He said every young girl should be educated enough for a profession of her choice so that she herself becomes an inspiration for others. 
Chidanand Saraswati said for him spirituality had no meaning if it doesn't lead to eradication of social evils.
Sue Coates, WSSCC, said the event was all about the voice of women and girls who seek to empower themselves. 
Amit Mehohtra, UNICEF India, UP Chapter, shared details of the Swabhiman campaign and the launch of the signature campaign to run throughout the Kumbh Mela.