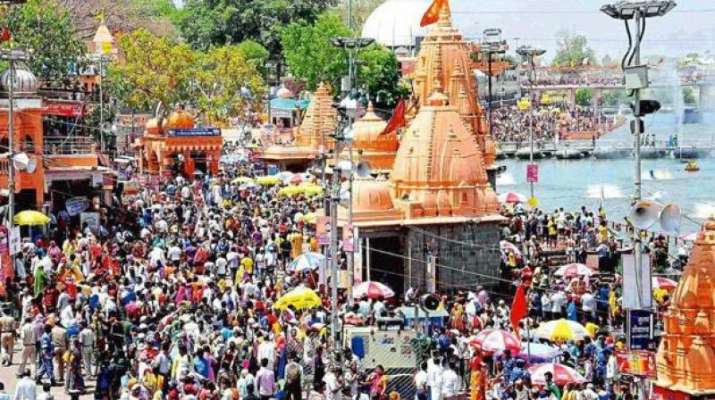 Kumbh Mela 2019: The city of Prayagraj in Uttar Pradesh is gearing up to host Kumbh Mela 2019, which will be attended by people from various cultures across the world in January next year. The Kumbh Mela has been inscribed on the list of 'Intangible Cultural Heritage of Humanity' by UNESCO in 2017. Kumbh at Prayagraj encapsulates the science of astronomy, astrology, spirituality, ritualistic traditions, social and cultural customs and practices making it extremely rich in knowledge. As per the UP Government's vision, the ephemeral Kumbh city will be designed and build in consonance with the vision of Divya Kumbh, Bhavya Kumbh.
The UP government is making efforts to provide state of the art infrastructure in terms of roads, bridges, sanitation facilities, cultural and tourism infrastructure, movement and parking facilities and security. At the same time, the city of Prayagraj is undergoing a makeover to welcome the crores of pilgrims across India and the world.
Kumbh Mela 2019: Date
The Uttar Pradesh government will host Kumbh Mela 2019 from January 15 to March 31, 2019. 
Kumbh Mela 2019: Place
Prayagraj, formerly called Allahabad, is set to host the Kumbh Mela in January, 2019. 
Kumbh Mela 2019: Significance
Celebrated four times over a course of 12 years, Kumbh Mela is a religious pilgrimage that draws tens of millions of pilgrims over the course of approximately 48 days to bathe at the sacred confluence of the ganga, the Yamuna and Saraswati. Primarily, the congregation includes Ascetics, Saints, Sadhus, Sadhvis, Kalpvasis, and pilgrims from all walks of life. During the Kumbh Mela, a number of ceremonies take place; the traditional procession of Akharas called 'Peshwai' on elephant backs, horses and chariots, the shining swords and rituals of Naga Sadhus during 'Shahi Snaan', and many other cultural activities that attract millions of pilgrims to attend the Kumbh Mela.
Attractions of Kumbh 2019:
Peshwai (Praveshai)
To mark the beginning of Kumbh Mela, a grand procession 'Peshwai' is carried out which welcomes people from around the world. In this procession, saints arrive in Kumbh along with their groups on elephants, horses and lavish carriages with bands. A large number of people provide their services as attendants and shower petals of flowers on the passing procession. The atmosphere during Peshwai is that of festivity and enthusiasm. Special routes are demarcated for these processions that are led by saints from various Akharas.
Cultural events
The Kumbh Mela 2019 will feature 5 cultural Pandals to display a series of cultural events ranging from musical performances to traditional and folk dances on a daily basis from January 2019 onwards. Ganga Pandal will be the mega structure among all pandals for hosting all the major events. Pravachan Pandal and 4 convention centres equipped with state-of-the-art facilities will be created to host various spiritual events.
Tourist Walks
Starting Point of Trail: Shankar Viman Mandapam 
Stop 1: Bade Hanumanji Temple 
Stop 2: Patalpuri Mandir 
Stop 3: Akshya Vat 
Stop 4: Allahabad Fort 
Stop 5: Ram Ghat
Waterways
Waterways are of major importance and have been serving the human civilization since ancient times through rivers, lakes and oceans. Water tourism has always been an important part of overall tourism industry. For the holy event of Kumbh Mela, Inland Waterways Authority of India (IWAI) is organizing a ferry services on the river Yamuna near Sangam Ghat. The route for this service will start from Sujawan Ghat to Rail Bridge (Naini Side) to Boat Club Ghat to Saraswati Ghat and ends at Kila Ghat. Multiple terminals will be constructed on this stretch of 20 kms and boats and vessels will be provided by Mela Authority to create better pilgrim experience.
Laser Light Show
To enhance the experience of the large influx of Pilgrims, patrons, domestic and international tourists expected to visit the Kumbh Mela 2019, the Government of Uttar Pradesh is making provisions for a Laser Light and Sound Show that shall be operational from December 2018 onwards at the Prayagraj Fort Wall.
Thematic Gates
The 2019 Kumbh Mela shall also witness over 25 temporary thematic gates which will mark the approach roads to the Mela Area and entrance to various sectors in the Mela Area. The Government of Uttar Pradesh has adopted an innovative solution to increase the aesthetic value of the Kumbh Mela by designing and producing over 25 temporary thematic gates that shall be strategically placed. Each gate will have its own identity, will be strongly rooted in the local context and deeply inspired by the culture, tradition and socio-religious factors. Vernacular construction methods shall be used and above all, practicality and reusability are being taken into consideration.