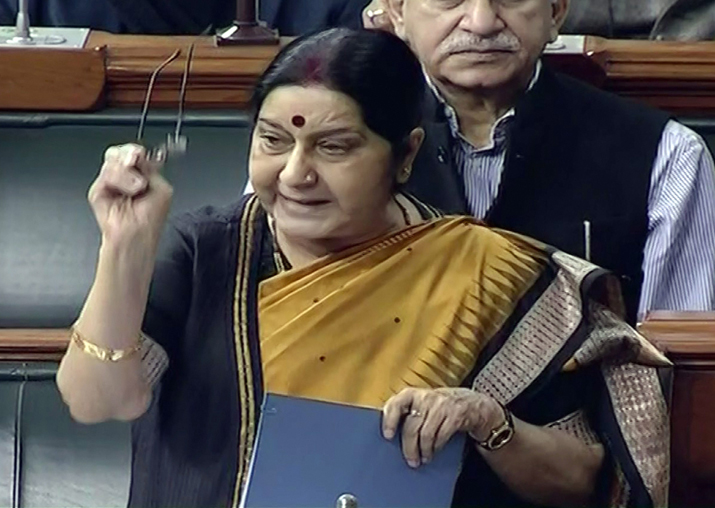 External Affairs Minister Sushma Swaraj today said that Kulbhushan Jadhav was wondering whether something "bad" had happened back home when he saw his mother without the 'mangalsutra', bindi and bangles when they met in Islamabad on Monday.
Speaking on the floor of the Lok Sabha, Swaraj said that removal of the 'mangalsutra' was a height of disrespect as Jadhav's mother had told the Pakistani officials that it was symbol of marriage, but they did not relent. 
"When I talked to her (Avanti)) she told me that the first question he (Jadhav) asked was - how is Baba (father)? Because he may have feared that something bad had happened," she said.
"Under the pretext of security precautions, even the attire of the family members was changed. Jadhav's mother, who wears a Sari only, was instead given Salwar and Kurta to wear," Swaraj added.
The Pakistani authorities had forced Jadhav's mother Avanti and wife Chetna to change their attire and remove their bindi, bangles and mangalsutra before the meeting citing security protocol. However, soon he realised that the 'mangalsutra', bindi and bangles were removed on security grounds when he saw his wife was also not wearing them, she said while describing how the human rights of the two women were violated by Pakistan. 
Normally, a Hindu woman does not wear the 'mangalsutra' and bindi or vermillion after the death of her husband. 
Swaraj said that Jadhav's mother had told the Pakistani officials that the 'mangalsutra' is a the symbol of her marriage (suhag) and she never removes it, but they said they were following orders. 
In identical statements in Lok Sabha and Rajya Sabha, Swaraj said India has conveyed its objections to Pakistan in a note verbale yesterday over the way it had conducted Jadhav's meeting with his mother and wife in Islamabad on Monday. 
Swaraj also slammed Pakistan for making "absurd" charges of a chip, camera or a recorder being installed in the footwear of Jadhav's wife. 
"At times they say, there was a recorder on it (shoe), at times they say there was a camera, there was a chip. There cannot be a white lie than this. Thank God they did not say there was a bomb inside it," Swaraj said.
The External Affairs Minister said the shoe was apparently seized so that they can make a "mischief". 
"The meeting of Kulbhushan Jadhav with his mother and wife was portrayed by Pakistan as a humanitarian gesture. However, the truth is that both humanity and compassion were missing during the meeting that was arranged on humanitarian and compassionate grounds," she said. 
Swaraj further said, "There was a serious and gross violation of human rights of the family members of Shri Jadhav and an intimidating atmosphere was created for them during this meeting. There are not enough words to condemn the same." 
The minister said Jadhav's mother wanted to speak to his son in Marathi, but Pakistani officials did not allow it. 
"Two Pak officials continuously interrupted her. But when she was insisting in speaking in Marathi, the intercom was snapped," said Swaraj. 
"The capital punishment was announced following a sham proceedings at a military court in Pakistan. The danger to his life has been averted for now but now we are trying for permanent relief to him by the ICJ on the basis of solid facts," the Minister said.