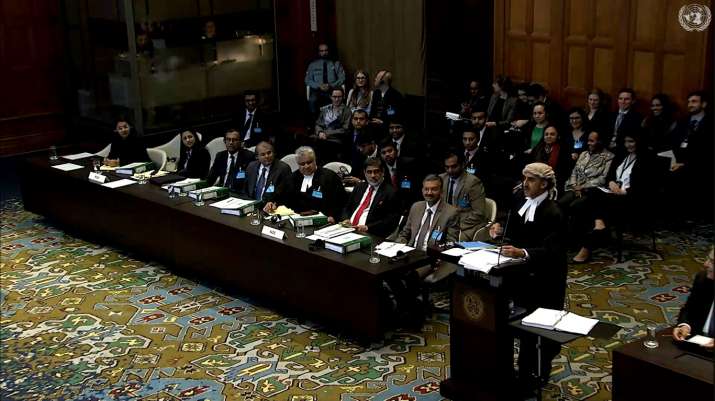 Pakistan's counsel Khawar Qureshi today presented the country's arguments for upholding the detention and sentence to Indian citizen Kulbhushan Jadhav, who has been sentenced to death by Pak military court, at the International Court of Justice (ICJ). 
On day 1 of the public hearing in the Kulbhushan Jadhav before the ICJ in The Hague, Indian counsel ex-solicitor general Harish Salve argued that the arbitrary nature of the Pak army courts demands the dismissal of any verdict given out by it against a foreign civilian. Salve asked the court to annul Jadhav's sentence and order his immediate release. 
Jadhav, a retired Indian Navy officer, was sentenced to death by a Pakistani military court on charges of espionage and terrorism in April 2017. The hearings at the ICJ commence four days after one of the worst terror attacks in Jammu and Kashmir that killed 40 CRPF soldiers. Both countries will make the second round of oral arguments on February 20 and 21 respectively.
Also read | India demands annulment of Jadhav's sentence by Pak army court | 10 arguments presented by Harish Salve at ICJ
Here are the highlights from the day 2 of ICJ hearing of Jadhav case: (Time in IST)
05:28 pm: Pak counsel concludes arguments, requests court to reject India's application. The hearing adjourned till tomorrow when India's Harish Salve will present his second round of arguments in the case. In his concluding arguments, Qureshi argued that India's application should be declared inadmissible by reason of India's conduct in this context of manifesting abuse of rights, lack of good faith, illegality and misrepresentation. "Why does India want Pakistan to be treated differently. Pakistan is also a member of the United Nations," he says.
05:10 pm: "Allegations of espionage are extremely rare. Jadhav's confession is highly credible and he was equipped with a state-sponsored campaign of creating violence and unrest in Pakistan," Pak counsel Qureshi tells the court, arguing that why would Pakistan choose someone sitting nine hours away from Pakistan in Chhabahar and kidnap him and force him to give a confession. The allegation that Kulbhushan Jadhav is a spy is proven, he claims. 
05:00 pm: Khawar Qureshi asks why didn't India raise a dispute back in 2016 on the arrest of Kulbhushan Jadhav. The former Indian Navy officer was arrested by Pakistani officials on March 3, 2016. " Why did it come directly to the ICJ for provisional measures?" Qureshi asks.
04:50 pm: No general practice accepted as a law to provide consular access in cases of espionage, Qureshi says adding that Pakistan's belief that Jadhav is a spy is based on reasonable evidence and not on concocted evidence as argued by India.  Salve had argued that Pakistan did not uphold Article 36 of the Vienna Convention that states consular access applies all nationals, regardless of espionage claims in Jadhav's case. "India's submissions are shamelessly devoid of substantive argument," Qureshi says.
04:35 pm: Qureshi defends the Pakistani Military Court, which convicted Jadhav and handed him a death sentence. "Their operation is not considered to be manifestly unfair," he says, adding that military courts across the globe have the right to handle terrorist cases. 
04:30 pm: The session resumes. Pakistan claims that India was never denied consular access to Jadhav. Its counsel Qureshi tells ICJ that India failed to furnish any evidence that Commander Jadhav is an Indian national. 
04:05 pm: The court takes a 15 min break. Session likely to resume at 04:20 pm. 
03:45 pm: Qureshi claims that Jadhav was responsible for a trail of destruction and numerous deaths of civillians. Presenting Pakistan's case at the ICJ, Qureshi claimed that the guiding hand behind Jadhav was NSA Ajit Doval. He further calls Jadhav an "instrument of India's official policy of terror". "Thanks to the Pakistani security forces, Jadhav was unable to wreak havoc in India. India and Commander Jadhav must face consequences," he says.
03:30 pm: Earlier in the day, the International Court of Justice refused to entertain Pakistan's request to adjourn the hearing in the case of Kulbhushan Jadhav to appoint a new ad-hoc judge. Pakistan, which is presenting its case today, asked the judge to adjourn the case, citing the illness of it ad-hoc judge. Tassaduq Hussain Gillani, the ad-hoc judge for Pakistan in the ICJ suffered a cardiac attack ahead of the hearing. Read full story here
03:25 pm: Pakistan counsel Qureshi cites media reports by Karan Thapar, Praveen Swami, Chanda Nandi to support his arguments. "These journalists stand up for pluralism and secularism and are part of the India I respect. Their investigation reveals that the RAW had been planning a terrorist operation in Pakistan," says Qureshi.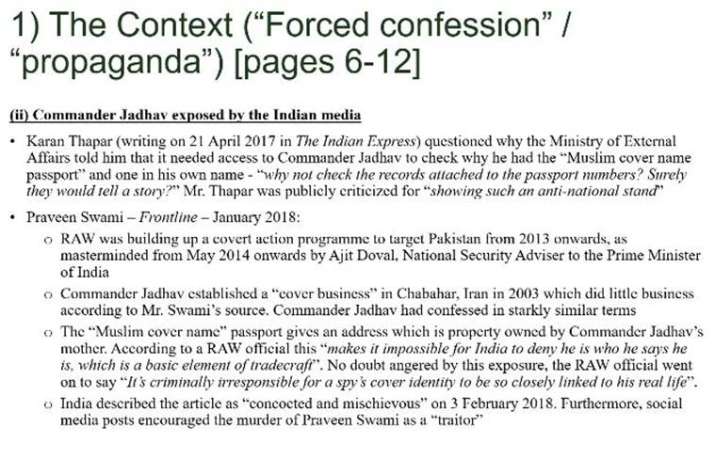 Also read | This photo taken ahead of Kulbhushan Jadhav hearing at ICJ tells you the mood of the nation
03:20 pm: Pakistan lawyer Khawar Qureshi says Kulbhushan Jadhav admitted that he was a serving officer due to retire in 2022. "It is a pity that India attempts to block the truth every time. Pakistan is a state that has provided the largest contingent for peacekeeping, whose soldiers have lost lives in pursuing world security," he says.
03:15 pm: "Since 1947 India has consistently pursued the policy to destroy Pakistan. India has blocked the water of Indus river which is in clear violation of the Indus water treaty. On humanitarian grounds we allowed the family of Jadhav to meet his family," says Khawar Qureshi while asking India to present one example as to when they have given such access to a person arrested in espionage.
03:10 pm: "Jadhav collaborated with several locals and non-state actors to carry out suicide bombings to create unrest in Pakistan. And hamper the China-Pakistan Economic Corridor (CPEC) which is bringing development to Pakistan. His acts are not that of an individual but carried out on the behest of a state," claims Pakistan at ICJ.
03:10 pm: Earlier visuals of Pakistan's Attorney General Anwar Mansoor Khan submitting his arguments in Kulbhushan Jadhav's case before ICJ. 
The Hague (Netherlands): Pakistan's Attorney General Anwar Mansoor Khan is submitting his arguments in Kulbhushan Jadhav's case before International Court of Justice (ICJ) pic.twitter.com/i0tdEgZgtF

— ANI (@ANI) February 19, 2019
02:58 pm: India Sponsored 2014 Peshawar School Attack, Pakistan Alleges at ICJ: "The Indian petition in the ICJ is a clear example of traditional methods to downplay Pakistan. I myself have been a victim of India's brutuality when I was a prisoner of war as a young Pakistan army officer. India has always violated the resolutions of Geneva convention. In 2014, we lost 140 children in army public school which was admittedly sponsored by India through Afghanistan," said Pakistan's counsel Khawar Qureshi.
02:50 pm: Pakistan counsel starts reading out the statement at ICJ by saying, "Kulbhushan Jadhav an officer of RAW, which is India's brutal intelligence agency, on the command of the Indian government planned to execute attacks in Baluchistan. This has been accepted by Jadhav in front of an independent judiciary." 
02:50 pm: The hearing before ICJ resumes on day 2.
Jadhav was apprehended on March 3, 2016 after illegally crossing into Pakistan from Iran, according to Pakistani officials. Indian officials say he was abducted from Iran and taken to Pakistan against his will.
India first approached the ICJ on May 8, 2017 for the "egregious violation" of the provisions of the Vienna Convention on Consular Relations, 1963 by Pakistan by repeatedly denying it consular access to Jadhav.
A 10-member bench of the ICJ, which was set up after World War II to resolve international disputes, on May 18, 2017 had restrained Pakistan from executing Jadhav till adjudication of the case.
The ICJ has set a timetable for the public hearing in the high-profile case from February 18 to 21, 2019, in The Hague.
Ministry of External Affairs spokesperson Raveesh Kumar declined to go into the details of it.
"The oral proceedings on the International Court of Justice are commencing on February 18. India will present its case before the court. Since the matter is sub judice, it is not appropriate for me to state our position in public. Whatever we have to do, we will do in the court," he said in response to a question.
The ICJ will hold public hearings in the Jadhav case from Monday to Thursday, according to the ICJ website.
However, India maintains that Jadhav was kidnapped from Iran where he had business interests after retiring from the Navy.