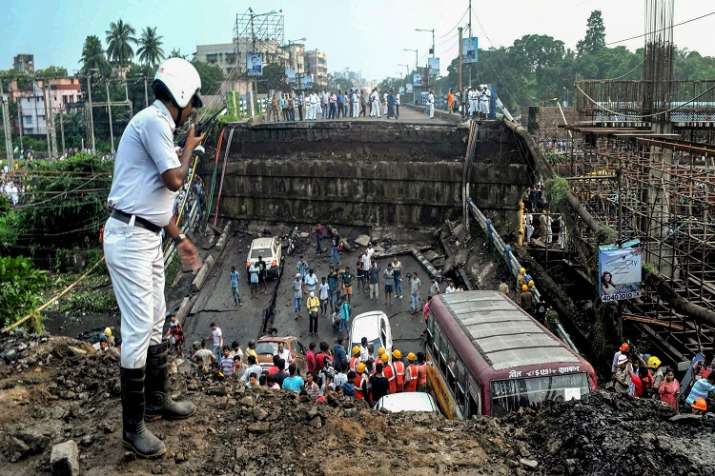 Teams of NDRF, police and othe authorities battled continuous rains overnight to search for those possibly trapped under debris of flyover which collapsed in Tuesday evening in Kolkata. Operations to remove debris of the Majerhat bridge, a section of which came crashing down trapping people and crushing several vehicles are still underway. 
At least one person was killed and several others were injured when a section of the over 50-year-old bridge on the arterial Diamond Harbour Road in south Kolkata collapsed. Condition of four of those injured is said to be serious.
Amid rains, the rescuers tried drilling the concrete slabs, used sophisticated cameras and engaged sniffer dogs to ensure anybody trapped under the rubble could be reached and rescued. Additional lighting arrangements were made to aid the rescue works at night.
See: Kolkata bridge collapse in pics
"There could be a few trapped underneath the collapsed bridge. We are trying to find them out. We are using cutters and drill machines to cut through the concrete slabs of the bridge. Till now, we are unable to locate anybody. We are trying our best," an official of the rescue team said on Wednesday morning.
The area near the site had been dug up for a metro railway project and construction material are strewn all over the place. Labourers working on the metro project claimed that two of their co-workers, who were probably inside a temporary shelter underneath the bridge, were missing.
The Kolkata Disaster Management Department, the National Disaster Response Force (NDRF) and the state fire department conducted the search operations throughout the night, the officials said.
Meanwhile, traffic has been diverted to other routes. The Majherhat bridge connects extended areas of South 24 Parganas district with the city.
"We expect traffic jam because the Majherhat bridge has collapsed. It is the main link between Behala and the further south areas of South 24 Parganas district. To avoid traffic congestion, Behala-bound buses and other vehicles availing Diamond Harbour Road from Hastings crossing will be diverted via Khidderpore crossing CGR Road, Hide Road, Brace Bridge, Taratala Road Taratala crossing further South,"  official of the Kolkata Traffic Police said.
Tram services have been completely suspended along CGR Road-DH Road and Judges Court Road, he said.
Chief Minister Mamata Banerjee, who is now in Darjeeling, is expected to return the city today and visit the site.
This is a third bridge collapse in the city in five-and-a-half years.
An under-construction flyover had collapsed in crowded Burrabazar area, the wholesale business hub of the city, on March 31, 2016 that had claimed 26 lives.
On March 4, 2013, a road bridge had collapsed in Ultadanga area in the northern part of the city but there was no casualty.
(With inputs PTI)