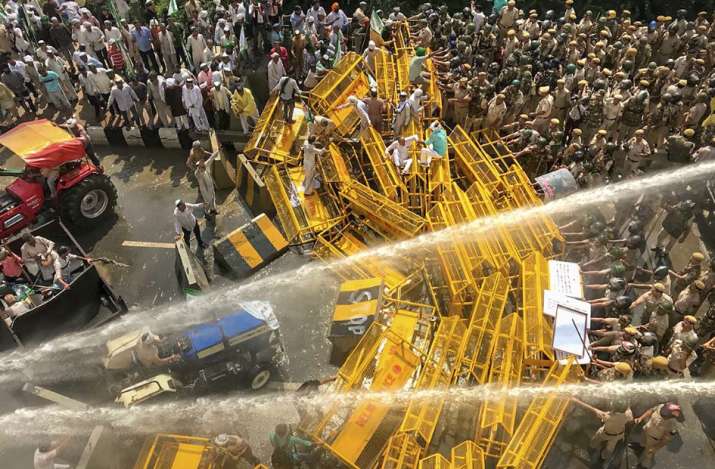 Thousands of farmers broke down barricades as they braved water canons and baton of security forces to enter Delhi as part of their protest demanding farm loan waiver and cut in fuel prices among other things. Massive traffic jams were reported from several areas in the NCR as farmers marched in thousands, blocking roads.
National Highways leading to the national capital were swamped with farmers who came in from places as far as Gonda, Basti and Gorakhpur in eastern Uttar Pradesh as well as the sugarcane belt of western Uttar Pradesh. Police picketed the border with Uttar Pradesh, imposing prohibitory orders banning assembly of five or more people and holding of any public meeting, usage of any amplifier, loudspeaker, and similar instruments.
The Kisan Kranti Yatra, which began from Tikait Ghat in Haridwar on September 23, was joined by farmers from various parts of Uttar Pradesh.
They came on foot, in buses and tractor trolleys.They carried banners of Bhartiya Kisan Union, which gave the call for the march to press for a series of demands. "We are not seeking any alms from the government. We want our right," said Harmik Singh, a farmer who came from Meerut. 
Their list of demands include unconditional loan waiver for farmers, clearing of dues by sugar mills, higher prices for crops, free electricity for farms and a cut in diesel prices.
Watch visuals: 
Kisan March: Police use water cannons to disperse farmers after they broke the barricades
Kisan March: Visuals from UP-Delhi border where farmers were stopped, Police use water cannons
Kisan March: Farmers' delegation meets Rajnath Singh at his residence
We believe Rajnath Singh ji will listen to our demands, says Naresh Tikait
(With inputs from agencies)