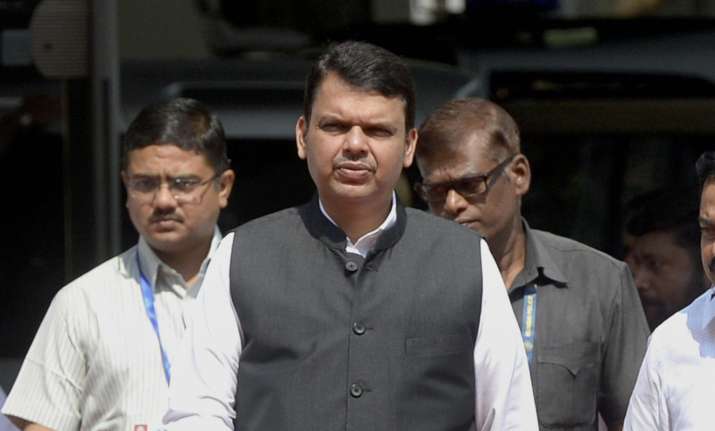 The Maharashtra Govt on Monday accepted "most of the demands" made by thousands of agitating farmers from across Maharashtra, who embarked on a 'Long March' from Nashik on March 6 to press their various demands.
Apart from opposition parties, Shiv Sena, a partner in the ruling BJP-led coalition, too has vocally supported the agitation. 
The farmers, led by Left-affiliated All India Kisan Sabha (AIKS), are demanding, among other things, proper implementation of the Maharashtra government's loan waiver scheme. 
Braving scorching heat, they have covered around 180 km on foot in six days. 
Also read | Over 35,000 protesting farmers walk 180-kms to reach Mumbai, will lay siege to legislature today
As it happened:
7:45 pm: Govt has accepted our demands, we are happy. Leaders of every party and people of Mumbai supported us. Our strength combined with theirs hence this result: Sanjay Sukhdev, Nashik farmer who was participating in farmers' protest. 
6:00 pm: Agitation likely to be called off as CM Fadnavis announces that government has accepted most demands
5:45 pm: We have accepted most of their demands and have given them a written letter: Devendra Fadnavis
02:17 pm: We're positive in fulfilling demands. Since the 1st day of the Morcha we tried to discuss various issues with them. Girish Mahajan was in touch with them from day one. But they were firm on taking out the March: CM Devendra Fadnavis
01:00 pm: Farmers delegation reached Maharashtra Assembly for the meeting with the state govt formed the committee to discuss their demands.
Farmers delegation reached #Maharashtra Assembly for the meeting with the State Govt formed committee to discuss their demands. pic.twitter.com/aNME0B9FLA

— ANI (@ANI) March 12, 2018
12:50 pm: There'll be a meeting with farmers at 1pm. I think we'll give solutions for 80-90% of their issues. We're serious about the demands including loan waiver & will come up with best decisions. Written assurance will be given for accepted demands: Girish Mahajan, Maharashtra Minister
Also read | Kisan Long March: Mumbaikars welcome farmers after 180 km march with flowers and food
11:50 am: Over 12000 police force deployed for farmers' protest in Mumbai. Heavy security outside Azad Maidan and legislative assembly. We appeal to farmers for a peaceful protest: DCP Manoj Sharma 
11:30 am: CM Fadnavis in assembly: Representatives of farmers will discuss issues with the panel of ministers. A positive decision will be taken. Will decide on a timeline to resolve farmers' problems. We have invited their representatives for meeting at 1. I will be present at the meeting. 
11:19 am: Maharashtra govt's special committee set up to resolve the issues begins meeting 
11:14 am: 
Farmers gathered at Mumbai's Azad Maidan. #FarmersMarchToMumbai pic.twitter.com/0hyuR14M7a

— AIKS (@KisanSabha) March 12, 2018
11:10 am: This is not an issue of Maharashtra farmers alone but of farmers all over India: Congress President Rahul Gandhi on All India Kisan Sabha protest 
10:59 am: MLA Jayant Patil to India TV: The government has agreed to 80 per cent of our demands, but we still have to discuss rest 20 per cent at the meeting. We will not leave Aza Maidan untill the government agrees to all our demands.
09:45 am: CPI (M) Gen Secy Sitaram Yechury reaching Mumbai for Kisan Rally. He has taken off from Agartala and will land in Mumbai soon
09:26 am: Azad Maidan in south Mumbai turned into a sea of red this morning as thousands of farmers, carrying red flags, converged here, PTI reported. CPI(M) leader Ashok Dhawle said over 50,000 people have joined the protest. "We will begin our rally after 11 am today so that students appearing for their Class 10 board exam don't face any difficulties," he said. Tribals from Thane district have joined the farmers from Nashik district in the protest. 
09:18 am: According to reports, government sources said protesters will not be allowed to proceed to Vidhan Bhavan beyond Azad Maidan to meet Chief Minister Devendra Fadnavis. Only a delegation of farmer leaders from the AIKS will be allowed to meet Fadnavis around noon. The Left-affiliated peasant organisation, which is leading the protests, said they are open to considering what the government offers them. 
09:15 am: Shiv Sena to disrupt assembly today over farmers' protests: Reports
08:53 am: 
#WATCH: Visuals from Mumbai's Azad Maidan where members of All India Kisan Sabha have gathered to protest. #Maharashtra pic.twitter.com/3GgN6UMVPB

— ANI (@ANI) March 12, 2018
08:00 am: Maharashtra farmers, who have now reached Azad Maidan after walking overnight from KJ Somaiyya ground in Sion, are reportedly dehydrated from travelling in the scorching sun for 30 kilometres on Sunday in Mumbai. There is a medical dispensary set up at Azad Maidan. Doctors said farmers were suffering from blood pressure and diarrhoea. 
07:48 am: No road closure or diversions due to Farmers' Morcha now: Amitesh Kumar, Joint Commissioner of Police (Traffic)
07:45 am: 
#Maharashtra: Latest visuals of All India Kisan Sabha protest which has reached Mumbai's Azad Maidan. The protest will proceed to state assembly later in the day. pic.twitter.com/Dp5hsKU1Rc

— ANI (@ANI) March 12, 2018
07:00 am: Thousands of protesters marched overnight to reach Azad Maidan by the morning. Thousands of others who reached Mumbai yesterday halted at the Somaiya ground in suburban Chunabhatti for the night, and set out for Azad Maidan in the morning. The agitators expect around 50,000 people to gather outside Vidhan Sabha in south Mumbai later in the day. The legislative assembly is in Budget session currently. 
06:57 am: Joint Commissioner of Police (Law and Order) Deven Bharti said that adequate security arrangements had been made.
06:55 am: 
#Maharashtra: All India Kisan Sabha's protest march, demanding a complete loan waiver among other demands, arrives at Azad Maidan in #Mumbai, will proceed to state assembly later in the day pic.twitter.com/3BP50RlvJN

— ANI (@ANI) March 12, 2018
06:50 am: Farmers are demanding a complete loan waiver, fair price for farm produce, implementation of the Swaminathan Commission's recommendations, compensation for hailstorm-affected farmers among other things.
06:45 am: According to Kisan Gujar, president of the state council of AIKS, the number of protesting farmers in Mumbai is currently 35,000. "Over 20,000 farmers from other parts of the state will join tomorrow," he said, adding the farmers were also protesting against land acquisition for projects such as high-speed railway and super-highways. 
06:40 am: The government has requested appealed agitators not to hold up the traffic so that students appearing for Std 10th exams in the city are not delayed. "Though we have been approached by the government officials advising us not to stay near the Vidhan Bhavan for long, everything will depend on how the government deals with our demands," Gujar said yesterday. 
06:35 am: Maharashtra Chief Minister Devendra Fadnavis has set up a six-member committee of ministers to hold discussions on farmers' demands. "We will talk to them and sort out their issues. The Government is positive on their demands. Most of the agitators are tribals, and their main demand is forest land rights," Fadnavis said.
06:30 am: Government anticipates cooperation from the participants of the march for smooth functioning of the traffic as it is a working day on Monday and 12th and 10th board exams are also there on the same day: Maharashtra CMO sources
06:25 am: Number of people in march is not more than 7,000. Only 450-500 are farmers, rest are tribals who are in the march for their demands. Maharashtra Government has directed all its machinery to be positive and sympathetic towards protesters:#Maharashtra CMO sources
06:20 am: Last night, Maharashtra Nav Nirman Sena chief Raj Thackeray met the farmers in Mumbai and lent his support. "This government is incapable of doing anything," the MNS chief said, "I have come to greet you. You have come all the way in this heat. Give me the reins of power and I will show what can be done." 
"Don't forget your bleeding feet. These people (the BJP-led Maharashtra government) have shown you dreams, but have not kept their word," Thackeray said.
06:10 am: Social activist Anna Hazare also came out in the support of agitating farmers. "Farmers are protesting to jolt the sleeping government back into action.Their pain and anger is visible through this protest. This government cares for industrialists instead of farmers," he told India TV. Hazare added that if CM Fadnavis wants to do something, the Centre does not allow him.
(With inputs from agencies)