Follow us on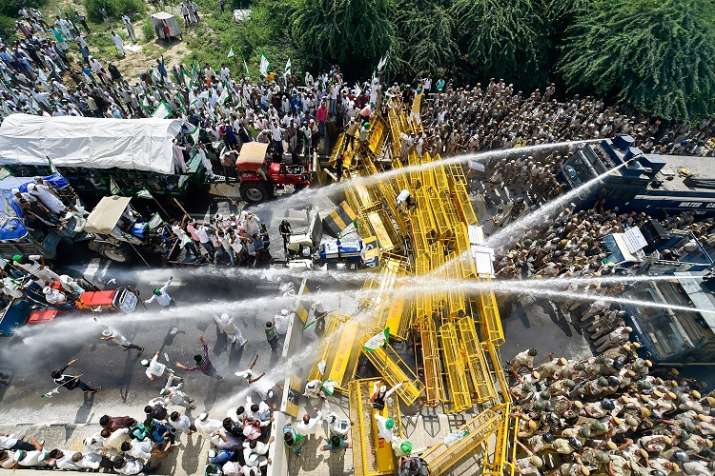 Thousands of farmers, who were stopped from entering the national capital Delhi at the UP border on Tuesday morning, have rejected the Government's call to end their protests promising that the demands would be looked into. The Government said that a committee of chief ministers will look into their demands, even as the protesters stayed put saying they were not 'satisfied' with the assurance.
After meeting the protesting farmers at the Delhi-UP border, Union minister of state for agriculture Rajendra Singh Shekhawat said the government was assuring the farmers to take forward their cause.
Naresh Tikait, the chief of Bharat Kisan Union (BKU), which has given the protest call, said the farmers are "not satisfied" with the government's assurance.
LATEST UPDATES:
7:02 pm: Seven policemen, including an assistant commissioner of police, were injured during the protest by farmers on Delhi-UP border, Delhi Police says in a statement
5:56 pm:  Some protesters resorted to stone pelting and wielded lathis causing injuries to police personnel deployed on duty. Under these circumstances, only minimum required force was used to contain these aggressive and violent protestors, says Delhi Police in a statement over using force against farmers 
4:50 pm: Naresh Tikait, the chief of Bharat Kisan Union (BKU), which has given the protest call, says farmers are 'not satisfied' with the government's assurance. "We will discuss this and then decide on future course of action. I can't decide anything alone, our committee will take the decision," says Tikait
4:40 pm: 
4:20 pm:  Bharatiya Kisan Union president Naresh Tikait says farmers will not accept government's assurance, will go ahead with the protest.
3:50 pm: Farmers are yet to accept the Government's proposals, sources say. 
3:30 pm: No ban on 10-year-old tractors, Government will approach the Supreme Court over the issue. Farming equipments to be kept out of GST, matter to be discussed in next GST council, says Gajendra Singh Shekhawat
3:10 pm: Home Minister Rajnath Singh met the farmers' leaders and discussed their demands and have reached an agreement on the majority of the issues. Farmers' leaders, UP ministers Laxmi Narayan ji, Suresh Rana ji and I will go to meet farmers now, says MoS Agriculture Gajendra Singh Shekhawat
2:30 pm: Ajit Singh arrives to meet protesting farmers' leaders
1:49 pm: Meeting over between Delhi Police Commissioner and Rajnath Singh
1:38 pm: Delhi Police Commissoner arrives at the residence of Home Minister Rajnath Singh for discussing the situation arising out of the farmers' agitation
01:10 pm: Home Minister Rajnath Singh may come to meet protesting farmers, claims Rakesh Tikait
01:05 pm: Delhi Police punctures around a dozen trucks of protesting farmers, removes the batteries of their vehicles
01:00 pm: Ready to allow farmers' entry into national capital if they march peacefully, says Delhi Police
12:25 pm: On birth anniversary of Mahatma Gandhi, Modi govt has shown that it is no different from the pre-independence British govt in India.British govt then used to exploit the farmers&today Modi govt is firing tear gas shells at farmers: Randeep Surjewala
12:10 pm: Watch visuals from Delhi-UP border where violent clash has broken out between protesting farmers and police.
12:05 pm: This Govt has not fulfilled the promises it made to farmers, so it is all but natural that farmers would protest. It is unfortunate and we fully support the farmers: Akhilesh Yadav
12:00 pm: Farmers should be allowed to enter Delhi. Why are they not being allowed to enter Delhi? This is wrong. We are with the farmers: Delhi Chief Minister Arvind Kejriwal on 'Kisan Kranti Padyatra' stopped at Delhi-UP border: Delhi CM Arvind Kejriwal
11:40 am: A Meerut journalist suffers injuries after he was hit by a tear gas shell. 
11:30 am: Police using tear gas against the protesting farmers.
11:18 am: Protesting farmers break barricades, enter Delhi, police use water cannon
11:11 am: protesting farmers stopped at UP border
10:33 am: Protesting farmers crossing Radisson with their tractors and trolleys
10:30 am: Police put up barricades at UP border to stop protesting farmers from entering Delhi
9:50 am: Why have we been stopped here (at UP-Delhi border)? The rally was proceeding in a disciplined manner. If we don't tell our government about our problems then whom do we tell? Do we go to Pakistan or Bangladesh?: Naresh Tikait, President, Bharatiya Kisan Union
09:20 am: Farmers heading towards the national capital
08:55 am: Farmers cross Dabur chowk
08: 45 am: Protesting farmers to reach Delhi-UP border in next half-hour, according to police announcement
08:43 am: Announcement made for alerting RAF, Delhi Police and UP Police
08:41 am: Joint CP Ravinder Yadav says 8 thousand farmers led by Rakesh Tikait are heading towards border. They have been asked to break the barricades 
Watch: Heavy security deployed at Delhi-UP border in wake of 'Kisan Kranti Padyatra'
06:50 am:  Security tightened at Delhi-UP border to avoid any untoward incident.
06:40 am:  For going towards Noida, commuters have been advised to take DND Flyover, Noida Link Road and Mahamaya Flyover
06:35 pm:  Those going towards Ghaziabad have been advised to take Ghazipur Chowk, Road No 56 towards ISBT Anand Vihar, Apsara Border, GT Road and Mohan Nagar
06:25 pm:  Delhi Traffic Police has issued an advisory asking motorists to avoid the Meerut Expressway
06:20 pm:  From Ghaziabad, the rally will proceed via Preet Vihar and Geeta Colony flyover in east Delhi
06:15 pm:  It  will reach Kisan ghat in New Delhi today on 150th birth anniversary of Mahatma  Gandhi
06:10 pm:  The rally started from Patanjali (Uttarakhand) on September 23 
Watch: Prohibitory orders issued ahead of farmers' rally in Delhi