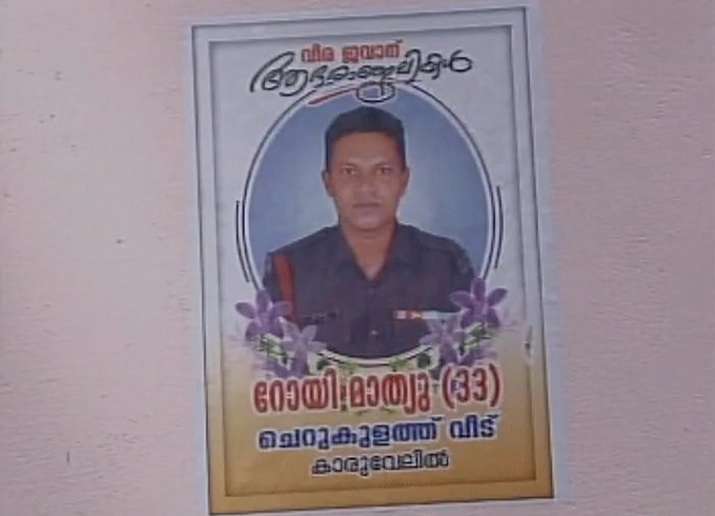 Lance Naik Roy Mathew, who was found dead after being reported missing in wake of appearing in a sting video on the "abuse" of buddy system in the army, was laid to rest on Saturday after a fresh postmortem was conducted following his family's allegations that there were injury marks on his body.
The body of the 33-year-old soldier arrived at the capital city airport around 9 a.m, Saturday morning, it reached his home only around 5.30 p.m, as it was taken straight to the Thiruvananthapuram Medical College where another post mortem was conducted, following the demands of his family.
The details of the fresh autopsy are awaited.
From the hospital the body was taken to the school where he studied near Ezhukone, then his home and finally to St Paul's Malankara Catholic Church, his parish, and was buried in its graveyard.
Hundreds of people paid their last respects to the departed at the school, home and at the church.
State Fisheries Minister J.Mercykutty and senior Congress leader and MP Kodikunnil Suresh assured the jawan's relatives that they will ensure that justice is delivered.
Mathew, had been reported missing since February 25 and his decomposed body was found hanging from the ceiling of an abandoned barrack in Deolali Cantonment, Nashik.
"I want justice and I want to know what happened to my husband," Finy, Mathew's wife, said on Saturday at the Thiruvananthapuram airport as his body arrived.
A relative said: "He was a jawan and served the country for 14 years. The entire episode seems to be mysterious and no one knows what has happened to him. And even after the body arrived, the convention is to immediately drape the coffin in the Indian tricolour and that too did not take place."
Roy's brother Jone Mathew claimed he noticed injury marks on the body. "I accompanied Roy's body from Deolali to Thiruvananthapuram. I noticed marks of beating on his feet and blood clots. We suspect he was harassed," he said. 
The family approached the District Collector seeking permission for a re-post mortem.
"The request came today (Saturday) morning and soon the sanction was given for it," said Kollam Sub Collector K. Chithra. The fresh post-mortem examination was conducted at the Thiruvananthapuram Medical College hospital and then the body handed over. 
Mathew's relatives are deeply upset at the manner in which the Army officials in Deolali handled the case. They say on February 25, Mathew spoke to his wife last and after that calls never got connected. After a few days they were shocked when a call came from the Army unit saying that Mathew is dead.
"We saw some visuals of Mathew which shows that there were injury marks on his feet. We suspect that there is an attempt to cover up the death," said another relative.
Mathew, posted as an orderly attached with a Colonel at the Deolali School of Artillery, was part of a video on the "Sahayak System", which went viral in the social media.
In the video, Mathew had reportedly said that higher officials allegedly mistreated their "Sahayaks" and forced them to do petty jobs like polishing shoes, washing clothes and taking their pet dogs for walks.
The Army issued a statement a day ago saying Roy might have hanged himself and virtually blamed the media for his alleged suicide.
"Preliminary investigations have now revealed that the suicide may be a result of a series of events, which were triggered by the media personnel managing to videograph the deceased by asking leading questions on his duties as a buddy without his knowledge," a defence statement said on Friday.
"It is very likely that the guilt factor of letting down his superiors or conveying false impression to an unknown individual, led (him) to take the extreme step," it added.