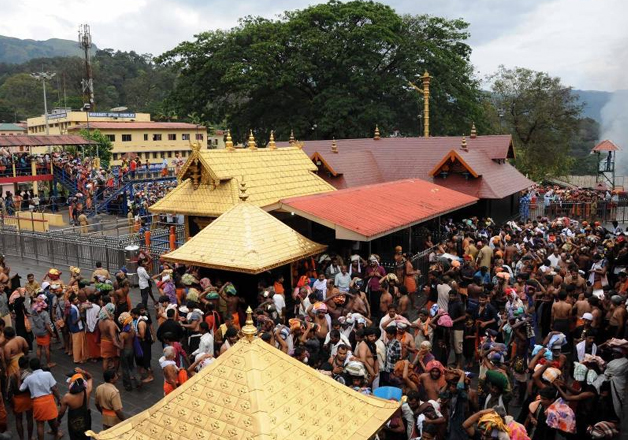 The Left Democratic Front (LDF) government in Kerala on Monday took U-turn in the Supreme Court, informing it that the state government 'favours the entry of women of all age groups in the historic Sabarimala temple'.
The government, through its counsel, told the apex court that it stands by the 'original affidavit' filed by the CPM-led government headed by VS Achuthanandan in 2007. 
The government had earlier in July this year supported the ban on women's entry in the temple in its additional affidavit. 
It should be noted that the Congress-led United Democratic Front (UDF) dispensation, before losing power to the LDF this year, had taken a view that it was against the entry of women of the age group of 10-to-50 years into the temple as such a practice was being followed since time immemorial.
"On being asked as to what is the stand of the state, senior advocate Gupta states that the state intends to place reliance on its original affidavit (2007) and not on additional affidavit...women of any age group should not be debarred from entry into the temple to worship the deity," a bench comprising Justices Dipak Misra, R Banumathi and Ashok Bhushan said.
The bench also recorded the submission of senior advocate KK Venugopal, appearing for the Travancore Devaswom Board which manages the hill-top shrine, that the state cannot afford to alter its stand as per their convenience.
The bench, which has now fixed the matter for hearing on February 13 next year, said the stand of the government is not the final one as it will take a decision after deliberating upon various aspects including the constitutional provisions with regard to gender equality.
"Can a woman, because of the biological phenomenon, be debarred from entering into the temple. Can there be a prohibition in law...she may or may not go to the temple, it is her choice," the bench observed.
The apex court had on July 11 indicated that it may refer to a five-judge constitution bench the issue of the centuries -old practice of barring entry of women between 10 and 50 years of age in the historic Sabarimala temple, saying it pertains to violation of fundamental rights.
With PTI Inputs