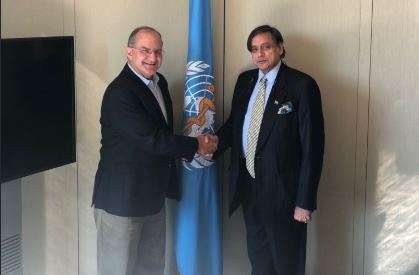 Congress MP Shashi Tharoor held high-level briefings at the United Nations headquarters in Geneva on Monday and on Tuesday on Kerala floods to identify avenues through which international organisations like the UN and the Red Cross, can support relief, rehabilitation and rebuilding operations in natural calamity struck state, reported news agency ANI on Wednesday.
Tharoor is serving as Member of Parliament, Lok Sabha from Thiruvananthapuram, Kerala, since 2009.
Meanwhile, grand old party Congress on Wednesday said that the floods in Kerala were man-made and due to faulty dam management.
Because of lack of coordination between the Kerala State Electricity Board (KSEB), Power Minister and the Water Resource Ministers the tragedy took place, alleged Leader of Opposition Ramesh Chennithala. 
"This monsoon, Kerala received 41.44 per cent more rains and all the (sluice gates of the) dams were opened without proper analysis or impact studies... People were totally unaware that the dams were being opened," he said, reported IANS.
The dams in the state are managed either by the KSEB or the Water Resources Ministry. 
Interestingly, Idukki, Ernakulam, Thrissur, Pathanamthitta, Alappuzha and Wayanad were the worst affected districts due to the floods. These districts also have the maximum number of dams.