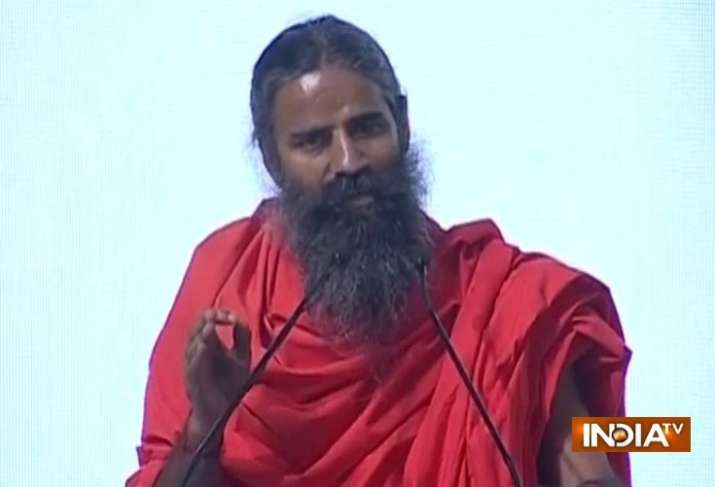 Yoga Guru Baba Ramdev today announced that his company Patanjali has sent relief material worth Rs 50 lakh for the flood victims in Kerala and Karnataka and is further preparing to send material worth Rs1.5 crore additionally. 
Talking to media ahead of an all-party prayer meeting for late Atal Bihari Vajpayee in New Delhi, Ramdev saluted the courage of brave security and disaster management forces for working tirelessly during calamity. "Nation is proud of the rescue and relief operations conducted by our security forces in the flood affected areas," he told ANI. 
Acharya Balkrishna, who manages the Patanjali company, also tweeted to share the information about flood relief operations. 
T-1
देश की #आपदा में #पतंजलि हमेशा देशवासियों के साथ खड़ा रहा है क्योंकि हम पूरे देश को अपना परिवार मानते हैं, #केरल में जो भीषण त्रासदी आयी उसमें जन सहायतार्थ पतंजलि ने बढ़-चढ़ कर अपने कर्तव्य के निर्वहन का प्रयास किया| #KerlaFlood @yogrishiramdev pic.twitter.com/wY9S8oHNEZ

— Acharya Balkrishna (@Ach_Balkrishna) August 20, 2018
T-2 इसी प्रयास के तहत हमारे सैंकड़ों कार्यकर्त्ता केरल के अलग-अलग क्षेत्रों में इस सेवा अभियान कार्य के द्वारा वहाँके लोगों के जीवन में ख़ुशहाली लाने और राहत पहुँचाने का प्रयास कर रहे हैं|आप सभी देशवासियों की शुभकामनाएँ हैं इसलिए पतंजलि यह कार्य कर पा रहा है | #KeralaFlood pic.twitter.com/rH7QIs5fG3

— Acharya Balkrishna (@Ach_Balkrishna) August 20, 2018
In a series of tweets, Balkrishna said that hundreds of Patanjali workers have come forward to help the people affected by the flood and improve their lives.