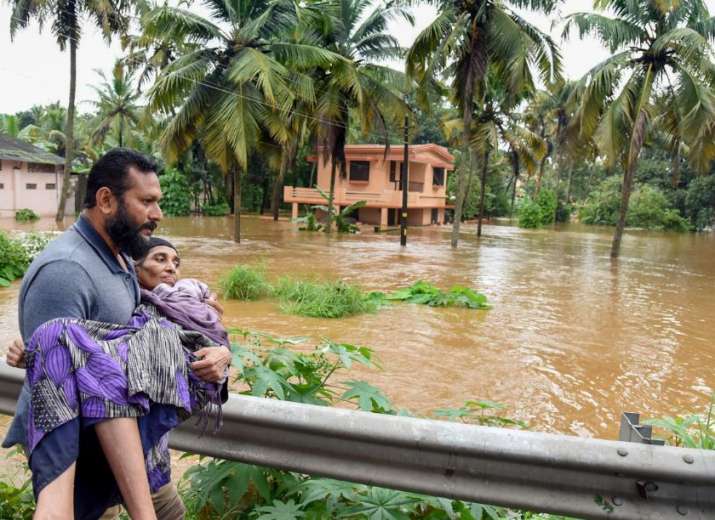 Prime Minister Narendra Modi, who conducted an aerial survey of flood-affected areas in Kerala, saluted the people of the rain-ravaged southern state for their "fighting spirit" and announced Rs 500 crore as financial assistance, in addition to the previous Rs 100 crore.
Modi said that the nation stands firmly with the state in this hour. 
"I salute the people of Kerala for their fighting spirit... the nation stands firmly with Kerala in this hour," Modi said in a series of tweets after chairing a high-level meeting to review the flood situation.
The prime minister said his thoughts were with those who have lost their lives in the deluge and hoped that the injured would recover soon.
"My thoughts are with the families of those who have lost their lives due to incessant flooding across Kerala. I hope the injured recover at the earliest. We all pray for the safety and well-being of the people of Kerala," he tweeted.
Modi also complimented the authorities for their efforts in the adverse situation and appreciated the wide support and solidarity extended by people from across the country for Kerala during the "unprecedented" situation.
The Prime Minister reviewed the flood situation during a meeting with  Kerala CM Pinarayi Vijayan and officials of the state government. 
PM also announced ex-gratia of Rs 2 lakh per person to the next kin of the deceased and Rs. 50,000 to those seriously injured from PM's National Relief Funds (PMNRF). 
Hundreds of defence personnel, National Disaster Response Force (NDRF) teams, helped by more than 20 helicopters, mounted search and rescue operations. Fishermen along with their motorboats too joined the humanitarian efforts.
More helicopters were pressed into service on Friday to fly sorties for rescue and relief.
Defence Minister Nirmala Sitharaman sanctioned the extra choppers, as people marooned in Chengannur and Chalakudy could only be airlifted to safety.
Waters from the Periyar river and its tributaries kept many towns in Ernakulam and Thrissur districts submerged. The worst affected include Paravur, Kalady, Chalakudy, Perumbavoor and Muvatupuzha.
Thousands of people are still perched on high-rise buildings waiting to be rescued and taken to relief camps. Over 50,000 people are lodged in the Ernakulam and Thrissur camps alone.
Intensity of rains, however, decreased in several districts since Friday morning, leading to decrease in water level in three big dams in Idukki district.
The red alert in Kasargode and Thiruvananthapuram districts was withdrawn on Friday though the warning continued in other 12 districts in Kerala.
WATCH VIDEO: Ground Report on Kerala Flood