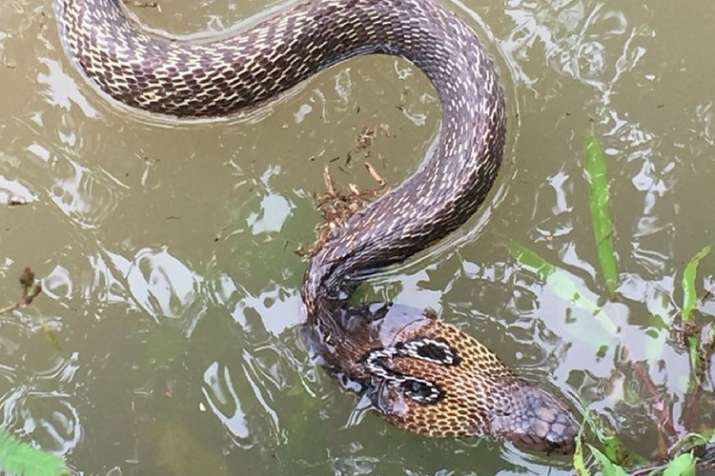 In a major sigh of relief to the residents of Kerala, the water level in the flood-hit Kerala state have receded and many people have returned to their homes from relief camps. But many people who returned to their flood-battered homes were greeted by snakes and other reptiles and insects.
At Chalakudy in Thrissur district, a man who returned on Monday night to check the condition of his house was stunned to see a new occupant - a crocodile.
Taken aback, he and his neighbours quickly caught the crocodile and bound it with ropes.
Thrissur is one of the most affected districts, the others being Alappuzha, Pathanamthitta, Idukki, Kozhikode, Ernakulam, Malappuram and Wayanad in the worst flooding in the state in nearly a century.
The disaster has killed more than 370 people, left over a million people homeless and caused unprecedented destruction to both private and public property.  More than 10 lakh people are staying in 3274 relief camps across the state.
Mustafa, a snake catcher, is a busy man in Malappuram. Since the waters began to recede in the past two days, he has caught over 100 snakes from homes.
"It's quite natural that when floods come, snakes come with it and so do other insects from overflowing ponds and rivers. People who return to clean up their homes should be careful and not put their hands into shoes, under cracked tiles or in wet firewood," he said.
A hospital in Angamaly in Ernakuam district is treating 52 persons for snakebites.
Reports from Pathanamthitta said that several people who came to clean their homes fled after seeing the snakes.
The Kerala government has announced that adequate anti-venom drugs have been provided at all the affected places.