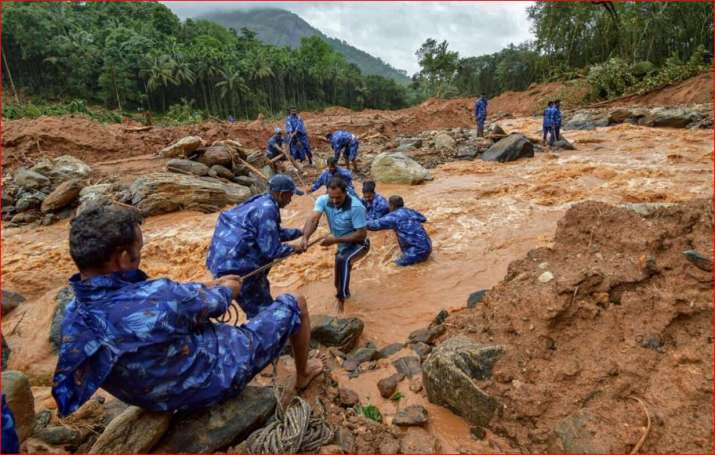 In biggest ever relief and rescue operation in the country till date since its inception in 2006, the National Disaster Response Force (NDRF) has deployed 58 teams in flood-ravaged Kerala.
According to an official NDRF spokesperson, a total of 58 teams of the force have been deputed to Kerala out of which 55 are working on ground, adding three teams are on their way.
Around 324 people have lost their lives in Kerala so far as a result of the havoc that has been wreaked by the rain fury in the state with 194 people dying in last 10 days.
The NDRF spokesperson said that the force has intensified its rescue and relief operations in the flood ravaged state of Kerala.
The NDRF has evacuated over 10,000 people from the heavy rains and flood waters affected areas of Kerala till now as it said it has launched its biggest-ever relief and rescue operation in the country till date.
"This is the highest ever deployment of NDRF in a single state since its raising (in 2006) and hence this becomes this becomes our biggest-ever disaster response operation till date," the NDRF spokesperson said.
Watch: Relief operations underway in Kerala
Each team of the federal disaster contingency force has about 35-40 personnel.
He said the teams, till now, have rescued 194 persons and 12 animals while it has evacuated a total of 10,467 persons.
"Pre-hospital treatment has been administered to 159 people till now. Operations are still on," the spokesperson said.
The NDRF teams are operational at present in Thrissur (15), Pathanamthitta (13), Alappuzha (11), Ernakulum (5), Idukki (4), Mallapuram (3), Wayanad and Kozhikode (2 each). 
The spokesperson said that a control room based here was monitoring the situation round-the-clock and was in close touch with other agencies and stakeholders involved to provide succour to the affected people.
 
As per information from the control room of the State Disaster Management, since August 8, 194 people have lost their lives and 36 are missing. Over 3.14 lakh people have been moved to relief camps.
(With PTI inputs)