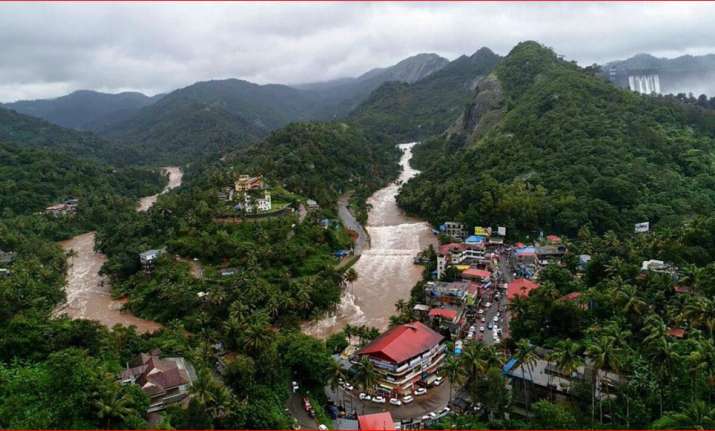 The death toll in flood-ravaged Kerala has touched 37, according to news agency ANI.
11 out of 14 districts of Kerala have been reportedly inundated with water. Many teams of Army and National Disaster Response Force (NDRF) have been deployed to help the administration in tackling the situation over the last three days.
In a breather for Keralites, the heavy rains predicted in the state did not happen since Friday night, leading to the receding of Idukki dam waters that had ravaged the area over the last few days.
The water level at the Idukki dam was now at 2,401 feet after it came down on Friday night as the intensity of the rains decreased. 
On Saturday, the inflow into the dam stood at 6,00,000 litres of water per second, while the outflow through the floodgates is 7.50 lakh litres per second.
Authorities on Friday expected that parts of Ernakulam and Thrissur districts would be submerged following the opening of all five floodgates.
However, this did not happen as the dam water entered the tributaries of the Periyar river in a systematic manner.
According to informed sources, if the water level in the dam comes down to 2,400 feet, it was likely to bring down the outflow through the five shutters as well -- to around 5,00,000 litres per second.
However, the relief could be short-lived as the India Meteorological Department (IMD) on Saturday issued a red alert for Idukki and Wayanad till August 14 and amber alert till August 15.  For Kannur, red alert has been issued till August 13 and amber alert till August 15.
Sections of highways collapsed and homes were swept away in severe flooding in more than half of Kerala due to the heavy rains that have left 54,000 people homeless.
Kerala Chief Minister Pinarayi Vijayan on Saturday announced ex-gratia payment of Rs four lakh each to the kin of those who lost their lives in the devastating floods that has hit the state.
Watch: Death toll climbs to 37 in Kerala