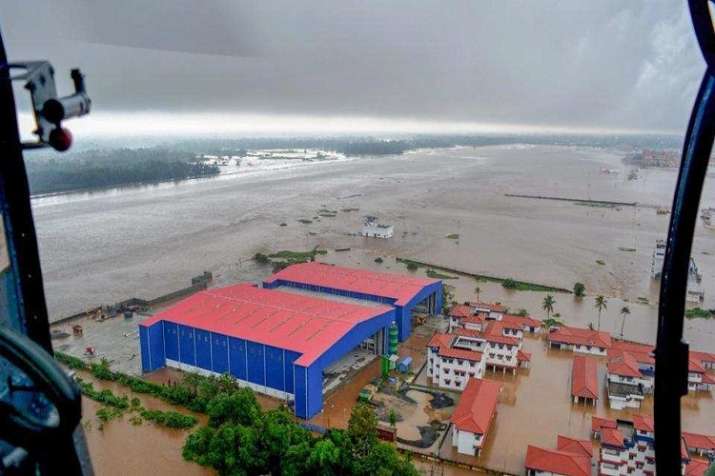 The devastating flood in Kerala has been declared a calamity of severe nature, the Home Ministry said on Monday. Officials have so far admitted to some 370 deaths, most of them occurring after the monsoon rains turned into a fury on August 9, forcing authorities to open the sluice gates of numerous dams across the state.
"Keeping in view the intensity and magnitude of the floods and landslides in Kerala, this is a calamity of a severe nature for all practical purposes," a home ministry official said.
The decision came after considering the damage caused by rains and floods in the state this monsoon season. The Central government is also considering additional assistance from the National Disaster Response Fund (NDRF) post the declaration of the 'severe calamity.'
Union Home Minister Rajnath Singh had visited flood-hit Kerala on August 12 and had declared an immediate assistance of Rs 100 crore to the state.
Prime Minister Narendra Modi, during his visit to the state on August 16, had announced an aid of Rs 500 crore.
The central government has also decided to give ex-gratia of Rs 2 lakh each to the family of those killed in the floods and Rs 50,000 to the injured.
Besides Congress President Rahul Gandhi, the ruling Left Democratic Front in Kerala had been demanding the Centre to declare the floods a 'national disaster'.
The Central government on Monday however, informed the Kerala High Court there was no provision in the statutes or manuals to declare a disaster as national calamity.
The Army, Navy, Indian Air Force and the National Disaster Response Force have been continuously engaged in rescue and relief operations in all the 14 flood-hit districts in Kerala.
Focus should now be on provision of emergency supplies of food, water, medicines and restoration of essential services such as power, fuel, telecom and transport links as flood water recedes in Kerala, the NCMC had directed on Monday.