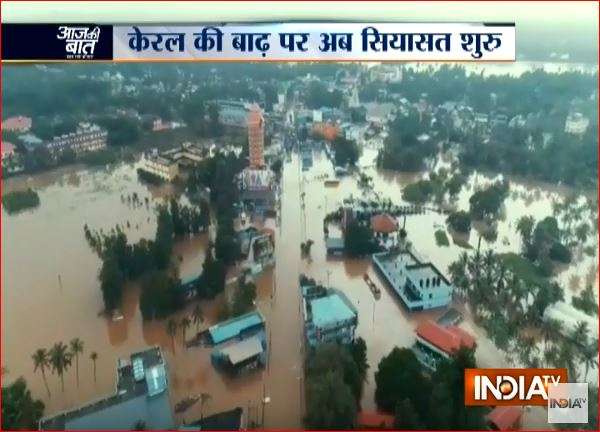 The death toll in Kerala due to the massive floods has climbed to 417, according to Chief Minister Pinarayi Vijayan.
Vijayan told media persons that hundreds of people have began returning home from relief camps though 8.69 lakh people are still  in 2,787 shelters.
The chief minister pointed out that the deaths began since the monsoon rains started on May 29, adding 265 of the casualties were reported from August 8 when torrential downpour triggered the worst flooding in the state in nearly a century.
Vijayan said that 36 people were still missing and urged those affected by the floods to submit on the Kerala government website details of the losses suffered by them.
Responding to a question on the controversy over the aid offer from UAE, Vijayan said that the information was intimated to the world by the leaders of the two countries.
The Kerala unit of the Bharatiya Janata Party said earlier that the United Arab Emirates did not announce the $100 million aid for the state and asked Vijayan to reveal his source.
Vijayan told the media that the offer of aid was made by the ruler of the Emirates to Prime Minister Narendra Modi.
"Both these rulers themselves intimated this to the world. The issue now is whether to accept or not. My view is it should be accepted," he said.
Elaborating, Vijayan said the news was conveyed to him by Middle East businessman M.A. Yusuf Ali. "I did tell you this earlier too.
"He (Ali) met them (UAE rulers) and this was stated to him. When Ali informed me, I asked him if I can make this public. He said I can and I did."
The Chief Minister also told journalists to read a tweet by Modi on the subject.
Some 7,000 houses were destroyed in the fury and around 50,000 had been partially damaged.
As Friday remained sunny, water receded faster in most places that were inundated.
The maximum number of people in relief camps were said to be in Alappuzha, Chengannur, Paravur, Changnacherry, Chalakudy and parts of Pathanamthitta district.
In Kottayam, several camps wound up. At one centre at the CMS College, people were treated to an Onam 'sadya' -- the traditional feast served during Kerala's most important festival.
The main Onam festival falls on Saturday but Kerala will at best see subdued celebrations. The government has cancelled the official festivities and diverted the Rs 39 crore meant for it for relief work.
"We were treated well by the camp managers. We do not know what our fate will be when we return as we have nothing except the clothes we are in," said Thankama, a 70-year-old woman as she prepared to leave.
Finance Minister Thomas Issac said that around 5,000 volunteers were reaching the water-logged areas in and around Kuttandu.
"An army of electricians, plumbers and even snake catchers are going to go around the 13 panchayats in Alappuzha district from August 28. They will clean up all houses and latest by the first week of next month all those in relief camps will be brought home," he said.
Hectic work was on to get the damaged Alappuzha-Changnacherry road to make it motorable again.
To raise additional funds for the Chief Minister's Distress Relief Fund, Issac announced a special lottery whose tickets would cost Rs 250 each. The government hopes to raise Rs 100 crore from the lottery.
Thiruvananthapuram district Panchayat President V.K. Madhu said that 4,000 people from the capital district would spread over across various flood ravaged places to engage in cleaning exercises starting on Saturday.
In Chengannur, many homes was spruced up.
"My daughter's marriage was fixed for the first week of next month. Now we have to start all over again as we have decided to postpone it," said a distraught father near Chengannur.
Some voluntary agencies have begun counselling sessions in the relief camps. 
On Friday, two government officials were arrested in Wayanad for embezzling relief materials. Another person was similarly caught in Chengannur.
A person engaged in relief work told IANS that in several camps some political parties were diverting the relief materials to areas of their interest.
Congress leader Ramesh Chennithala demanded that the government should hike the amount of money being given to each camp inmate from Rs 10,000 to 25,000.
Watch: Death toll climbs to 417 in Kerala
(With IANS inputs)