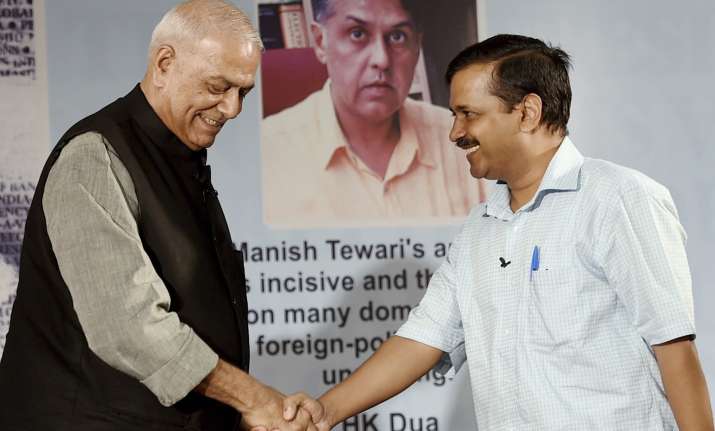 Delhi Chief Minister Arvind Kejriwal on Thursday at an event said that the next general elections would be between PM Narendra Modi and the rest of the country.
"The people are going to fight the 2019 elections. Parties will not fight….The battle is going to between your (pointing to Sinha) leader, your big leader and the people," the Aam Aadmi Party chief Kejriwal said while sharing stage with disgruntled BJP leader Yashwant Sinha.
"What I am able to see is that 2019 election will be fought by the people, not parties. This battle will be between their leader (Modi) and the people. Whether opposition parties will come together or not, that is arithmetic. That is also necessary in electoral politics but a churning is taking place.
"The coming election will not be opposition versus BJP. It will be BJP versus the rest of the country," Kejriwal said at Congress leader Manish Tewari's book release function in New Delhi.
The Aam Aadmi Party leader said a man can leave taking food once a day but cannot compromise with his freedom. "You cannot imagine the atmosphere of fear that is prevailing among people. Across the board traders, industralists are living in fear. There is fear in stock market. Across the board people are scared that there will be a notice, income tax, ED people will come."
Even, Yashwant Sinha backed Kejriwal's remark about people shaping politics in the run up to 2019 Lok Sabha elections. He also hit back at Finance Minister Arun Jaitley over his reference to him as "job applicant at 80" and also disagreed with PM Modi's assessment in a speech about the fundamentals of the economy.