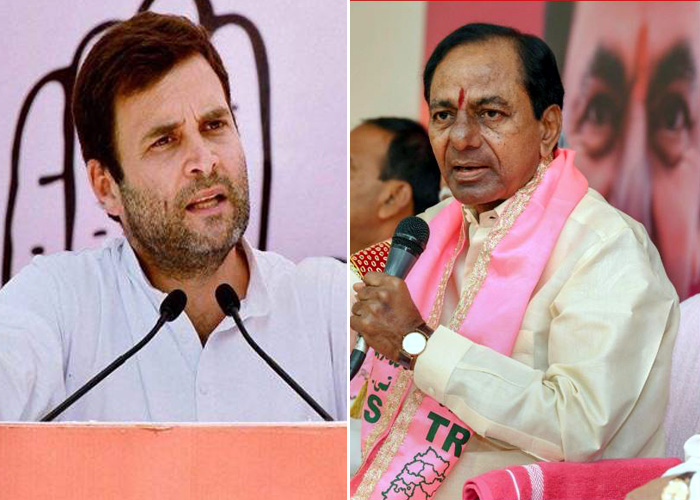 Launching a scathing attack on Rahul Gandhi, Telangana Rashtra Samithi (TRS) chief K. Chandrashekar Rao on Thursday said that the Congress president was the "biggest buffoon" of the country.
KCR made the remarks while talking to media persons after he recommended the dissolution of the Telangana Assembly several months ahead of its term. He has been asked by the Governor to continue as the caretaker chief minister.
Replying to Congress party's allegation that the TRS was acting as PM Modi's puppet, KCR said, "Everyone knows what Rahul Gandhi is. He's the biggest buffoon in the country. Whole country has seen how he went to Narendra Modi and hugged him, the way he is winking."
KCR also claimed the Election Commission has been consulted and that Telangana would go to polls along with Madhya Pradesh, Chhattisgarh, Rajasthan and Mizoram.
Branding the Congress as the "biggest enemy" of Telangana, he flayed it for making "baseless, mindless and meaningless" allegations against the TRS government.
"Congress is Telangana's villain number one," he said. He, however, avoided criticising the BJP.
Watch: KCR calls Rahul Gandhi 'biggest buffoon' of the country
He described Hyderabad MP Asaduddin Owaisi's AIMIM as a "friendly party" and said the TRS will continue to work with it.
Rao, however, made it clear that the TRS would go it alone in the assembly elections and asserted it will win more than 100 of the State's 119 seats. The 120-member assembly also has a nominated member.
Reacting sharply to KCR's remark describing Rahul Gandhi as the country's "biggest buffoon", the Congress on Thursday hit back calling Rao a dictator.
Congress leader R.C. Khuntia, who is incharge of the party affairs in Telangana, said Rao "is a dictator worse than Hitler".
(With agency inputs)