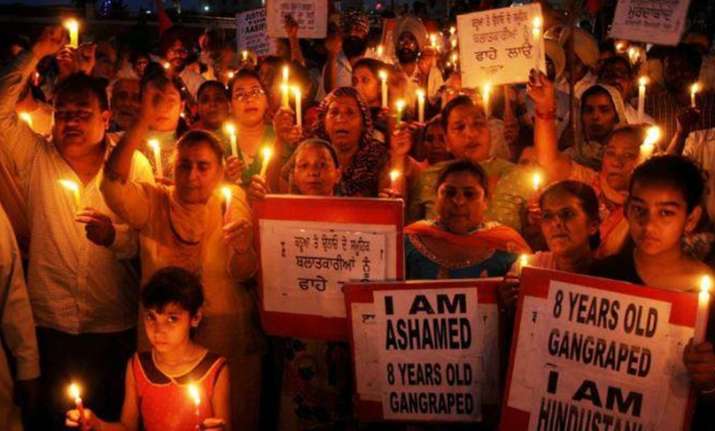 The father of the eight-year-old Kathua rape victim on Monday welcomed the Supreme Court decision to transfer the case to Pathankot and said that he has full faith in the judiciary. 
The grieving father, belonging to a minority nomadic community which earns its livelihood by raising cattle, also said he has full faith in the government.
"We only want justice. I have full faith in the judiciary and the government," the father told PTI over the phone from Ramban district where he is camping along with other members of his family.
"We don't favour a CBI probe either. We do not know CBI and our only desire is that justice is done...," he said.
The community is moving on foot to the higher reaches of Kashmir in search of greener pastures and has set up temporary shelter in Ramban along the Jammu-Srinagar national highway due to inclement weather.
The child had disappeared from a forest near her home in Kathua district of Jammu region on January 10. Her body was found in the same area a week later.
The apex court has directed that the trial of the gangrape and murder of the child, which led to nationwide outrage, be moved to Pathankot in neighbouring Punjab.
A bench headed by Chief Justice Dipak Misra directed that the trial should be held in-camera, be fast-tracked and conducted on a day-to-day basis to avoid any delay.
The top court also said the trial would be carried out in accordance with the provisions of Ranbir Penal Code, which is applicable in Jammu and Kashmir.
The girl's father had moved the apex court earlier, apprehending threat to his family, a friend and their lawyer Deepika Singh Rajawat. A separate plea was also filed by two accused seeking that the trial in the case is held in Jammu and the probe handed over to the CBI.
The state police's Crime Branch, which probed the case, filed the main chargesheet against seven persons and a separate chargesheet against a juvenile in a court in Kathua district last month.
The father said yesterday that he has devoted his life to ensure that justice is done to his daughter.
I am satisfied with police investigation and will not rest till justice is done in the case. I want the accused to be given exemplary punishment for their brutality, he said.
Advocate Ankur Sharma, who is defending the eight accused arrested by the Crime Branch, said, "We will file fresh writ petition in the Supreme Court for a CBI probe in a few days.
The CBI demand has not been rejected by Supreme Court. Only the case has been fast tracked (to be heard on day to day basis) and transferred to Pathankot, Sharma said. 
(With PTI inputs)