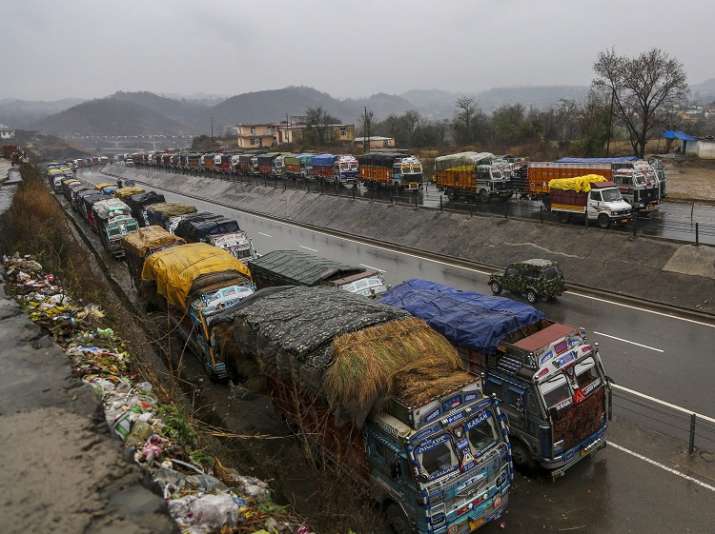 Fresh snowfall in Banihar sector of Jammu and Kashmir led to the closure of the Jammu-Srinagar highway on Thursday, an official said, adding the highway has been closed for the fourth consecutive day. Intending travellers have been advised not to undertake the journey without contacting the control rooms in Jammu and Srinagar.
Traffic cannot be allowed on the highway as the road has turned slippery, though the debris of an avalanche that hit the Jawahar Tunnel has been removed and both tubes have been made functional, said Senior Superintendent of Traffic Police in Kashmir Muzaffar Ahmad Shah.
"The decision has been taken keeping safety of travellers in mind. A big landslide had also hit the highway in Anokhi Fall area of Ramban district due to incessant rain," Shah said.
The strategic highway is regarded as the lifeline for the landlocked valley as all essential supplies are routed through this road.
Closure of the highway especially during the winter months helps hoarders and profiteers hike prices of essentials by creating artificial scarcity.
Meanwhile, light snowfall and rain occurred in the Kashmir Valley on Thursday, with the MET office saying that the weather would remain dry during the next few days.
Sonum Lotus, Director of the regional MET Department said, "There was light snowfall in the higher reaches and rain in the plains of the valley. Improvement in weather continues and we are going to have dry weather during the next few days without any major precipitation."
Srinagar recorded minus 1.5 degrees Celsius as the minimum temperature on Thursday. It was minus 6.8 degrees Celsius in Pahalgam and minus 12.6 degrees in Gulmarg.
Leh town recorded minus 14.2 degrees Celsius while in Kargil it was minus 18.4 degrees.
Jammu recorded 5.5 degrees Celsius, Katra 5.0, Batote minus 1.2, Bannihal 0.1 and Bhaderwah minus 0.3 as the night's lowest temperatures.